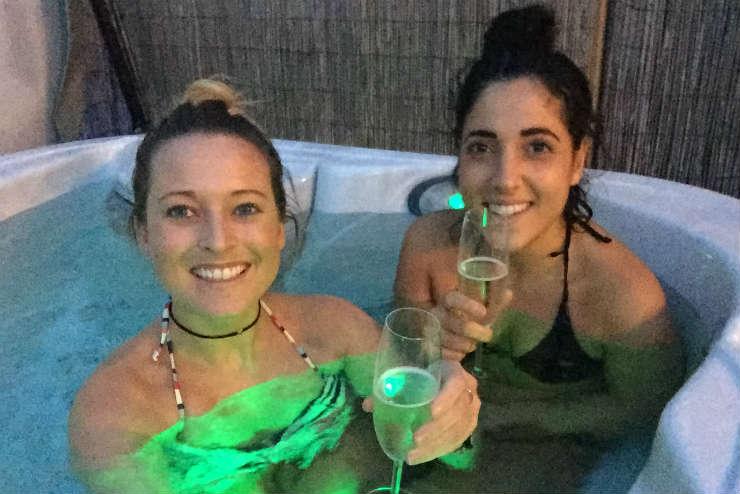 Sophie Griffiths and her girlfriend at Hoseasons Heron Lodge
We sense rather than see its beauty. The sky is inky black, with thick clouds obscuring the stars as our car trundles down the gravel track. I wind down the window, inhaling a damp, earthy scent, trying to discern the names of hidden lodges through the darkness.
We spy ours – Heron Lodge – tucked away at the end, and as we step out of the car we hear the sound of water lapping; willows rustling. We turn the key in the lock and gentle quacks break the stillness, announcing our arrival.
Bags flung in the bedroom, food thrown in kitchen cupboards and champagne more carefully placed in the fridge, we race, laughing, for the hot tub. It's a routine I imagine most people lucky enough to stay in a Hoseasons hot tub lodge follow.
Our breath mists in the autumnal air as we hop across the cold wooden decking before we slip into the bubbling, frothing tub, revelling in its warmth.
My partner Georgie and I sigh in happiness and agree that this is most definitely the perfect way to spend a Friday night.
We are spending the weekend at Weybread Lakes, close to the tiny market town of Diss, on the Suffolk-Norfolk border.
Ours is one of five cedar lodges, all of which are part of Hoseasons' Autograph Collection.
We've only been here a few minutes but already feel relaxed – even more so when we follow the hot tub with a short session in the sauna (well, it would be rude not to) before, eyes closing, we collapse into the vast double bed. It is only in the morning that we fully appreciate our surroundings.
We wake to a squabbling family of moorhens and stumble sleepily into the lounge, stopping short at the view.
Our lodge, we realise, isn't just near the lake – it's on it. Water laps at the rushes below our vast wooden veranda, and we suddenly have the pleasantly disorientating feeling that we're on a boat.
A jetty protrudes from the reeds below and a procession of ducks chatter before each launching themselves into the water, their bickering and gentle splashes the only sounds to break the morning quiet.
The neighbouring lodges are equally private, tucked away and almost hidden from sight. London, from where we arrived the night before, is just a two-hour drive away, but it feels like a million miles.