Back to the future in Taiwan
From tea plantations to high-tech cityscapes, Taiwan is the perfect marriage of old and new. Mike MacEacheran time travels across the country to explore the lesser-known side of Asia
Close to the top of Elephant Mountain, the jungle path reaches its grand finale. Through wide, awkward trees and shaggy ferns, the trail clambers up a stone-hewn staircase humming with insects and birds ghosting through the greenery. The summit is not far away, but already I can sense the view before I see it: a panorama of steel-and-glass condominiums, exaggerated skyscrapers and a dazzling super-sized metropolis rising above the steamy foliage. It is a view that peeks out from the forest, pulling me from a tropical, primitive past into a bright, extraordinary future.

We're hiking in the Nangang mountains above Taipei to see it at its most spectacular, and up here the buzz of Asia's most cosmopolitan megacity is palpable.

The bamboo-shaped Taipei 101, once the world's highest super skyscraper at 509 metres, soars above the mountain, while across the valley a thousand other neck-craning towers glitter. One by one, hikers arrive at the top with heads bowed piously as if in prayer, but as the sun dips the result is the same. The vista silences everyone.
Taiwan for beginners
Few Asian cities do sunsets like Taipei. In fact, few places in this part of the world compete with Taiwan on a number of fronts. The country offers a greatest hits of Far Eastern highs in microcosm, from street food and shopping to temples, teahouses and thrilling outdoor pursuits. And when your clients least expect it, Taiwan can turn the mundane into the momentous.

Here Taoist and Buddhist temples and monasteries are time-worn and antiquated, yet high-tech and futuristic. Ancient practices of tai chi and calligraphy are very much alive, but so too are the modern pursuits of bubble-tea drinking, cocktail-making and Pokemon chasing.

To feed these appetites, the eating opportunities are as varied as 
they are mystifying. 
Stinky tofu is a savoured delicacy, alongside novelties such as skewered duck tongue, pickled eggs and barbecued chicken butt (tastier than it sounds). Yet this is no more than an almighty tease for what lies outside the capital.

Statistics show that plenty of Brits are tempted by Taiwan. Tourists from the UK have been increasing year-on-year since 2013 and last year the number hit a record 60,000.

With regular flights from London to Taipei with China Airlines and national carrier Eva Air, many are using Taiwan's Taoyuan International airport as a convenient transit hub before holidaying elsewhere. But there's a strengthening argument to linger for longer, because to visit Taiwan is to encounter an Asia already familiar to us, but one that's also a complete unknown.

Your clients don't have to have an intimate knowledge of other Asian cities, either. Taipei is easier to navigate than Shanghai and Beijing and it's infinitely cheaper than Tokyo or Singapore.

It's also more futuristic than Hong Kong and its beaches are as memorable as those in the Philippines. For hikers and wildlife watchers, the mountains that run Taiwan's length are as wild as the jungle interior of Borneo. It could be argued, in fact, that Taiwan is the ideal "sell" for a first-time Asian holiday package. Like a cup of green tea, it's to be enjoyed with a gentle dip first, followed by a more immersive plunge.
From train to temple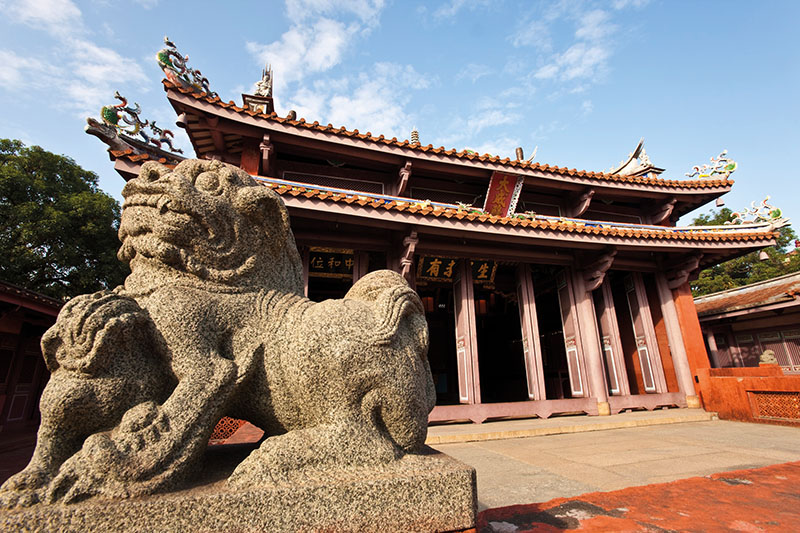 Something happens to me in Taiwan. I move out of my comfort zone. I speed up, but slow down. I meet inspiring individuals, who leave an imprint on me like a pen on paper.
The smartest way to get around is by high-speed train, and after a few days of intoxicating exploration in Taipei (hot tips: the Chiang Kai Shek Memorial Hall and Raohe Night Market), my plan is to whizz south to Tainan. But first a stop at Taipei's sprawling tea plantations, located in the Maokong hills and accessed via a spectacular ride on a glass-bottom gondola. It takes about an hour to fly over the tea estates, and at least double that to explore and taste, finishing up with noodles soaked in tea oil and tea leaf fried rice at Liu Ji Xiang Teahouse restaurant.

Tainan arrives in a blur the following day. Once a trading post for the Dutch East India Company, it's the oldest city in Taiwan, a jumble of alleys lined with Confucian temples, craft whisky pubs and bubbling noodle bars, all without a Western tourist in sight. Here, the city's former Dutch and Chinese history unites in places such as the historic Fort Zeelandia and on the dragon-topped rooftops of ornate mansion houses.

From inside a wooden storefront comes the whiff of a nostril-tingling soup, and I'm soon sat at a low table at Hung Yutou restaurant guzzling a bowl of danzai noodles steeped in a nine-hour broth.

First created in 1895 by a local fisherman, who sold it from slopping buckets hung low over his shoulders, the oily delicacy comes topped with minced pork and bite-size prawns, all boiled in a pot used more than a century ago.

There are many such places in Taiwan, but Tainan's noodle temples are the hotspots for foodies. Before each moreish bowl arrives, there's tension in the air, the belly-hugging soup so delicious it's impossible to leave without ordering again.
Cultural highs
The next day the sound of chanting cascades downhill as I arrive at the great Buddhist monastery of Fo Guang Shan in the hills outside Kaohsiung City. Located one hour to the south of Tainan by train, the sprawling complex is one of the largest religious sites on earth, an elaborate temple to religion, philosophy and a world that's tangible yet not quite there.

My guide Yijih Shih leads the way past golden Buddhas and prayer wheels blown by the wind into a hushed classroom where I begin a lesson in the ancient art of calligraphy. The fast pace of Taiwan is left behind for another level – one of solitude, devotion and mindfulness.

"Calligraphy is the practice of inner concentration, which is too short in today's society," says the Buddhist master, the drops of ink spilling from her pen onto the page. "Learning this art can give you confidence. When you concentrate on the meaning of the words, there is no pressure."

I've never been one for silent prayer, but Fo Guang Shan makes me think. Something happens to me in Taiwan. I move out of my comfort zone. I speed up, but slow down. I meet inspiring individuals, who leave an imprint on me like a pen on paper. That's the beauty of it, really. Small wonder it's Asia's best-kept secret.

Book it: Regent Holidays has a 12-day trip to Taiwan from £2,115pp, including transfers and train tickets.