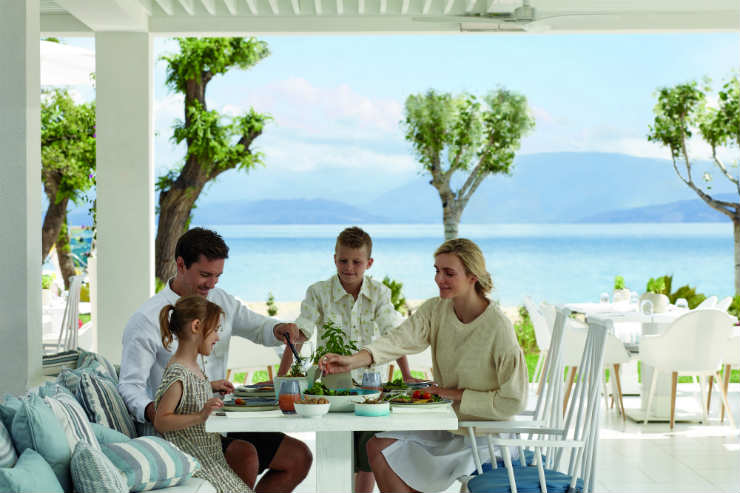 Ouzo Greek Restaurant Ikos Dassia.jpg
Coaxing the shiny blue Mini Cooper through the narrow streets of the hilltop village, the twisting road leads to the west coast of Corfu. As my daughter's excited voice calls out – "I can see the sea!" – I reflect there aren't many all-inclusive resorts that are so keen for you to explore beyond their gates that they will lend you a car to do so.
But then Ikos Dassia is rather different. Staying on the island'seast coast, less than half an hour from Corfu Town, there's plenty of temptation to stay put: six a la carte restaurants plus buffets, 24-hour room service, seven pools, a kids' club, loungers stretching along the 600-metre beachfront, and never a need to count the cost of the ice creams from the gelaterias.
Unlike the all-inclusives of old, the "Infinite Lifestyle" ethos from Ikos Resorts includes the chance to dine out at three local restaurants, free entry to three different attractions on Corfu, plus hire of those eyecatching Mini Coopers – with only petrol to pay.
"At Ikos Resorts, we have redefined the all-inclusive concept across the Med, ensuring each family member is kept appropriately entertained throughout their stay at our luxury resorts while offering amazing value for money, without any limitations or hidden costs," says Daisy Modiano, marketing and communications manager.
"This includes complimentary kids' clubs with an exciting ageappropriate activities programme and 30 minutes' free beach childcare for kids over the age of four. We offer special kids' menus and snacks across all our a la carte restaurants featuring menus curated by Michelin-starred chefs, and complimentary on-site activities including bike rides, tennis, football, beach volleyball, basketball, paddle-boarding and much more.
"The all-inclusive offering also provides an immersive approach to the destination by giving a complimentary Mini for a full day to all guests, and the option to dine at local restaurants at no extra cost."
Add in a free shuttle bus running to Corfu Town throughout the day, and we're all set to explore. Starting with the sprawling resort itself.