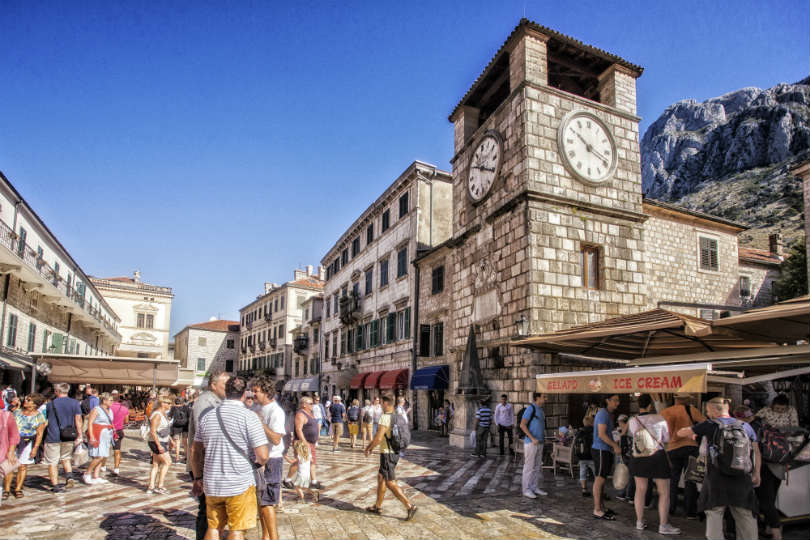 Kotor is located in a secluded part of the Gulf of Kotor
The stone walls of Kotor's Old Town and distinctive orange roofs of the buildings make it a photogenic sight whether arriving by land or sea.
The Mediterranean port town is located in a secluded part of the Gulf of Kotor and is surrounded by fortifications built during more than 300 years of Venetian rule.
Kotor and nearby Perast are the only two towns in Montenegro to have been awarded Unesco World Heritage Site status, and are ideal partners for clients seeking a trip steeped in history and medieval charm.
Perast is only a short drive away from Kotor, meaning both can easily be visited in one day.
9:00
Clients can begin their day in Kotor with a visit to the market. Located just outside the city walls, it is easy to find and a great place for foodies.
Delicacies on offer include handmade Turkish delight, fruit, herbs, handmade soap, cheese, salted meats, honey and wine.
Open from 7am until 2pm, recommend that clients arrive as early as possible, especially when cruise ships visit. The vendors are happy to haggle.
11:00
Take a leisurely stroll around the fortified Old Town, whose cobbled streets are completely free of cars.
The Maritime Museum gives an insight into the town's seafaring past and also highlights Kotor's Venetian influences and years of ancient Roman rule.
Or there's always the Cat Museum for feline lovers. Energetic clients can hike up to San Giovanni Fortress for amazing panoramas of the bay and a bird's- eye view of the Old Town below.