Liseberg Christmas Market: Discover Scandinavia's best kept secret
Reindeer meat kebabs and handicrafts from Lapland's Sami people; welcome to Scandinavia's best Christmas market
Central Europe might hog the limelight when it comes to Christmas markets, but with its quaint clapboard houses, pine tree forests, log fires and an abundant stock of reindeers, Scandinavia is an equally appealing backdrop for yuletide festivities.
Liseberg Christmas market in Gothenburg is said to be the biggest of its kind in Scandinavia. "It's the number one Christmas destination in Sweden," Anders Skold, director of leisure travel, Goteborg & Co, told me. "It's a magical place to visit."
The festive market is housed in the Liseberg amusement park, which opened in 1923 and transforms into a winter wonderland come mid-November, illuminated by some five million Christmas lights.
Aside from taking on the 27 rides open in winter, visitors can enjoy a sleigh ride led by reindeer, a visit to Santa's Christmas workshop, choirs singing carols and an ice skating rink. There's also the opportunity to learn more about the Sami people's culture (those native to Lapland) at a snow-covered encampment within the park's walls, which features tents, campfires and handicrafts.
For those looking to do a spot of shopping there are 80 market stalls peppered around the grounds. And in between bouts of retail therapy visitors can sample local delicacies, from the familiar – Glogg (Sweden's answer to mulled wine) – to the more exotic, such as reindeer meat doner kebabs. For those in need of something a little stronger to ward off the cold there's the Ice Gallery & Bar, constructed with ice from Swedish Lapland, which serves up vodka cocktails.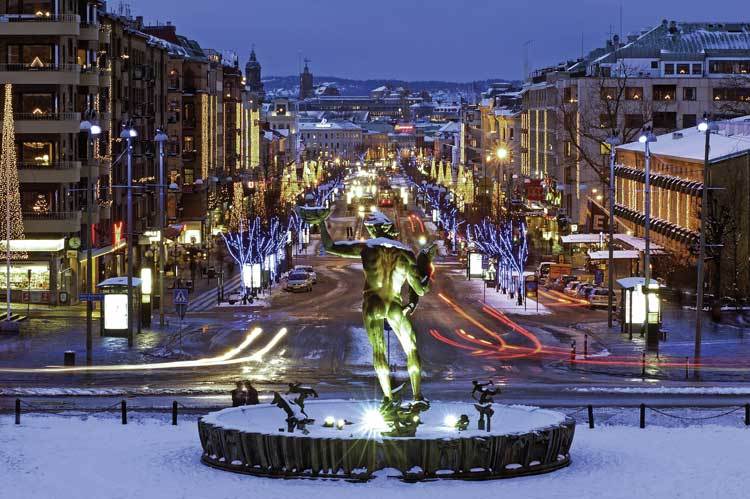 But Liseberg isn't Gothenburg's only attraction. Haga, one of the oldest neighbourhoods in town, has pedestrianised streets, wooden houses, independent boutiques and cosy coffee shops selling giant cinnamon buns – perfect for wandering weekend breakers.
And those seeking greener pastures will find them just an hour from the city: the Gothenburg archipelago is formed of more than 20 wild isles where many Swedes boast summer houses. Skold says that favourable exchange rates have meant Sweden is gaining wider appeal.
"The pound is strong," he says. "So Sweden is almost 20% cheaper during 2015 for Brits." As a result, the British market is booming, Skold adds. "We had big growth this year," Skold explains. "We received a 24% increase of UK visitors this year compared to last [between January and September]."
And with numerous direct connections from the UK (including flights with Ryanair, British Airways, SAS and Norwegian) it's also affordable and easy to reach.