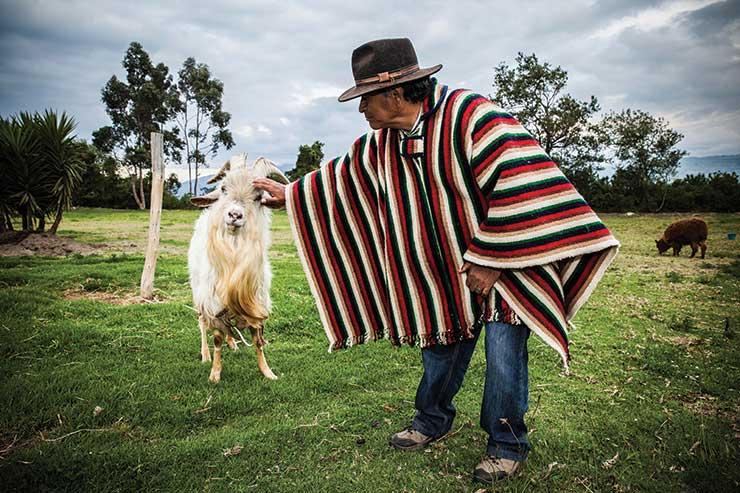 Meeting the locals with Tren Ecuador
The glamorous confines of a luxury train might not sound like the starting point for a responsible trip, but Tren Ecuador's product offers just that.

Affording clients all the comforts of luxury train travel, from gourmet meals to lavish cabins, the responsible twist lies in Tren Ecuador's inclusive vision.

Once onboard, guests make regular pit stops to meet the locals in off-the-radar locations, eat at local restaurants, buy authentic artisanal produce and spend nights in elegant haciendas, soaking up plenty of culture along the way.

"For us, the difference is in the luxury of the experience," explains Tren Ecuador's general manager Ana Garcia Pando.
"We offer a different sort of first-hand experience. Clients can enjoy comfort, then they'll put their hiking boots on and trek in the rainforest with women who have been living in the area for years, and who tell tales about how they harvest quinoa. It's a different, educational type of luxury."

The train company came joint first at Responsible Travel's World Responsible Tourism Awards at World Travel Market London last year, receiving recognition for taking tourism in a highly responsible direction.

Tren Ecuador manages the entire train network for tourists across Ecuador, and after a revamp in 2015 it now offers 10-day trips to discover some of the country's most beautiful, tucked-away locations.

As well as the day trips, the flagship journey is the four-day Tren Crucero experience, which runs from Guayaquil on the Pacific coast northbound to Quito and up into the Andes (dubbed the Train to the Clouds), or vice-versa (Train of Wonders).

"The journey takes clients along the avenue of volcanoes, with an abrupt descent to Devil's Nose, passing through a narrow gorge, across rainforest and then to the coast," explains Pando.

"Clients will take in different climates, diverse and beautiful scenery and visit different communities along the way. There are 22 indigenous nationalities in Ecuador, and clients get to meet some of these varied populations on our tours," she adds.