Q&A: What does escorted touring look like today?
Paula Stone shares how she became a tour manager for Riviera Travel and reveals the changes in touring in light of the coronavirus pandemic.
How did you get into the role of tour manager?
I used to work as a contractor for Harrod's, working with Italian clients, and then my partner at the time saw an advert in the local paper for Riviera and it went from there.
On my very first tour I was in Rome and they had a power cut. I was thrown in at the deep end as we had customers all over the place, but I really enjoyed it. After that I went into different areas of Italy and was in Sorrento for a few years. I've worked for Riviera for around 19 years now.
Had you been to Italy before starting with Riviera?
I lived in Italy. I worked for the International Showjumping Federation for Horses, so my Italian was reasonable from that and from dealing with Italian customers at Harrod's.
When did you move to Puglia?
Six years ago when my partner and I bought a house, but we were in Sorrento for eight to nine years before that.
What is Riviera's USP?
Individuality. You're allowed to be who you are as a tour manager. You don't have to follow a pro forma. Obviously you have the timetable or schedule – our Bible – but you can adjust your touring style according to the climate, time or people.
Every tour company is fantastic when the tour is going wonderfully, it's when it goes wrong that you find out whether you've got a good or bad tour company. Riviera, for me as a tour manager, has proven time and again that they will support you without question and it's not a matter of how much it might cost or how inconvenient it is. And Riviera is still a family affair even though it's bigger than it ever has been – it's still very much a good support network.
What was the transition into tourism like?
It was hard. I was very fortunate, though, because I'm incredibly good at logistics; I can see solutions to most problems. There were three of us that started on the same day as TMs for Riviera – Adrian, Matt and myself – and we were all based in Sorrento so I had a great support network. Adrian was a very experienced tour manager and taught me everything I needed to know. The three of us worked together for many years, in fact we all still work for Riviera. The company was very small and it was a new area, so it was very hands-on. We had good fun.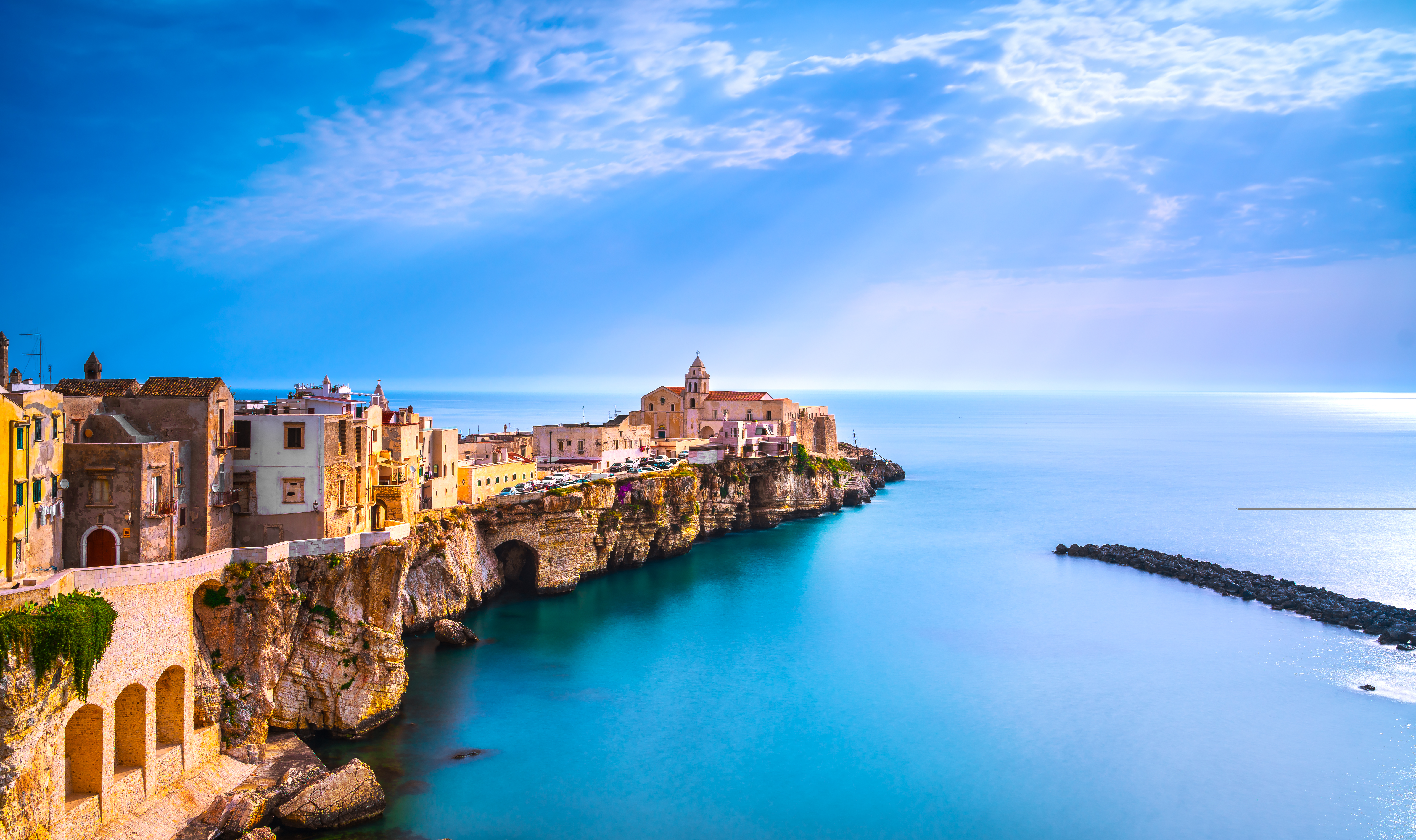 Vieste, one of the destinations in Riviera Travel's Puglia, Lecce & Vieste – Undiscovered Italy itinerary
What is the best thing about being a tour manager?
When you show someone something completely unexpected. Alberobello, for example – clients go there with the iconic images in their heads of the trulli houses with funny roofs, all very twee. But when they actually get up there to the viewpoint [and see all the houses together] they are amazed. It's that moment that I like.
And the worst thing?
If you get three or four days when it's pouring with rain and you can't see outside the coach windows – it's not even for me because I've seen it before and I'll see it again, but it's for the customers, they've spent money to be here and all I can show them is a cloud. I think that's sad!
How have the tours changed in light of coronavirus?
Now we disinfect the luggage, there's hand sanitiser before coming onto the coaches, there are temperature checks at each hotel, we wear masks, we stagger the groups. We've got one tour on this trip, the Puglia, Lecce & Vieste – Undiscovered Italy itinerary, but it's now divided into two groups – separated by flight and each with their own tour manager. The hotels all now disinfectant each room. With seating for meals we used to seat people in groups of six or eight or 10, depending on where we were. Now it's tables of people per booking. It's variable because the laws change every second so we have to stay on top of it and change accordingly. Before we started touring again I physically went around each of the hotels and restaurants and spoke to them and made sure we had the right information. And every place I'd gone to was incredibly supportive [of the new safety guidelines].
What about recent guests, how have they found the new protocols?
They've been really good and very supportive. They're just pleased that they're able to come out. I think they're enjoying [the experience] as well. They're certainly getting the benefits of the fact that places aren't very busy. Probably some places look busy to outsiders but for us it's incredible, it's like going around in winter but with better weather. The last tour that I did, a few of the guests said, 'We feel a lot safer with you in Italy than in the UK'.
How will the touring landscape change post-coronavirus?
It has to evolve. It got to the point where you're putting so many people into such a small area, it was becoming more difficult and you were losing the [authenticity]. There's no point in coming to Italy and only seeing hoards of people. You can't actually get near the Trevi Fountain or the sights, and it becomes frustrating for tourists. So I think it was going to evolve anyway.
For me, [lockdown] did me a lot of good. I'm of an age where I get more tired, where I think I'm maybe getting too old for the job, maybe it's time to give up, and then having six to 11 months out of work, it made me miss it and reminded me how much I enjoy the job. I suspect there's a lot of TMs out there who have had the same lightbulb go off.
Maybe we need to be a little more careful and respectful of the places we visit too. There's a balance between sustainable tourism and overtourism and we hadn't found it. We need to understand that you can't just stomp through the forest and destroy it and expect it to be exactly the same next time we go. Life is evolving. And I think tourism is a big part of that.
You can read more about the Riviera Travel Puglia, Lecce & Vieste – Undiscovered Italy tour in TTG's report here.