Touring options for young solo travellers
Budgeting, satisfying an eco-conscience and finding a trip that offers the right balance of independence and security are all concerns for young travellers. Olivia Rook asks operators how they are catering to the needs of today's newest adventurers.

Solo travel can be an anxiety-inducing prospect for many young travellers. Unfamiliar destinations, different rules, laws and cultural traditions can all be a minefield, particularly for those who have never left the UK without parental supervision before.
Tour operators and agents continue to question how they can diversify youth travel and appeal to both nervous youngsters and those who are desperate to grasp their independence as well as the increasing numbers with an eco-conscience who want to know their adventure will have a positive effect on the destinations they visit.
But there are plenty of options out there to cater for a range of needs and preferences from comprehensive packages that provide more hands-on support and those that facilitate responsible travel to round-the-world tickets or multi-city flights for more independent travellers.
As an agent you are perfectly placed to find out where your individual customer sits on the independence spectrum and suggest itineraries to suit their needs. Whether it's filling them with excitement for their adventure or providing reassurance, to travellers and, in some cases worrisome parents, that their hands will be held when necessary.


Responsible travel
Brian Young, managing director at G Adventures, explains that the global trend towards responsible travel is a key concern for young travellers and the company's ripple score allows travellers to see how much of the money they are spending on the tour is directly going back into local communities.
"Travellers on a G Adventures tour know that they're doing good and giving back," he says.
"We're passionate about keeping as much of the money that is spent on tour within the local community. We use all local hotels and local transportation. These kinds of projects are what set us apart from others."
One example is the Indochina Discovery tour, which takes travellers on a 30-day trip between bucket list destinations in Thailand, Cambodia, Vietnam and Laos. It has a ripple score of 100, which means that all expenses remain in the local community. The tour features highlights such as snorkelling in Koh Rong and cruising the Mekong river on a houseboat.
Book it: The Indochina Discovery tour starts from £1,749pp excluding international flights.
A tour for every style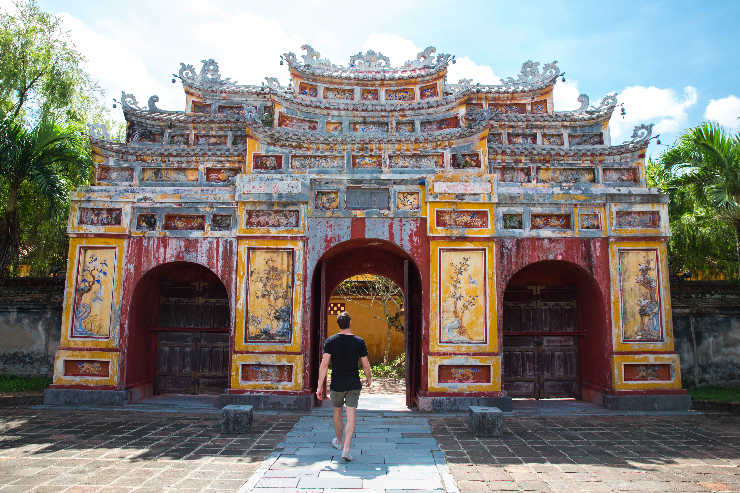 Once you have deduced what level of support your customer wants, Intrepid Travel will likely have something that fits. The operator offers a range of trips for travellers wanting different levels of support.
Aaron Hocking, managing director at Intrepid Travel, explains: "Intrepid's trips come in three trip styles: Basix, Original and Comfort. Our Basix range is great for those travellers who want plenty of free time to do things that suit their budget and interests. Prices include simple, clean accommodation, ground transport, some group activities, some meals and the services of a local guide.
"Our Comfort style trips are ideal for travellers who would rather pay more up front to have everything looked after on their trip. We use more private transport, the accommodation is of a higher standard and more meals and activities are included."
The Comfort range also features "unique accommodation", such as a Jordan desert camp, Indian heritage property and a permanent camp in the Serengeti.
Intrepid's top Basix tour is Essential Vietnam, which takes travellers on an 11-day trip from Hanoi to Ho Chi Minh and includes kayaking around Cat Ba Island and a walking tour in Hoi An Old Town. The tour is marketed as being the
perfect destination for first-time travellers because of its affordability and Vietnam's welcoming culture.
Book it: Essential Vietnam starts from £452pp, excluding international flights but including all accommodation and other transport.
Cutting costs
Time rich and money poor, younger travellers often end up plumping for shoestring travel.
In destinations such as America, booking a tour can be helpful for reducing hidden costs. Hayley Griffiths, head of marketing at TrekAmerica, explains: "Most of our clients are under 25, so travelling with us on group tours in private vehicles means that they avoid extra car hire charges such as the young driver surcharge and one-way drop off fees.
"It's surprisingly tricky to get around the USA using public transport, as a lot of bus stations are on the outskirts of cities, and can run at all times of day and night."
TrekAmerica's three tour styles offer a variety of transport options. On Original tours, smaller groups will travel in modern TrekAmerica vehicles, while Bolt tours give travellers the chance to experience a range of public transport, from local buses and boats, to taxis and tuk tuks. On Plus tours, transport is chosen according to the group's size.
Some of the operator's most popular tour packages are camping trips. The two-week Westerner 2 camping trip covers a classic loop of the west coast, stopping off at the Grand Canyon and Las Vegas.
TrekAmerica's camping trips offer the additional financial saving of an optional food kitty: travellers put in £8 a day, which covers all their meals.
Book it: The Westerner 2 starts from £1,350pp including nine nights camping, two nights in budget accommodation and two nights in a hotel but not including flights.
Flexible travel - the expert view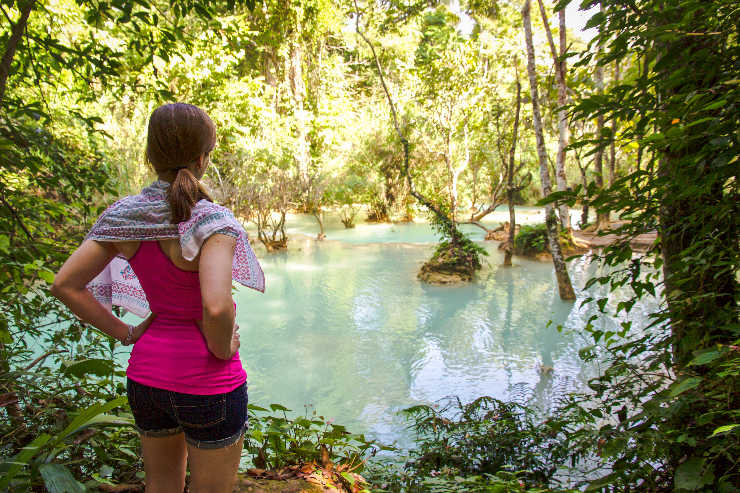 For the more independent traveller, a packed tour itinerary could feel restrictive. Round-the-world tickets and multi-city passes give travellers a more hands-off approach to organised travel while also ensuring a degree of financial security if plans change.
Sarah Dean, head of marketing at STA Travel, says that the flexibility of STA's multi-flex pass means travellers usually book their international flights through STA as well as their packages.
"Dates and routes can be changed as the passenger is travelling, which allows them to change their mind. Also, contact with their travel expert whilst on their trip allows them to add in new flights and adapt their trip as they go," she explains.
"It is often common for a round-the-world trip to start with tour packages to build confidence, or experience 'full authenticity' of certain countries, and then go on to some more flexible travel with bus passes or campervans where language barriers and accessibility aren't as much of an issue."
STA agents emphasise the rewards of package trips, such as unique access to areas, people and experiences, to persuade travellers on the fence about booking. Dean says packages are a great way for young travellers to make like-minded friends and find their feet in a new country, adding, "they can cover a lot more ground in a shorter space of time".
She points out that this is particularly important for travellers wanting to tackle large areas such as South America in just two or three weeks.
Feeling app-rehensive?
Five must-have free apps to recommend to the newbie traveller
Maps.Me
If they run out of data in the centre of Bangkok, Maps.Me is the app they'll need. Providing offline maps, this app allows users to download countries so they can find their way from A to B.
XE Currency
This currency converter app allows the user to hold up to 10 currencies so they can compare multiple exchange rates. It stores the latest updated rates so it works when the user is offline too.
Splittr
Kitty management made easy. This app helps groups to split expenses and keep track of how much they owe. It works offline and can sync with friends.
G Adventures
Brian Young says that G Adventures has focused on how it can reduce anxiety before travellers start their tour. The travel company's new app allows solo travellers to connect with others on the trip before they leave and it helps the chief experience officer (tour leader) to learn about the group's interests.
Packpoint
Help them avoid packing meltdown by recommending this app that organises what they'll need in their suitcase based on the weather forecast and activities planned.