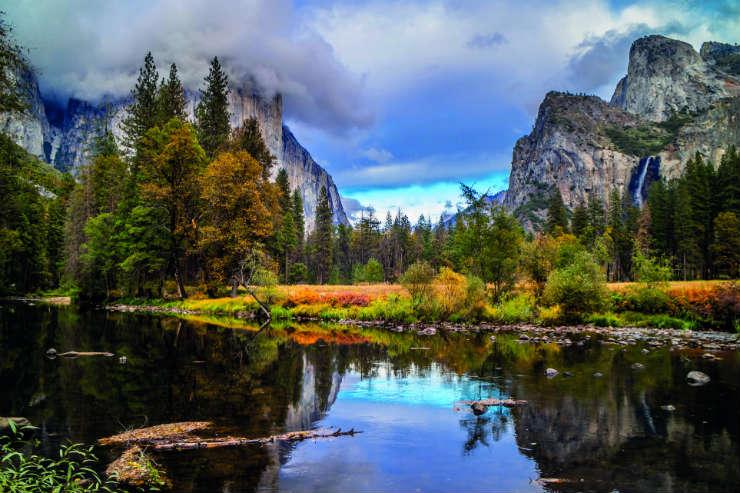 Views of Yosemite national park
Sometimes, in life, it's good to get some perspective. I find mine in Yosemite national park as I gaze up at the gargantuan granite monoliths of El Capitan and Half Dome, feeling as small and insignificant as an ant.
Suddenly, from my spot on the Valley Floor, I spot more teeny-tiny "ants" dotted across El Capitan. "Rock climbers," points our guide. "They'll sleep up there tonight on their way to the summit."
Four million people come to Yosemite each year to hike, climb, camp, or simply to soak up the sights. Experiencing the park's sheer scale, and the superlative, larger-than-life natural icons found within its 761,266 acres of land, is truly humbling.
Yosemite has existed for aeons: Mariposa Grove's giant sequoia trees are thousands of years old – some dating back to the times of Christ – while craggy-faced El Capitan is a mind-boggling 85 million years old.
It's impossible not to walk around Yosemite without a sense of awe and reverence for the beauty and forces of nature. I leave the park feeling revitalised, refreshed, and with a profound respect for the planet on which we are lucky enough to live.
Getting here
There are five park entrances, four of which are located on Yosemite's western side and one of which – the Tioga Pass – is on the more remote eastern side.
My boyfriend Joe and I arrive from South Lake Tahoe so we take the Tioga Pass, which meanders through the Sierra Nevada Mountains to an elevation of more than 3,000 metres.
The drive is hypnotic, with each twist and turn in the road offering another gasp-inducing surprise – thick clumps of forest give way to yawning crevasses, while mountains etched with deep scars and crags hang over the rippling, electric-blue Tenaya Lake. The journey from Tioga Pass to the Valley Floor takes around two hours, with time allowed for photo stops.
If clients are travelling in summer, tell them to set off early, as the routes can get crowded. Better still, encourage them to visit the park out of season, when the crowds disband and the Yosemite experience becomes even more unique.
Clients can ditch the car and use the Yosemite Area Regional Transit System (Yarts), a public transport service that runs year round on Highways 140 and 41. The service connects Merced, Fresno, Sonora and Mammoth Lakes to the park and picks up from various hotels (see yarts.com for more information). Once inside Yosemite, clients can take a free hybrid bus shuttle service to get around.
Entrance to the park per car or RV costs $35 from April to October, and $30 from November to March. The pass is valid for unlimited entries to the park for seven days.