How to find new clients on fam trips and on holiday
Features
11 Nov 2019
by Charlotte Cullinan
Get chatting by the pool and you might end up with new clients. TTG meets agents who find business abroad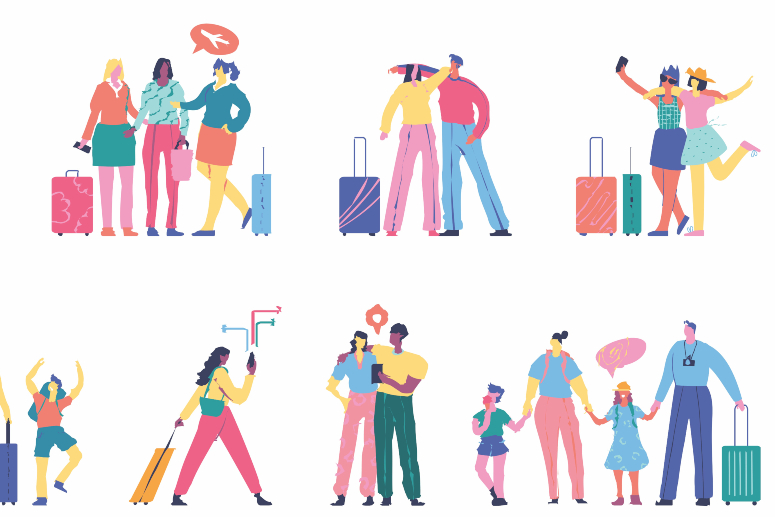 While a holiday can be an opportunity to forget about the day job, for many agents a trip abroad creates the perfect environment to generate new business.

For the team at Just Ask Travel in Lancashire, a key element of their business development strategy centres on travelling abroad to secure new clients. To facilitate this, directors Greig Horabin and John Falcon invest profits from Just Ask Travel, a Global Travel Group member, into overseas trips.

The pair also run other businesses but spend up to 12 weeks a year abroad focusing on developing contacts with luxury suppliers and securing new clients.

Horabin explains: "We'll stay in top hotels and meet the management teams. We'll then get talking to guests around the pool, or in a club lounge, and explain what we can do for them. We hate pressure selling, so it's all very relaxed. Back home we can pick up enough bookings from new customers to pay for our trip. The more we travel, the more we book."
FAM FRIENDS
Fam trips also provide opportunities for Horabin to meet new clients. "As soon 
as I get some leisure time I go to the bar, look for guests with posh shoes and
 nice watches and get talking to them.
 I'll ask if they're enjoying their trip, and it often leads on to what everyone does for a living. When I say I'm a travel agent it starts a great conversation. It's just talking to people, and being really proud of my job," he says.

In March 2018, Horabin met a guest in the bar of the Hard Rock Hotel Tenerife who went on to book £22,000 worth of business. The new client recommended Horabin to a friend, who booked a trip for £8,000. "All that came from chatting over a glass of cider," Horabin adds.

One tip is to invest in high-end business cards. Horabin opts for etched wooden ones. She explains: "They are around
£4 each, but look fantastic. They're great for handing out at swim-up bars, and people are flabbergasted by them."

Horabin asks if he can connect with new acquaintances on Facebook, who then see his social media presence.

"They can see me flying business class, or in the Maldives, or doing a cruise, or meeting hoteliers. It gives a sense of authenticity and trust."
CREATING CONNECTIONS
The team at Thorne Travel are always ready to engage with potential customers abroad. In July, senior travel consultant Christiane McCorgray met several new clients during her holiday in Mexico. She chatted to one couple around the pool who went on to book, and then discovered that she
and another fellow guest had an acquaintance in common. Conversation flowed naturally, and the holidaymaker has since booked three holidays with Thorne Travel. Business didn't stop there, as the new client handed out McCorgray's business cards at her work, which generated several other new clients.

"Being on holiday is a great time to talk about being an agent, as you are experiencing the same thing as the people you're talking to," McCorgray says. "That common ground means they know that you like what they like in a holiday."

Travel Counsellor Louise McKnight agrees. "You have to take every opportunity you can get to find new business," she says. "What better time is there than a holiday to drop in how you can help someone book their next one?"

In August, McKnight and her partner enjoyed
 a week-long Mediterranean cruise on Celebrity Eclipse. As well as coming home with plenty of photos and memories, she also found a new 
loyal client. "While on an excursion we got chatting to a group who lived just 10 minutes from us at home. I asked one of the ladies how she books holidays and she said she shopped
around. I told her about my business
and gave her a business card."

Within three weeks McKnight received
 a call, which resulted in a booking to 
Jersey for 11 people. The new customer
 has since referred McKnight to a friend, who 
is looking to book a road trip in France. "Getting yourself out there can go far," McKnight stresses.

For those nervous about instigating a conversation with strangers, 
McKnight has the following
 advice. "I was out of my comfort zone at first, but the more you do it, the more confident you'll become. Now, whenever I overhear people talking about holidays, I'm ready to mention that I can help. You have to overcome your fears if you want your business to grow."
Courting clients
David Moon, head of business development at Advantage Travel Partnership, shares his tips for networking closer to home

Get into sport: Sponsoring your local team helps them and raises your profile. Don't forget to go to some of the games for networking opportunities.

Target groups: Think about your local social groups, such as the Women's Institute, walking groups and cycling clubs. Offer to give a talk about travel and use your knowledge to demonstrate that you are the local travel expert.

Chat with the parents: Once the school run is done, how about inviting parents for morning coffee at the local coffee shop? It's a great opportunity to tell them about up-and-coming destinations.

Bring your cards: Always carry your business cards. Opportunities can come up in the most unlikely places and a business card is a good reminder for the recipient of who they've met.
Do a handout: If you are going
to present to a group of potential customers, always have a handout ready. An A5 leaflet outlining the services you provide and showcasing your expertise is invaluable.