Tips on selling to families in 2019
As the family market continues to become more complex, Debbie Ward looks into how agents can sell effectively to this lucrative sector
There was a time when a family holiday was the ultimate fly-and-flop, with the price and pool being the main concerns. To maximise on this market now, however, you need to consider wider demographics and interests and, thanks to aggregators and social media, deal with more knowledgeable customers, including children.

Jon Hendry-Pickup, Butlin's managing director, explains: "How informed people are about what they're able to do and their range of options has changed massively. They're looking for clarity on what it is they're going to buy. We're seeing the expectation that we're able to tailor to everyone we speak to."

Clients no longer choose from options suggested by their agent then book the same day, confirms Yvonne Holmes, manager of Advantage agency Classic Travel in Loughton. "Now [the booking process] seems to go on for weeks and the children get to have a say. The £299 bookings have gone to the internet, which is fine by me – I'd rather do ones with a nought on the end!"

Here we provide insight into selling to today's ever-changing family market.
Expanding groups
Multigenerational trips are now a key trend in family travel. Classic Travel finds grandparents often pay for everyone, sometimes to celebrate big birthdays, making all-inclusives popular for their upfront pricing.

For tour operator Mark Warner, the boom in multigenerational trips and second-marriage "blended" families with step-siblings has meant adjusting its product for larger parties with mixed ages.

"In the past few years we've had more demand for bigger rooms, interconnecting rooms or suites. Levante Beach Resort on Rhodes was built to our specifications and we specially requested family and interconnecting rooms, some with sofa beds and sliding doors," says Polly Ashman, communications and social media manager at Mark Warner.
Flexibility wins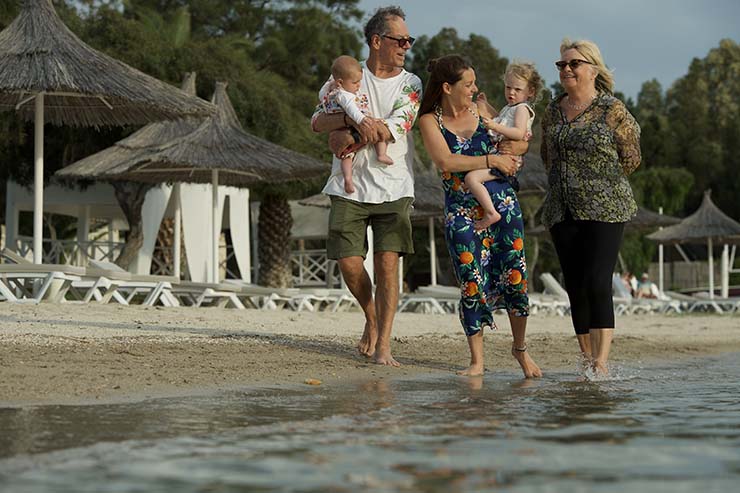 Grandparents helping with childcare have partly prompted a shake-up of Mark Warner's kids' clubs, with full-time baby care replaced with shorter sessions and older children able to sign in and out depending on the activity they want to join.

"Older kids might do a family sailing trip in the morning and join the kids' club later for tennis. Everyone's doing a lot more together but at the same time wanting flexible childcare," says Ashman.

Meanwhile, Jet2holidays is attracting families flexing outside the traditional seven-, 10- or 14-night holiday durations.

Age-variant activities are increasingly important, and Butlin's product has evolved to suit, with Paddington meets for tots and football schools and high wires for older siblings. A new pool at Bognor Regis includes a splash area for little ones and adrenalin slides for older kids.

"The last thing we want is a 13- or 14-year-old rolling their eyes. Teenagers are very influential on their parents for holidays and are at least as informed as they are more active on social media," says Hendry-Pickup.

Product improvements are now constant to satisfy an audience who are well aware of alternatives, he explains. "The expectations and the standards we're having to deliver are higher.

We need to keep up to date with not just what people are seeing on holiday but on the high street." He adds that guests, many of whom are frequent repeaters, now give detailed feedback and expect it to be acted upon.
Tech it away
Families Worldwide believes social media has created both demand and confusion. Sally Emden, marketing manager, says: "Families now have higher expectations having seen beautiful imagery on Instagram and other channels and expect the same for their holiday. However, the wealth of information and misinformation makes it an overwhelming landscape."

Social media is conversely a "great opportunity", believes Jet2holidays' head of product Zoe Towers. "Thanks to great content, inspirational imagery, fun videos, competitions and a host of other interactive ideas, we find it a great way of engaging with customers of all types, and also with independent travel agents via our dedicated trade feeds."

In Butlin's resorts, meanwhile, guests use technology to pay in restaurants and plan their day.
Adventure calls
Classic Travel's family bookings increasingly favour active all-inclusives and adventure operators such as Intrepid Travel, which saw its global family passengers rise by 26% last year. Dyan Mckie, Intrepid's family product manager, says: "Parents don't want to simply visit a resort, but to really see the world with their children. As for the kids, they want to come back with great stories and pictures to share with their friends."

The operator's increased range of family experiences includes cave-tubing in Belize and canoeing the Okavango Delta. It is also seeing demand for homestays and community interaction, partly informed by children's eco-awareness.

Meanwhile, Families Worldwide has responded to greater interest in walking and winter activities holidays and also has a new group trip to the Azores and a tailor-made Philippines holiday.
Tips on selling to families
Clarity is key: Explain inclusions, stress value for money and reassure you can tailor to clients' needs. Details such as room images help.


Room types: Shortlist suppliers with large or flexible room types. Look at new purpose-built resorts.


Technology: Use technology such as 360-degree animations to drum up excitement about what your clients can do on holiday, Butlin's advises.


Seat charges: Classic Travel suggests integrating airlines' guaranteed seating charges within wider costs where possible.


Adventurous families: Stress to clients that group travel eases the strain of touring with children. Intrepid, for instance, maximises hotels with pools and balances action and free time. Remember, adventurous itineraries aren't always long-haul. Help families imagine the trip by using family adventure imagery and mention specifics like cooking classes, wildlife spotting and jungle huts, says Families Worldwide.

Marketing: Use SEO keywords online such as "multigenerational summer holidays" and relevant imagery to reach this growing demographic, says Mark Warner.


Pester power: Keep older kids and teens happy on holiday and online, as they'll be putting pressure on parents for the choice of next year's break.
Do you feel as though the demands of the family market are changing? Email feedback@ttgmedia.com and let us know your thoughts or leave a comment below.