Best of the best: What powered Thomas Cook agent to two TTG Travel Awards
Moira Lumsden won both high street agent and top agent at the TTG Travel Awards last month. Thomas Cook's best-performing agent tells Katherine Lawrey what drives her.
Thirty-five years ago when Moira left school, she wanted to join the police. But she discovered she was too young and in the meantime, she interviewed with a travel agency in St Andrews.

"I really wasn't sure about travel," she admits. "But I fell in love with it and never joined the police."

She's spent the majority of her career at the same branch of Thomas Cook in Dundee, where she has witnessed great changes over the years. "There were no targets back then," she recalls. "Whether you sold the holiday or not, it didn't matter so much. Now all our sales are analysed and it's about maximizing profit.

"Of course we didn't have computers, we had to phone up to make every booking. And if somebody came in and wanted to go to the US, it was a big deal."

"There just wasn't the same pressure," she recalls. "It was a lot simpler."

But evidently Moira thrives on pressure because, for 10 years now, she has been Thomas Cook's top-performing agent.

She puts this long-standing reign at the top to her loyal regulars – "my bread and butter" she calls them – a few demanding "bridezillas" and the odd clients who spend £20,000-plus through the store's tailor-made appointment service.

But she doesn't take them for granted; 32 years in the same shop means there's a natural attrition when ageing regulars stop travelling, and she works hard for new business.

"We invite clients to bespoke events in store and we attend wedding fairs. When I see a good offer, I'll run a mailshot, and I use the personal approach and phone people. It's amazing the success rate that delivers. You have to own the deal," she says.
Caring side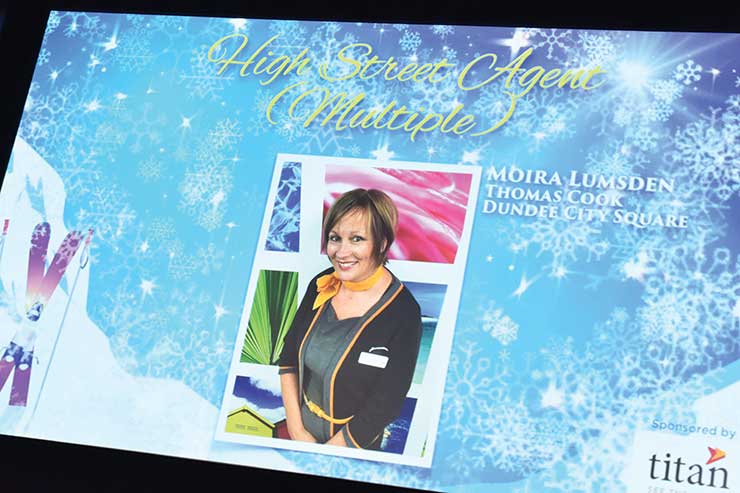 Although not strictly company policy, she will give her mobile number to her more elderly customers. "Nine times out of ten they will not use it, but when they have reason to, they are very grateful. I had a chap caught up in the Christchurch earthquake in New Zealand. He was very stressed and relieved when I could sort him out."

Hand-holding for elderly customers is an instinctive part of her service: "It can be stressful going on holiday, with the airport check-in experience and long flights. I will go through everything with my clients with a fine toothcomb."

This personal service is critical; she pushes back on chasing new leads if she feels she's not responding to existing clients quickly enough: "It's so easy to be snowed under with enquiries and not have the time to service ongoing bookings. But it's no good if my clients aren't sitting together because I didn't pre-book their airline seats, or an anniversary couple don't have rose petals on their bed because I didn't notify
the hotel."

Her customer retention strategy is simple: "You have to care about them." Clearly the feeling is mutual, because those customers have showered Moira with congratulations and gifts after her TTG Travel Awards wins. "I've had champagne, wine, flowers, home-made jam. I've been very spoilt.

I feel very privileged to have such lovely, loyal customers."

The perks of the job far outweigh the long hours, qualifying for a fam trip to the Galapagos with Cox & Kings was a memorable highlight, as was a pool party at the Aria in Las Vegas. "My daughter had some choice words about that one," she laughs. "What are you doing, Mum!' she berated me. But I love my job, it's fun and it keeps me young."

As she approaches the age that she would be able to retire as a policewoman, does she have any regrets? "Only when I'm booking their round-the-world holidays paid for by a big fat pension," she laughs. "But no, I have no regrets. It would be a completely different life, and I've got some lovely colleagues who have genuinely become great friends."

And she's not ready to relinquish her Thomas Cook crown just yet: "I know there are a few snapping at my heels, and that definitely drives me. After all, nobody knows the second man on the moon!"