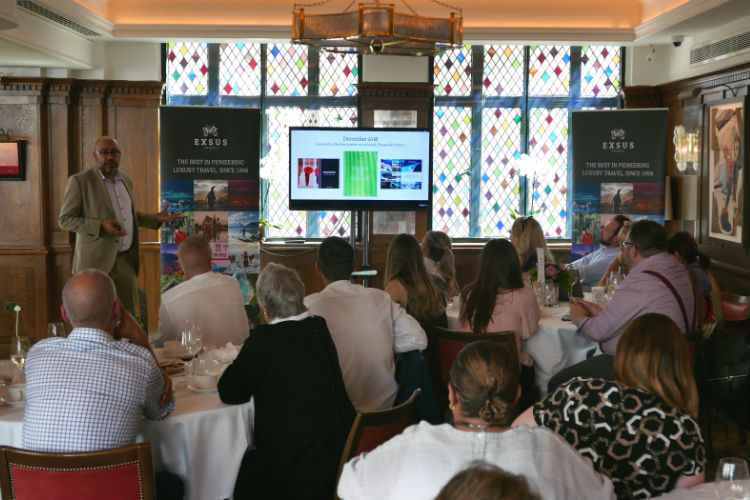 Exsus Travel Lunch Neil Sealy.jpg
Head of trade sales Neil Sealy made the announcement at a first anniversary celebration for some of the operator's top performers.

Sealy, formerly of If Only, joined Exsus in June 2018 to spearhead the company's dedicated trade team.

Exsus had previously been largely direct-sell only. The business has since joined Abta and Aito, launched its first brochure in December and in April, took on three new trade staff based in Norwich.

The same month, Sealy led Exsus's first agent fam – to Iceland – before a second in June to Crete. More are planned later this year and into next year.

Sealy added the operator's destination specialists have also been travelling widely to increase their knowledge.

Meanwhile, Exsus has worked on providing new marketing and sales assets to agents through a new agent Dropbox where partners can go to download images, posters and social media assets.

Sealy said the company's achievements over the past year had "completely blown his expectations out of the water".

"It has been a fantastic year, with travel trade sales accounting for an impressive 37% of our overall revenue. A big thank you to all the agents we work with."

He added Exsus's plans over the next year would involve hosting more fams and educationals.
"We really believe they are a great way not only to reward our agents, but to showcase our product and service to help them learn about more destinations. If you see it, you will sell it."

Other focuses will include more agent dinners, further additions to Exsus's dedicated trade team, new destination specialists joining the business, potentially with a focus on India, and the launch of new destinations.

A number of the operator's top-performing agents were recognised at the lunch at The Ivy in London with outstanding support awards. Off Broadway Travel were crowned short-haul agency of the year, Dorking Travel long-haul agency, Baldwins Travel large agency, and Quality Travel small agency.

Guests also heard from a handful of Exsus's suppliers, including Jaci's Lodges, Grand Velas resorts, Eleven, Shamwari and Cheetah Plains.