Drink up: becoming a wine connoisseur with Celebrity Cruises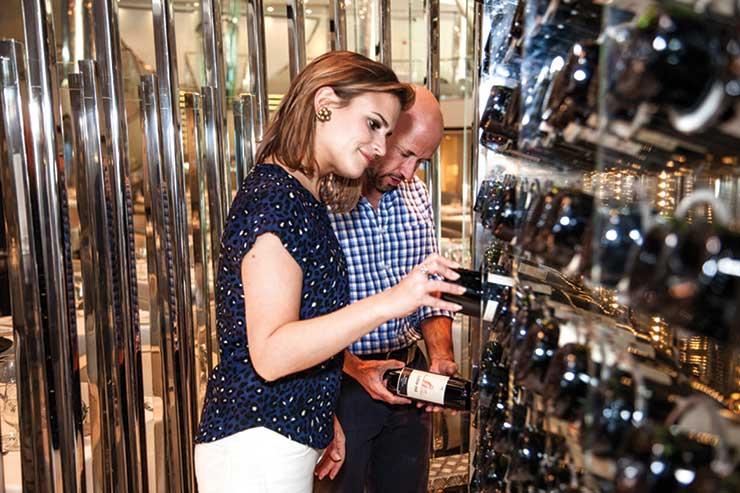 Sharelines
---
Wine tastings and vineyard excursions are on the menu for Celebrity Cruises passengers, thanks to The Wine Show
---
TV series The Wine Show has partnered with Celebrity Cruises and co-presenters, Amelia Singer and Joe Fattorini will be joining selected European sailings this year. The pair will host a series of interactive tasting experiences and shore excursions to vineyards.

Last month I joined a sailing onboard Celebrity Eclipse from Southampton to Le Havre and caught up with Singer to find out more.

Tell us a bit about the partnership with Celebrity Cruises?
I'm doing this two-night sailing [Southampton to Le Havre] and then Joe [Fattorini] will be doing five nights on a September 11 departure and I'll be doing another five nights from October 9.

We'll be doing four different shore excursions including trips to the Torres winery in Spain and Chateau de Cremat in southern France.
We'll also be doing onboard tastings, and helping to curate Celebrity's wine lists plus doing some staff training with the onboard sommeliers. On The Wine Show we travel to 12 different countries so it makes perfect sense to pair with Celebrity Cruises considering all the destinations its ships call at.

Do you expect Celebrity passengers to know a lot about wine already?
I anticipate there will be a huge range of wine knowledge, some may have qualifications, others may just enjoy it without knowing much.
Celebrity Cruises has the rarest and largest wine collection at sea so there is so much scope for us onboard. We want to make it accessible and inclusive, and while it should be educational, it should also be social and fun.

Which wines will you focus on in your tastings?
I'm half-American and I'm amazed by the diversity of US wines that are featured onboard Celebrity ships. I think California is one of the world's most exciting wine regions but in the UK we are not showcasing the exciting small regions from the US, it's mostly just Napa and Sonoma.
There are actually more opportunities for me to work with US wines onboard than there are in London, however cosmopolitan the city may be!

The tasting is an hour long so I plan to focus specifically on Californian wine as we can talk so much about one region rather than trying to go into details on the intricacies of Bordeaux for example. There are lots of prejudices about Californian wines – so hopefully we will dispel some of those.

You can also find Californian wines in all the restaurants onboard so after guests have learnt about the wines they can go and enjoy them with their dinner.

How will you work further with Celebrity Cruises to develop its wine offering?
We have created tasting kits so passengers on Celebrity's European sailings this summer can either join our wine tastings when we are onboard or they can do their own in-room tasting at any time. I will also be meeting 22 sommeliers on this trip to find out more about wine onboard – what sells well and what works.
I'll need to spend more time in the restaurants and learn more about the clientele before Joe and I start work on the wine lists. I'll also deliver staff training – we'll be looking at how to make wine more fun onboard.

Which wines do you think are most exciting right now?
As well as Californian wines, I like Austrian whites and Portuguese reds, which I think are good value for money. I also like whites from places that typically produce red wines such as Spain and the Rhone.
DIY tastings
Celebrity Cruises' European sailings now offer guests the chance to do their own in-room wine tasting with boxes developed with The Wine Show.
An interactive in-room video starring Amelia Singer and Joe Fattorini plus co-stars Matthew Rhys (Brothers and Sisters) and Matthew Goode (Downton Abbey) is available to view while tasting the four wines, which come packaged in a box with a tasting mat and tasting notes. The box is for two people and costs $59.