Find your happy ever after in Efteling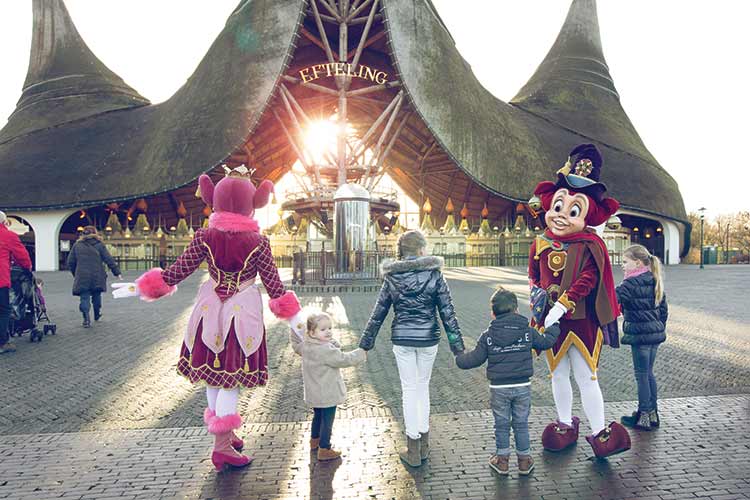 As the rollercoaster thunders around the twists and turns of the track, my six-year-old niece sobs uncontrollably beside me. My natural instinct is to reach out and comfort her but the momentum of the 'coaster forces me away from her as we lurch around a bend, and I can only shout: "Hang on, it'll soon be over!"
Such is the effect of Efteling's George and the Dragon rollercoaster on a plucky six-year-old. She only just measures up to its 120cm height restriction and she had no idea what to expect. When it finally grinds to a halt, her look of shock is quickly replaced by one of triumph. She rushes over to mum, and demands to go again.
I find myself counting my lucky stars that she's not yet tall enough for the park's newest ride, Baron 1898. If she had been 140cm, I'm sure we would be on it. A dive coaster, this has a vertical 37.5-metre drop, and the screams from those brave (or should that be foolish) enough to try it, echo right around the park.
The other ride we all avoid is the Python, which turns you upside down twice. But even taking these boundary-pushing rides out of the equation, Efteling still delivers a complete theme park experience for all the family.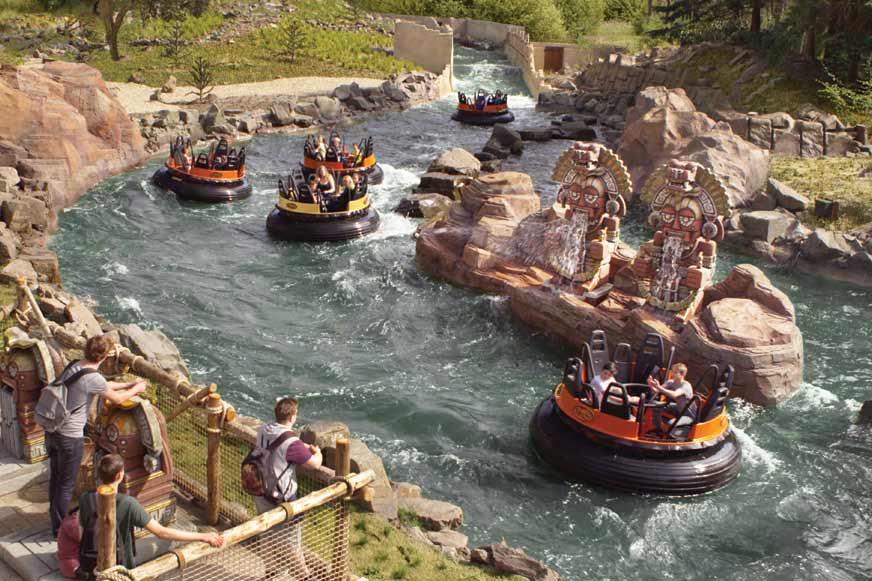 One nephew is not keen on heights or dark spaces but he is addicted to Piranha, the wild water ride. We sit in a free-floating circular raft and bob down the river with the current. Random splashes from waterfalls, fountains and waves only make us laugh more. A clear family favourite – provided you don't mind getting wet.
The other nephew is fine with the dark… he leads his sister confidently into Spookslot, the haunted house, where the scariest thing turns out to be a sudden loud sneeze from a fellow park visitor. He doesn't mind heights, standing confidently at the railing as Pagode, the soaring Thai temple, climbs higher and higher in the sky, slowly rotating for sweeping views of the park.
But he's nearly defeated by the spinning cauldrons (Monsieur Cannibale). First time's a charm; but when we stay on for round two, he starts looking a little queasy.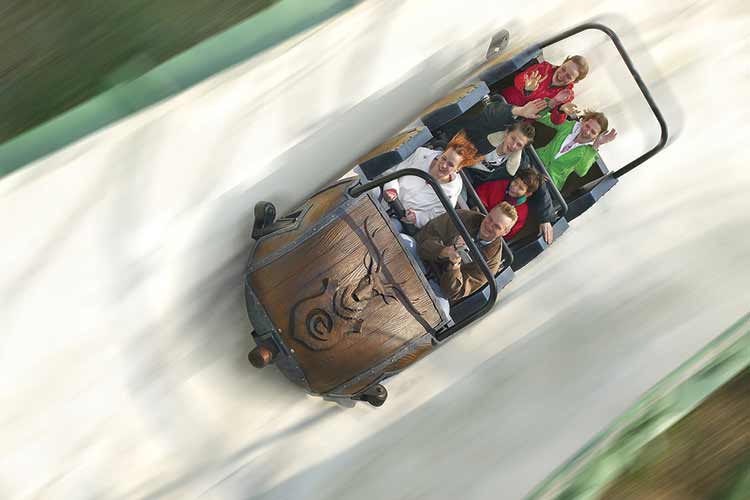 While the kids are "driving" Ford Model T cars on the Oldtimer track, my sister-in-law and I seize our chance to go on the swinging ship. As the galleon swoops back and forth like a pendulum, we scream like big kids and wonder where on earth our stomachs are, because it doesn't feel like they're in the right place.
We're not done with rollercoasters yet. De Vliegende Hollander (The Flying Dutchman) starts as a dry ride, and turns into a water coaster, by way of a fairly steep incline. We pluck up the courage for indoor coaster Vogel Rok but the dark shouldn't be a deterrent; music and laser images make it an exciting ride. And the Bobsleigh is a good, fast run for those who don't want to go upside down.
Some of the biggest hits are neither fast nor wet. A miniature maze includes a few surprises, such as a talking statue and a spraying fountain. We may not be able to see the children behind the hedges but their giggles betray exactly where they are.
There are a good number of merry-go-rounds; a traditional horse and carriage version, a pirate carousel; swing chairs and more. A PandaDroom 3D movie brings an educational element to the park with its conservation message; and there's a charming monorail made of snail carts. If you don't have a head for heights, there's a Gondoletta boat ride and a steam train through the park for more sedate tours.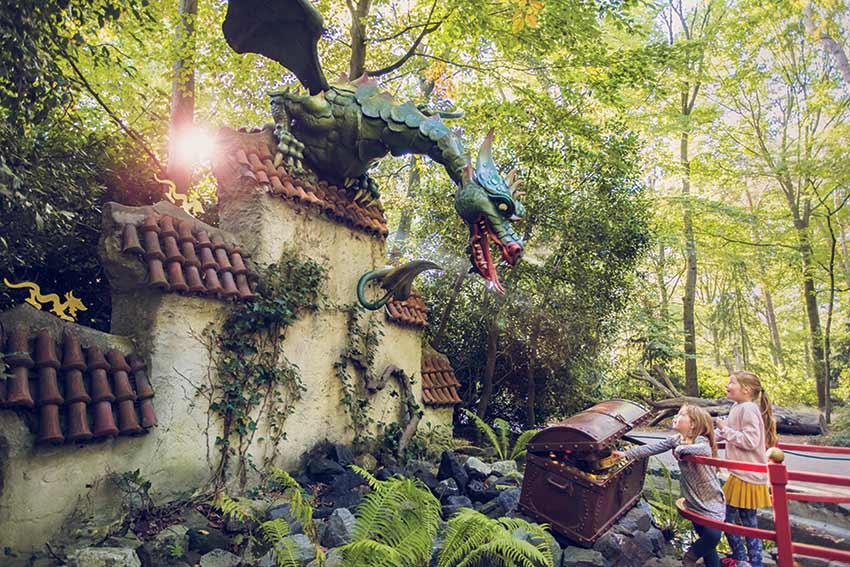 One of the set pieces that marks Efteling apart from other theme parks is the Fairytale Forest. This is where it began, way back in 1952, with the creation of an enchanted forest where fairy tales come to three-dimensional life. A who's who of the fairytale genre is presented in a series of tableaux. Scenes of Hansel and Gretel, Little Red Riding Hood and Sleeping Beauty transport me back to my childhood when I used to devour their stories. Some scenes are static, others more theatrical. The witch climbs Rapunzel's braided hair; the Emperor makes a public appearance in his new clothes (so nude then) and the prince slips the shoe on Cinderella's foot. Whatever your age, the Fairytale Forest is akin to stepping into a life-size storybook and dusting yourself with nostalgia.
The park closes at 8pm in high summer and 6pm in winter. It's worth staying later in the park at least once to catch the Aquanura water show at the end of the day. In the lighter summer evening, we miss out on the multi-coloured effects that would be more apparent in the dark, but the water, music and occasional bursts of fire still make for a stirring finale to our day. There are other shows in the daily programme, but we skip these, presuming they will be in Dutch.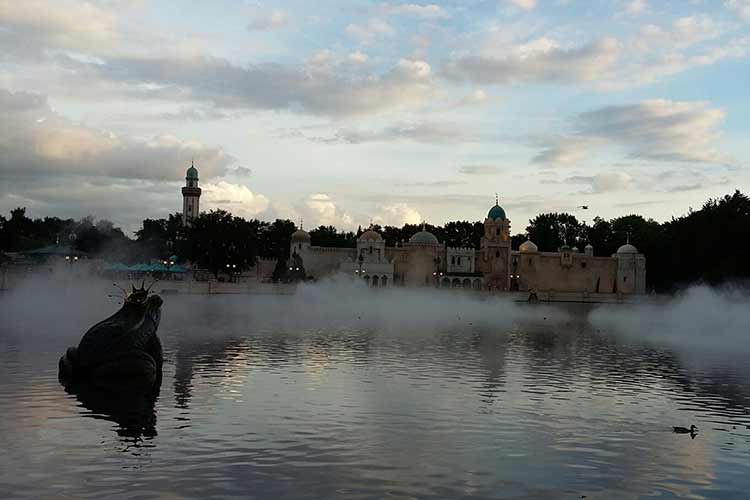 Language isn't generally an issue in Efteling, though – there is enough English signage to get by, and theme parks are a visual experience first and foremost. For cleanliness and friendliness, I can't fault our Dutch hosts.
Our visit coincides with the European school summer holidays, when it is busy, and we encounter queues of up to half an hour for popular rides. The weather is pretty miserable on our first day but the rain showers have the benefit of cutting queues. With an afternoon, a full day, and most of the next day in the park, we manage to do everything we want to do at least once.
The novelty of getting a drenching on Piranha fails to wear off – we repeat that ride five times in all. And my niece does go back on George & the Dragon, when she yells at the top of her voice: "This is the best ride ever!'
Book it: SuperBreak offers a three-night stay in a house sleeping eight in Bosrijk Village from £967 on a self-catering basis, with entry to Efteling Theme Park included. Valid in late March 2017.