What to consider when planning a rebrand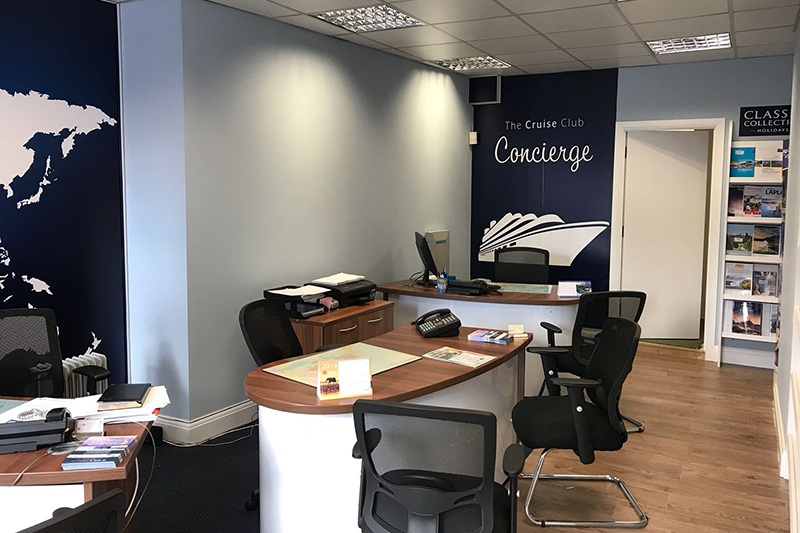 A rebrand goes beyond a new logo and a fresh sign over the door. For many agents it is a new chapter in their business, as effective branding can increase sales, secure new clients and boost staff morale.
Getting it right is an art, and enlisting an expert will help create a professional brand strategy and visual identity. Nathan Sandhu, founder and creative director of design and marketing agency Jazzbones Travel, says the most common reason for a rebrand is a change in strategic direction for a company. He says the right solution will involve "looking deep into the company's DNA".
"We look at what makes them different, what sets them apart from their competitors, what their products and personality are and who their customers are," he says. "This will all influence the approach to the brand name and identity system. 
We'll then conduct market research, review and refine, before launching the new approach."
Sandhu says involving staff is vital, adding: "It's extremely important that a company gets the buy-in of its employees, who are the core brand ambassadors. Communication to them about the strategy is very important."


You might also like: Why agents should consider brand colours when marketing to clients
Team effort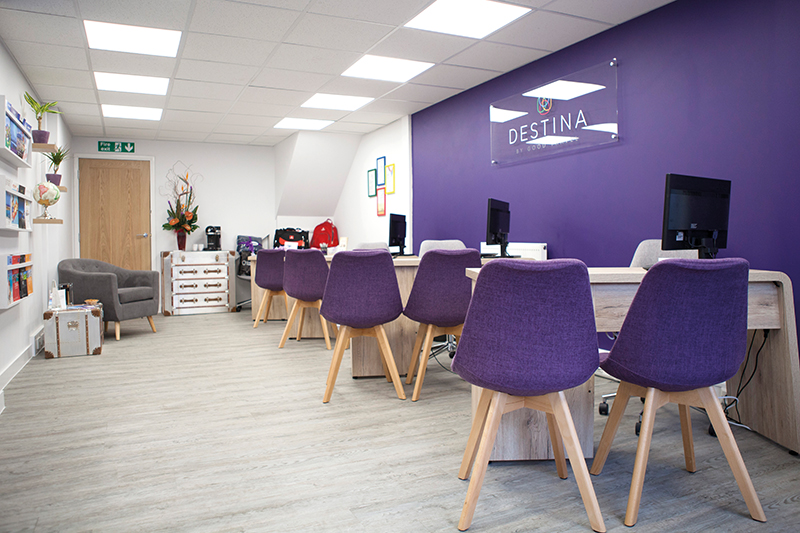 Staff were involved when Mercian Travel was rebranded by Good Travel in May 2017 to become Destina. The agency was acquired by Good Travel Management in 2011, and after reviews by an external consultant and The Travel Network Group, a rebrand and refurbishment were set in motion.

Head of leisure travel Abi Hyslop says: "The team were consulted at all times during the process. Right from the start, they were involved with choosing the name and colour scheme. We all worked together to design the layout of the office and choose furniture and accessories. The whole process was a team effort."

Destina evolved from the word destination, and the new name aims to link the business to Good Travel while keeping it independent from the TMC division. A new colour scheme echoes the purple in Good Travel Management's branding.

Hyslop says the shop used to be "very traditional", so it was overhauled last April. "We transformed the agency into a modern, light space," she says. Brochure racks were reduced and a new client waiting area and private travel lounge were introduced.

A new marketing strategy was initiated to increase the agency's visibility in the local area and on social media. Fresh uniforms, travel wallets, bags and giveaways helped cement the brand.

The project came in below Destina's £20,000 budget and the investment had an immediate impact. "Since the rebrand, we've gone from strength 
to strength and experienced a 20% increase in sales and income, with a forecast for another 20% growth this year," Hyslop says.
Targeting new business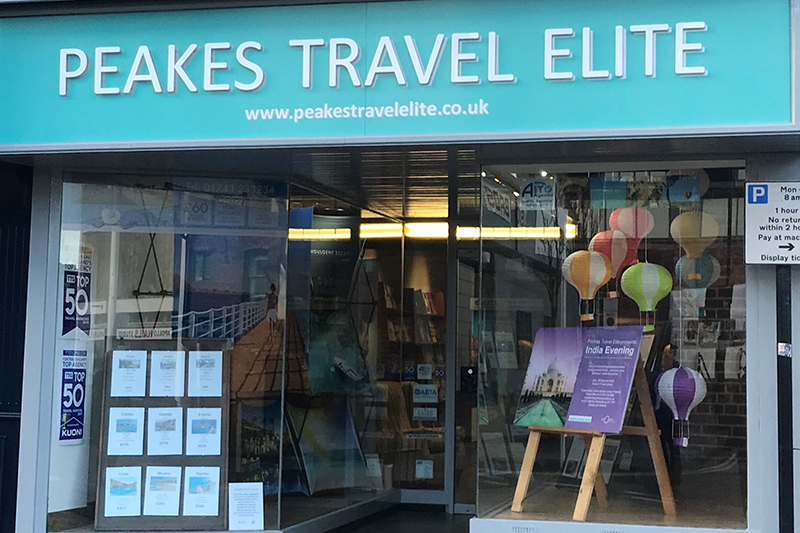 Destina held a relaunch event to unveil its new look but gradual, rolling rebrands are also popular. Peakes Travel Elite is making ongoing changes to help target new business while retaining the trust of existing clients. Joint proprietor and manager Claire Moore says: "In 2017, we'd seen five years of growth but were known locally as 'the posh one'. People weren't coming to us for their family holidays or honeymoons under £10,000. We wanted to break down that barrier."

In December, the shop's former dark green and gold paintwork was replaced with a fresh palette of turquoise, white and grey, as well as a new logo. At the same time, the team started wearing black-and-turquoise outfits.

Next up is an interior renovation planned for this December and a facelift for the agency's website. 
A focus on social media and family-friendly events has also been key to raising the agency's profile.

Throughout the process, Moore has been sensitive to her current clientele. "It has been a conscious rebrand but we didn't want to alienate our existing audience, so it's been done gently. We are getting lots of new people coming into the store and new bookings, and our sales between January and May are up 65% year-on-year."

For many agents, a new-look store is the centrepiece of a rebrand. Being finalists in TTG and Royal Caribbean International's Royal Makeover competition last year inspired the team at Tickets Travel to spend £10,000 on a substantial renovation and refit. The TTNG member closed for a week, with the team taking telephone enquiries and meeting clients in a nearby shop while builders overhauled the store's interior. Owner Diane Coleman says: "It was very dated before, with woodchip on the walls and only two desks, one of which was on a big step. Now it's all on one level, with three desks, a large map and a colour scheme in pale and dark blue."

In January the business took over nearby Clarkes Travel, and while Coleman will keep the separate names, she plans to unify them by creating modern, linked logos. She has a lengthy to-do list, as she plans to repaint the exterior of Tickets Travel, refurbish Clarkes, and implement new IT and phone systems in both stores.
Budget rebranding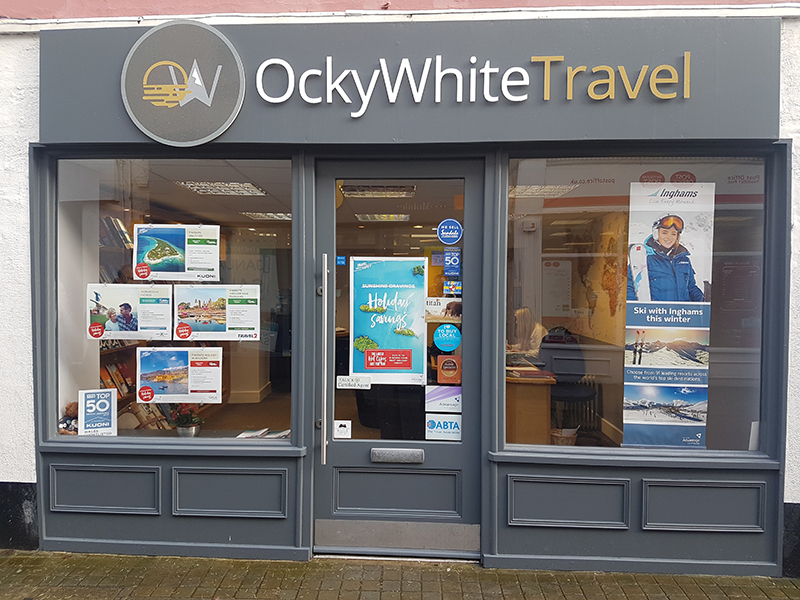 Rebrands can also be done on a modest budget, as Ocky White Travel proved when its 25-year-old look was replaced earlier this year. Manager Mark White says: "The branding looked very 1990s and the business had developed and we'd outgrown it."

The red, white and blue luggage tag-style logo was swapped for a new one incorporating the sea and mountains, while the team opted for a grey, orange and white palette, which is reflected in new uniforms.

In December, the shop's interior was repainted and a Kuoni wall was introduced, along with inviting leather slub chairs. White's biggest challenge was waiting for suitable weather to paint the exterior in the run-up to Christmas.

He used local businesses throughout, spending £800 on graphic design work, £1,000 on painting and decorating and £500 on a 3D sign. The website is also due to be updated.

The changes had an immediate impact, says White, adding: "We started the peak selling period with a brand-new shop, which looked fresh and contemporary, and we had the best start to the year ever."
The operator's perspective

Customer research is often a pivotal part of ensuring a rebrand meets clients' needs and expectations. It was embraced by Saga when it rebranded in July 2017 to coincide with its 65th anniversary. Most of the year-long project was spent talking to customer focus groups to discover their thoughts on logos, fonts and colours, and how they wanted Saga to represent them. It led to a modern logo, a "keep doing" end line and new-look image styles and copy across all content.

Travel marketing director Dan Whitehouse says: "If you want to truly put your customers at the heart of your business, then you have to start all the research around your brand with them. For Saga, this was central to its entire development. Combining feedback from focus groups around the look and feel of our brand and analysis to understand the language that is important to them, we developed a rebrand that was about much more than a new logo or strapline."