Fine dining and specialist excursions onboard Uniworld's Bon Voyage
Uniworld's revamped Bon Voyage is all about fine dining and specialist excursions, as Gary Buchanan discovers on its inaugural voyage
Sitting in the shade of an ancient
 chestnut tree in the tranquil courtyard of Chateau Ambe Tour Pourret, I'm relaxing with a glass of fine Bordeaux wine. It's warm for early April, even in south-west France, but that suits me just fine.

Earlier, Celine Lannoye, daughter of the chateau's owner, explained how the well-drained, warm gravelly soil is perfect for the cultivation 
of their 40-year-old vines. It's not yet noon, but I relish sampling a selection of the dark, garnet-coloured grand cru wines with hints of plum, pepper and cinnamon.

This Uniworld Masterpiece Collection excursion also includes a cooking class in the chateau's demonstration kitchen, with individual hobs for our eager group of not-so-masterchefs. I'm learning how to cook seasonal Bordelaise specialities under the direction of chef Jerome, who offers some tricks of the trade to his willing novices.

We adjourn to the chateau's dining room to savour chicken supreme with mushroom cream, courgettes and raisins in homemade pesto.

The fruits of our labour are surprisingly good but not a patch on the rich 2016 vintage wine that accompanies the meal.

This is just one highlight of my preview voyage departing from Bordeaux aboard Uniworld's Bon Voyage. Following an eight-month, €12.5 million transformation from the former River Royale, this vessel is more opulent than ever and reflects a classy French vibe. Passenger capacity has been reduced to 124, and four spacious suites have been created, as well as new dining venues.
Lap of luxury
I'm with travel industry guests as well as Uniworld's chief executive and president, Ellen Bettridge. Over yet another glass of superb Bordeaux wine, she tells me: "Like the finest couture, Bon Voyage was built with a singular purpose, to share the marvels of this amazing destination with our guests, and there isn't another like it in the world.

"It is certainly more expensive to build ships exclusively for a particular destination, but we know our guests value authentic experience above all else."

This vision isn't lost on Phil Nuttall, managing director of RiverCruising.co.uk, who tells me: "I like the fact that Uniworld brings the destination onboard in terms of decor as well as cuisine, wines and entertainment."
 The fact that guests can socialise after dinner without hackneyed melodies from a keyboard player or crooner, which is often the norm on river cruises, has not escaped his keen eye.

"Uniworld obviously invests in top-tier local entertainment, which is well received by guests," he says. "The geographic spread of Uniworld's boutique ships across European rivers means we have plenty of variety to offer clients. I also love the fact that their ships are far from the cookie-cutter aesthetic."

Uniworld is often claimed to be the world's most luxurious all-inclusive river cruise line, and it's easy to see why, as their ships' interiors have a signature decor that's both daring and colourful. I adore the classic French ambiance that abounds on Bon Voyage, from the polished-wood lobby to Le Salon Champagne bar and authentic La Brasserie. The Soleil Deck is awash with sun-loungers sporting blue-and-white fabrics with Indian tiger motif, while at the stern, the newly installed infinity pool is the only one on European rivers.
Rolling on the river
On its eight-day Brilliant Bordeaux itinerary,
 Bon Voyage sails from Bordeaux – known as "the Port of the Moon" due to the crescent-shaped Garonne River on which it is situated.

The first port is Blaye, with its imposing citadel designed by Vauban, then tranquil Pauillac on the largest estuary in Europe – the Gironde.

Lying at the meeting point of the Dordogne and Isle Rivers, Libourne is surrounded by legendary vineyards. Here clients can join excursions to the fortified town of Cadillac, as well as the fabled town of Saint-Emilion.

As well as the private wine-tasting of Sauternes at Chateau de Cazeneuve that I enjoy, there's also the option of a visit to Libourne's colourful farmers' market. The vessel then returns to the Unesco World Heritage Site of Bordeaux for two overnight stays, allowing plenty of time to visit the city that the Queen once referred to as "the very essence of elegance".

My French Balcony cabin on the Bordeaux Deck is extremely comfortable, and I sleep soundly in the ultra-comfy Savoir bed. The upgrade of all bathrooms from tile to marble also impresses me; as does the Asprey of London amenities which underscore the company's pursuit of excellence – an attribute sure to be well received by Uniworld's younger-than-average river cruise clients, who come mostly from the US and Britain.
Essential information
Getting there: British Airways flies from Gatwick to Bordeaux-Merignac airport, and easyJet and Ryanair operate from several regional UK airports. Flight time is around 90 minutes. The airport is seven miles from the Quai des Chartrons or Quai Louis XVIII on the banks of the Garonne, where Bon Voyage docks. Taxis cost around €30.
When to visit: With temperatures around 17°C, spring and autumn are perfect times to visit Bordeaux; summer can be in the mid 20s
Epicurean delights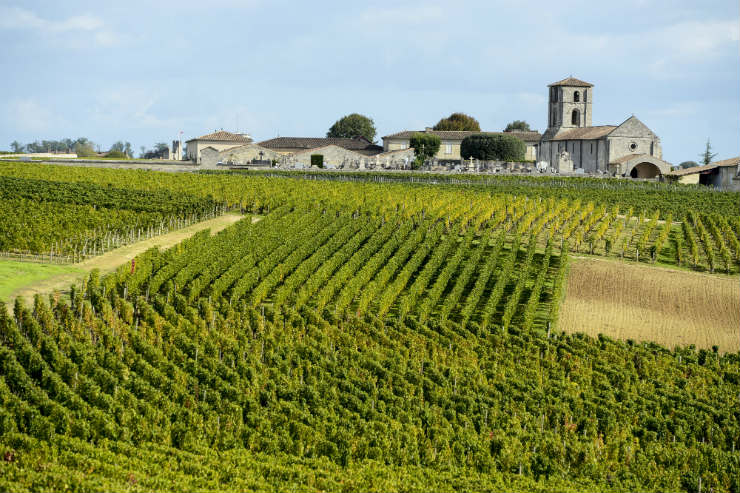 As the ship heads back to Bordeaux, I indulge in a superb wine-pairing dinner in the intimate La Cave du Vin. Here, finest local produce is the star turn – oysters from nearby Arcachon; homemade foie gras; tender Pyrenean lamb; and sweet Bordeaux canelés (rum-infused pastries), not to mention market-fresh cheeses.

Speaking of cheese, the main restaurant – Le Grand Fromage – where I indulge in hearty breakfasts, lunches and dinners, consistently produces exquisite cuisine. In truth, I'm not surprised, as there are no fewer than 14 highly skilled chefs in the galley. I also find time for a bistro-style dinner in La Brasserie as well as local specialities during a leisurely lunch in Le Cafe du Soleil with its enchanting river views.

I'm convinced that the epicurean delights on Uniworld cruises are in another realm. Over a farewell drink, this is a point I put to Bettridge. "Food and beverage is always a top priority," she tells me. "Our guests want to know where their food is sourced, and within this region of France we have one of the best inspirations in the world."

If ever a ship lives up to a promise of a "bon voyage", this one does.
Book it: An eight-day cruise onboard Bon Voyage starts from £2,899pp, departing Bordeaux on 27 October. Price includes all meals and unlimited beverages onboard, flights, transfers on arrival and departure days, plus all gratuities both onboard and onshore.
• uniworld.com