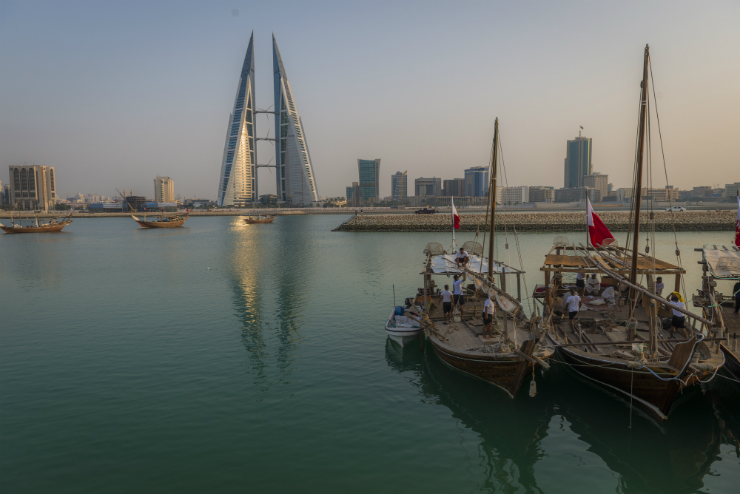 Manama Skyline and Dhow.JPG
I feel as if I'm at the crossroads of two very different worlds. Behind me, the setting sun casts a rosy glow over age-old market gardens and a dusty fort whose history spans five millennia. Ahead lies a high-rise cityscape with futuristic towers lit up in garish, multicoloured neon. Compounding the old-meets-new clash is the wailing of numerous muezzin as they compete with each other in calling the faithful to prayer.
It's a truly magical moment: or at least it would be if the horses we're riding would cooperate. But instead of gamely plodding on, they've unanimously decided to stop right here. We dig our heels into their flanks, urging them to proceed; but the unresponsive steeds ignore our efforts.
"You've got to kick," the guide advises one of my travelling companions. "Pretend it's your exboyfriend!" The extra encouragement spurs the reluctant horses to continue on our way down the trail into the gathering dusk.
A horseback excursion is the perfect introduction to Bahrain, a desert kingdom where tradition and modernity collide. Occupying an archipelago cast adrift in the Arabian Gulf, it's one of the world's smallest nations (just twice the size of the Isle of Wight) and was one of the Middle East's first oil-based economies. Before that, it was home to waves of civilisation over many centuries, spanning Dilmun, Portuguese and Ottoman rule. This colourful history combines with modern attractions to make Bahrain an intriguing shortbreak destination.