How to make a Colorado ski break more affordable
Aspen's slopes are the holy grail for many ski fans, but a stay is pricey. Gary Noakes discovers how agents can help clients realise their dreams with some clever cost cutting
Face it, you'll never play football at Wembley or tennis at Wimbledon, but if winter sports are your thing, Colorado, and Aspen in particular, is hallowed ground anyone can tread.

That's provided they can afford it – but a canny agent can help. Until last year, British Airways had a monopoly on flights to Denver, gateway to the Rockies, but now, United Airlines and Norwegian also fly from London. Economy fares on Norwegian next February are around £415 return, including a checked bag, roughly half what they used to be.

The Rockies are an easy drive from the airport on Interstate 70 and all resorts lie along this road. Aspen is reached after passing Vail, Breckenridge and the one you probably haven't heard of, Copper Mountain. From the freeway, Copper does not entice, as it sits across a car park, but don't be put off; it's the ideal curtain raiser to an Aspen finale.
Checking out Copper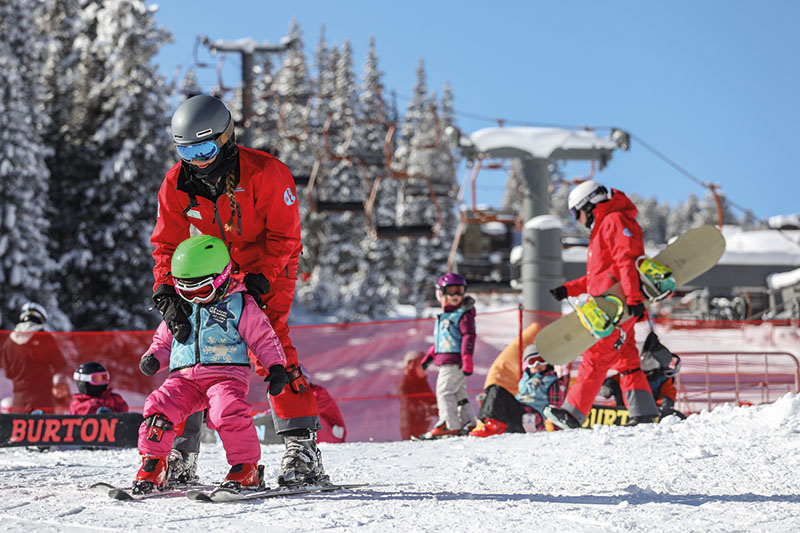 "Aspen's skiing is awesome and far enough from Denver to offer your clients entire slopes to themselves."
Copper is the Rockies' unsung hero; at weekends, locals flock here, not just because it is only 75 minutes from Denver, but also because the skiing – all 140 marked trails on 2,490 acres – is a revelation. A third of the runs are graded advanced, but there is something for all abilities at the top and bottom of the mountain, with slopes to the west suited to beginners and the East Village being more difficult.

Copper has the height, snow quality and tree skiing you expect in Colorado, but also the back bowls (bowl-shaped slopes) that extreme skiers appreciate. Here, you reach them by Snow Cat (a truck designed for snow), included in the lift pass, while for the less adventurous; Copper's Ski
Ambassadors give free mountain tours. My tour highlight is Ralph's Run, all five seconds of it, through trees and named after an employee who retreated there each lunchtime to smoke a joint – cannabis is legal in Colorado, although discouraged on the slopes.

Copper demands a visit and need not be too costly. Lift tickets are fluidly priced; as an example, three days last March booked only a fortnight ahead cost £68 a day. First-time US skiers will notice the differences this buys; midweek, there are no lift queues and you can tear down cruising runs without risking collision. 
Copper is good for families, as all accommodation is in condominiums, allowing self-catering. Kids can also go tubing (where they slide down the slopes in huge inflatable rings) and, like Aspen, Copper has a new mountain roller coaster that is just the right side of scary (for me, anyway).
The glitterati's choice
When Copper is done, a left turn on I-70 finds you in Aspen two hours later. It's everything you imagine, a former silver mining town turned chichi resort where the rich and famous live (Roman Abramovich has a vast house there) and New York's finest jet in for the weekend. "I've lived in London," says one US banker on the chairlift. "Oh, where?" I enquire. "Chelsea, of course."

Don't let this put you off; the skiing is awesome and far enough from Denver to offer your clients entire slopes to themselves. Aspen's pass covers four mountains: Buttermilk is for beginners, with Buttermilk Park for freestylers. Aspen Highlands and its bowls are for the advanced, Aspen itself is for intermediates upwards and Snowmass, which can fit all the other areas into its 3,332 acres, is for everyone.

Last season, a day at Aspen/Snowmass cost a hefty £121, but a pass enabling four days' skiing out of 10 was £400 bought in advance.

It's a once-in-a-lifetime thing, unless clients are among the elite, so encourage them to treat themselves and enjoy the experience: the people-watching, the apres ski (live bands on top of the mountain on Fridays; everything from beers to cocktails and oyster platters at the base), but mostly the glorious skiing – the powder, the trees, the fun parks, the moguls, the back bowls, the lot.

It's a place where everyone has space to whizz around safely and to really test themselves, so tell them to stay true to the Rockies' mining past and be bold in them thar hills.

Book it: Ski Independence has seven nights' B&B at the new Limelight Hotel Aspen from £1,397pp. The price is based on two sharing and includes Norwegian flights and shared transfers. The rate includes a 25% early booking saving when confirmed by October 31.
Colorado ski selling tips
If clients don't want to drive, Colorado Mountain Express runs door-to-door minibus transfers to resorts from Denver airport (Copper is $66-$79pp one way).
If they do, advise against a 4x4, resorts are a straight run on the freeway.
Remember the altitude: Denver is the Mile High City and Colorado's pistes typically reach over 3,500 metres; visitors need to be fit and prepared for the occasional headache.
Also consider the seven-hour time difference; young children may not sleep well.
Eating out can mean city centre prices, but portion sizes are huge, so sharing dishes can cut costs, particularly at lunch stops.
Book lift passes well in advance – savings are considerable.