Affordable Caribbean sailing with Dream Yacht Charter's by the cabin product
11 Jul 2019
by Andrew Doherty
By-the-cabin charters offer an affordable way to sail around the Caribbean. Andrew Doherty joined Dream Yacht Charter on an agent training day to find out more.
Wind blasts into the mainsail, propelling us across the Solent. I feel like a real captain in my roll-neck jumper, steely-eyed at the helm.
I'm on a Dream Yacht Charter training day in Hamble-le-Rice, joining agents to learn about the operator's by-the-cabin (BTC) product in the Caribbean and experience the thrill of sailing first-hand.
Denise Greene, director at Sunrise Marketing – the UK representatives for the operator – fills me in on the inspiration behind the event.
"We want to show agents that BTC charters offer a price point that's accessible. For example, a week's BTC cruise in Cuba is priced from £750pp based on two sharing and in the British Virgin Islands – one of our best-selling sailing destinations – seven nights costs from £1,130pp."
Currently operating in 16 locations worldwide, including an additional six Caribbean destinations (Grenada, Guadeloupe, Martinique, St Martin, Abaco and the Exumas), BTC charters offer clients a cabin with a private bathroom onboard a 4- to 12-berth catamaran. There's also a professional crew, who will manage the sailing so clients won't need previous experience and a chef.
The fixed route itineraries allow clients to explore spots that are only accessible from the sea, as well as enjoy activities such as kayaking and snorkelling, which are included in the package price. All departures are guaranteed, so the sailing will still take place even with only one reservation onboard.
Great for groups
For Jo Plummer, founder of Plymouth-based Tropic Breeze and sailing enthusiast, the BTC charters should be an easy sell.
"I think BTC is an excellent idea. It's not only an opportunity to sell to those who wouldn't have gone sailing before, but it's also a chance to pitch the concept to their friends and families."
Susan Daryl Hamlett of Travelabout in Newbury says BTC would be ideal for clients with a penchant for exploration.
"You could recommend they do a week on water and then a week on land – that way they get the best of both worlds."
However, Greene says agents should be aware that BTC charters might not suit everyone.
"We had an enquiry from a couple who wanted to have a female skipper, crew and chef for cultural reasons. Because the wife would be in a swimsuit, any other man apart from her husband couldn't see her. We can't guarantee who will crew the yachts and therefore wouldn't recommend this experience."
Trade ties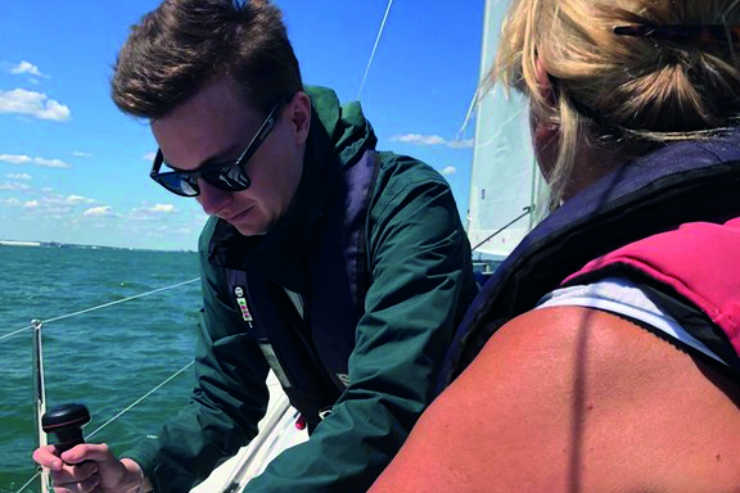 So far the trade, which Dream Yacht Charter has been working with for more than a year, has had a positive reaction to the BTC product.
"Sales are picking up. We're 18 months in and we have partners sending us multiple bookings, as well as new agents coming onboard," says Greene.
Back on land, I catch up with Andy Byham, director at Dream Yacht Charter UK, who reveals the sailing day will become an annual event.
"It became apparent that we needed to host a day like today to get the trade to experience the product first-hand. I hope to be here next year with 12 boats."
For clients still not entirely sold on the idea of a long-haul sailing experience, Byham suggests agents recommend a week-long itinerary departing from Hamble around the Isle of Wight.
"This is a good way to introduce clients to the concept close to home. We offer a Monday to Friday cruise that provides a great entry point. We're also introducing special rates for agents to experience the product themselves."
Top experiences in the BVIs
As well as featuring some of Dream Yacht Charter's best boats, the British Virgin Islands offer plenty of unforgettable moments...
For cocktails: Home to the largest selection of rum in the BVIs (more than 280 varieties), Cooper Island Beach Club offers tranquil surroundings in which to enjoy a tipple. Adrenaline junkies shouldn't feel left out either – paddle boards, powerboat excursions and deep-sea fishing charters are also available to book.
For wildlife encounters: Recommend clients head to Anegada to spot the colony of flamingos that feed on the conch in the salt ponds.
For home cooking: The Sugar Apple restaurant on Virgin Gorda offers traditional Caribbean cuisine prepared by owner Cynthia George. Suggest clients get there early as the farm-to-table dining experience is popular with tourists and locals alike.