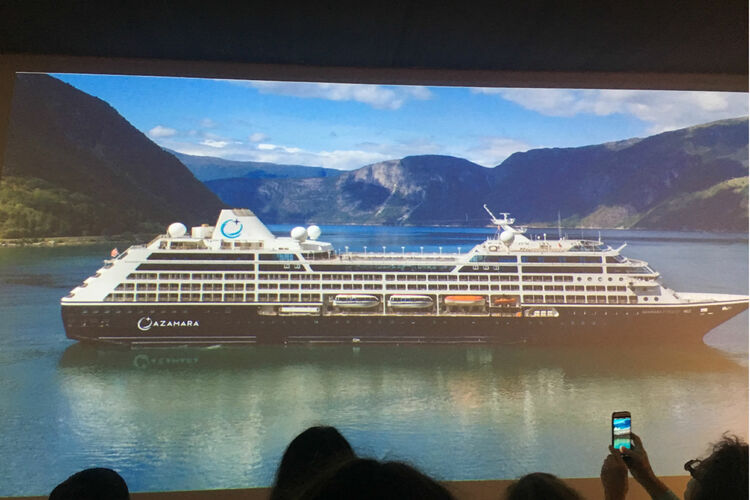 Azamara new logo on a ship.jpg
The line revealed an expanded land programme in New York yesterday (18 June) now consisting of more than 1,700 options.
It came alongside a new brand identity for the company as it dropped "Club Cruises" from its name and introduced a new logo.
Pimentel, Azamara president and chief executive, described the land offering's importance as "bigger" than adding its third ship, Azamara Pursuit, to its fleet last August.
"It's a more provocative announcement because we are creating one of the world's more unique hybrid products," he said.
Speaking to TTG, Pimentel described the size of the land product's growth as Azamara "not doubling down but quadrupling down".
"My guess is the industry will copy bits and pieces of it," he added.
Working alongside an array of specialist operators – including Cox & Kings, Abercrombie & Kent, Micato Safaris and PerryGolf, land programming will be offered at all Azamara's turning ports with product available before, after and during a voyage.
"It's not shore excursions – it's about land product and the opportunities are endless. If you want it Azamara will have it," said Pimentel.
Asked if the line could in future sell its land experiences without a cruise, he said that while there was "no intention" to do so currently: "If we saw the programme being successful and bigger than we predicted it could be something we would consider in the way of [launching] a tour operation."
Pimentel explained how every land programme would be commissionable to agents – starting from a rate of 10%.
Trade training is being offered online and Azamara's call centre staff are also undergoing a "massive training programme", Pimentel said, to help articulate the product to agent partners.
Richard Twynam, the line's managing director UK & Ireland and EMEA, told TTG he would also soon be hosting a trade webinar "to talk agents through all our new announcements".