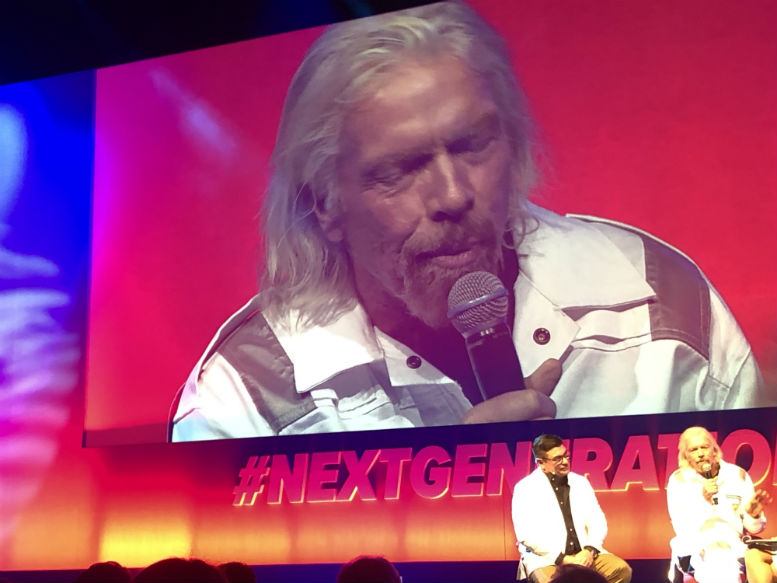 Richard Branson Clia 2019.jpg
The business mogul and Virgin Group founder made a surprise appearance at the Clia Conference in Portsmouth, where he entertained the 750 agent delegates with his vision for Virgin Voyages.
"I hate buffets – I want a very different type of cruise. I want to get people on a cruise who have never cruised before".
He insisted sustainability was key: "We know suncream is damaging to coral reefs so we'll have special tubs of suncream that are reef friendly."
Asked which destinations he saw the Virgin fleet sailing to in future he replied: "There are so many beautiful places – Mexico and Turks & Caicos are both stunning. In future I'd love to go to the Med, Scandinavia, Australia, and the Far East generally".
Branson also revealed he would look to follow maritime convention by selecting a godmother for Scarlet Lady – but only if the person in question agreed to do it.
"I do have somebody in mind, if they say yes and I pull it off, then we will have a godmother," he said.
It came as the boss of Virgin Voyages, Tom McAlpin, revealed aspirations to make the line "the world's most successful and irresistible brand".
McAlpin said Virgin Voyages was "here to make the cruise industry better" and change the way consumers saw cruising.
"Why do we always have to get up at 6.30am to disembark the ship and have our bags packed by 10pm outside our cabins the night before?, it's cruise norms like that we want to change," he said.
The line's first vessel – Scarlet Lady – will launch next spring and be adults-only.
When asked if the line's next ships would follow suit, McAlpin said: "That's the plan, of course you have to be flexible with the market but that's our plan."