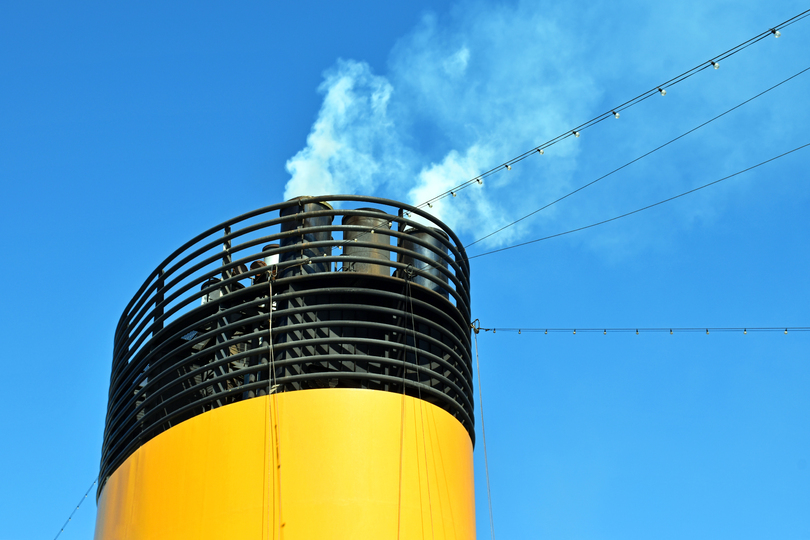 New rules from 1 January now limit ships' sulphur emissions
In January, the International Maritime Organisation (IMO) lowered the sulphur emissions limit from a ship's engine from 3.5% to 0.5%, falling to 0.1% in four emission control zones.
Sulphur is emitted from the heavy fuel oil burned by most ships and the IMO's website quotes a study estimating that, without the reduction, another 570,000 premature deaths would result by 2025.
Cruise lines have the choice of using more expensive low-sulphur fuel or to "scrub" normal fuel emissions, capturing the harmful residue, which most opt for. The residue can then be stored and pumped away, but many ships discharge the water into the sea, including when docked in port.
Pakistan this week became the latest country to ban the procedure in port, following Singapore and Malaysia, forcing ships that operate this way to switch to cleaner fuel.
Donnie Brown, Clia's vice-president for maritime policy, said how cruise lines chose to operate was a matter for them.
"The decision is largely a business decision made by individual companies that install these technologies on ships."
He said fuel scrubber discharge "is safe both for the water column and the sediments" and that restrictions on their use were "unnecessary".
"We hope port authorities divert their attention to the actual science," he said.
Only two ships in Clia members' fleets use cleaner liquefied natural gas, with 25 on order or being built. Brian Salerno, Clia's senior vice-president for maritime policy, said Clia's average cruise ship age was 14 years.
He said maintenance, rather than the age of the vessel, was the important issue. "It's in the interests of cruise lines to keep them well maintained, because that's how the industry makes its living."
Another issue arises from burning fuel in port. Only 16 ports globally can power ships electrically while they are docked – 13 of these are in North America. Brown said the industry was working with interested ports to find a solution. "It requires ongoing coordination," he said. "There are ports that are considering it, but I can't put it on a timeline; the interest is there," he said.
Clia is supportive of a fifth emission control area in the Mediterranean where emissions must not exceed 0.1%. This limit already covers the Baltic, North Sea, most of North America and the US Caribbean.
"It would in my view be applicable to the entire Mediterranean," Brown said.