EasyJet to introduce 300 children's 'flybraries' across European fleet
The initiative will aim to encourage youngsters aged between six and 12, and their parents, to make reading a part of their summer holiday activities.

EasyJet has teamed up with mum-of-two Katie Piper to front the campaign and publisher HarperCollins to place five different children's titles in the seat-pockets of flights departing the UK, which youngsters are encouraged to read and then leave behind for the next passenger.

Books include Dinosaur Juniors by Rob Biddulph, Mog and Bunny by Judith Kerr, Paddington Abroad by Michael Bond, The Boy Who Could Do What He Liked by David Baddiel, and Geek Girl by Holly Smale.

A survey of 2,000 parents with children aged six to 12, commissioned by easyJet, has revealed more than half of British children (59%) would choose to be read a story by their parents instead of an extra 30 minutes of screen time.

It also found nine in 10 children enjoy being read aloud to by their parents, with 91% of parents stating sharing a book with their child a special time they really enjoy.

The majority of parents surveyed (80%) said they considered holidays an opportunity for more family time, while 64% said they planned to share stories with their children this summer.
Flights 'perfect opportunity for sharing stories'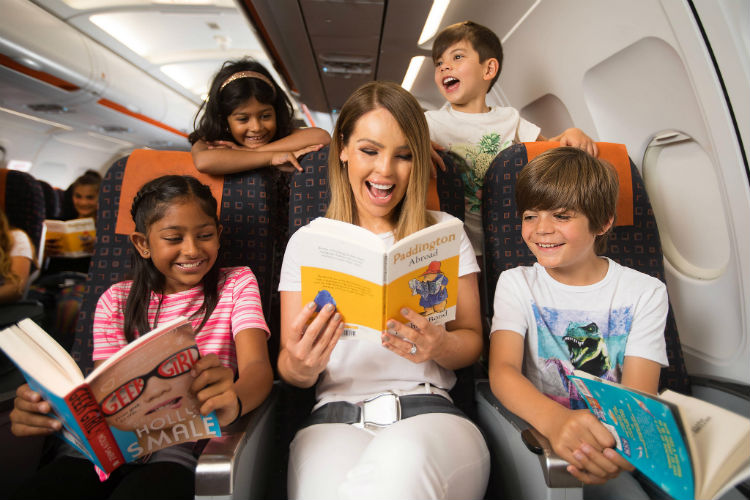 Piper and Biddulph launched the initiative at Luton airport on Wednesday (10 July) with a special reading and book signing. The airport has pledged to host a series of events in its terminal during the school holidays at a specially designed flybrary reading area.
"Holidays offer the perfect opportunity to make time for sharing stories with your little ones," said Piper. "I hope families across Europe will be entertained on board as they get hooked on a book together."

Tina Milton, easyJet director of cabin crew, added: "At easyJet, we're passionate about creating family friendly initiatives that make flying with us both fun and also easier for parents.

"And, as the summer holidays provide the perfect opportunity for some well-earned family time, we hope that the millions of passengers who fly with us this summer enjoy sharing a story or two from our unique in-flight lending library."

Beyond the in-flight flybraries, when they land, children and parents can download free samples of the books at easyjet.com/en/flybraries.