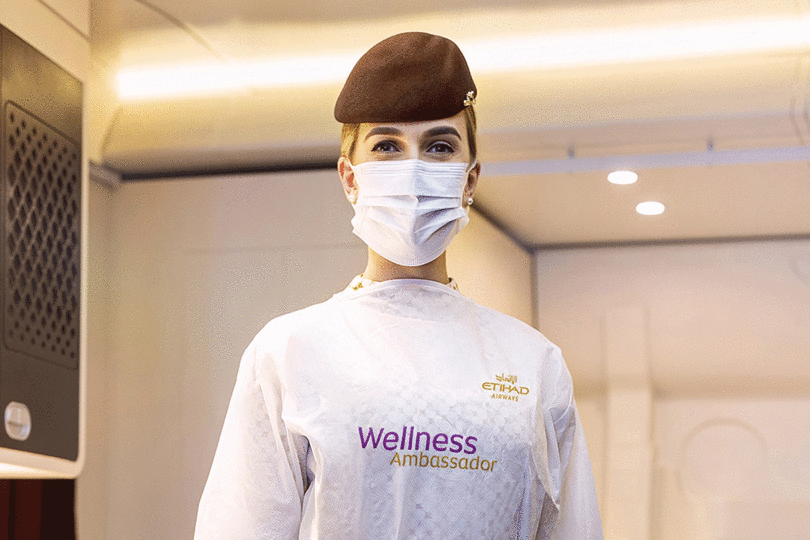 One of Etihad's Wellness Ambassadors
Part of its wider Etihad Wellness initiative, the ambassadors will be on flights in order to "provide greater level of customer care and reassurance" around health and hygiene.
The latest move is in response to fears around Covid-19 with the airline introducing new standards of cleanliness at its catering facilities and food testing laboratory; aircraft cabin deep-cleaning; check-in; health screening; boarding; inflight experience and product; crew interaction; arrival; and ground transportation.
The Wellness Ambassadors undergo specific training at the airline's facilities in Abu Dhabi and online, and will also be introduced into Abu Dhabi International Airport in partnership with Abu Dhabi Airports in the coming weeks.
The airline said the idea is to make sure "the same levels of care and support are provided at every point of the customer journey through the airport, from check-in to security, immigration, retail areas, lounges and boarding".
An online guide to the airline's initiatives has also been created, and passengers can also email the Wellness Ambassadors 24/7 if they need more specific information; a live web-chat option will also be added soon.
"We must guarantee passengers can travel assured in the knowledge that we have every aspect of their journey with us covered, while still providing a top-quality travel experience," said Tony Douglas, group chief executive officer, Etihad Aviation Group.