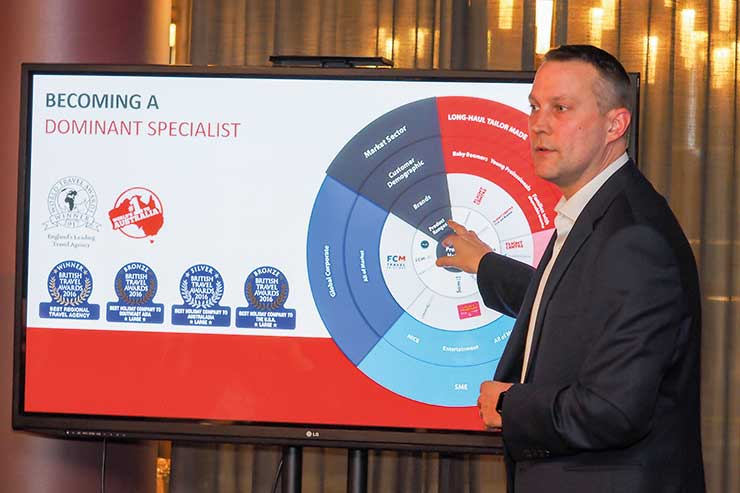 Steve Norris, Flight Centre Corporate
Last July the group acquired hotel management company Bespoke Hospitality Management Asia, which has a strong presence in Australia and Asia, where FCM operates 18 properties, six of which are in Vietnam. The group will now focus on destinations where it can combine both leisure and business travel.

Steve Norris, corporate managing director for Europe and Africa, FCM Travel Solutions – the travel management division of the Flight Centre Travel Group – said: "We're investing in properties in Asia, then delivering those with great rates. We want to expand into leisure and corporate destinations – the New Yorks and Paris's – for people to get proper value out of that.

"They will not be branded as Flight Centre hotels, that's a conversation we've already had," he confirmed.

Rooms would also be available for sale to FCM's TMC competitors, but the advantage for its own clients would be greater control over aspects such as last-minute bookings, room upgrades, food discounts and late checkouts, Norris said, adding: "There would be no additional cost for us, but better value."

The investment would mark a new phase in Flight Centre's acquisition drive. In Australia it owns 40 brands, including investments in destination marketing companies and tour operators, while in Europe it has reinvested in Top Deck and Back-Roads Touring. "This is not a quick thing… we're not rushing into this and we want to make it right," Norris added.

Flight Centre has also added online booking for its core leisure brand in the UK for the first time. Norris said: "Some might say we're behind the curve. We launched the online tool for people who say 'I don't want to come into the store, I'm happy to book online'."

Overall, Norris said the group was "on track with its recommendations to the Australian Stock Exchange", and that it was about to announce several new client wins. "Corporate travel is growing, typically at 10-15% per annum. Profit growth is faster than turnover growth," he added.

Meanwhile, FCM officially launched Seeqa at the Business Travel Show this week (February 21-22). The online booking tool will aggregate GDS, non-GDS and FCM's proprietary content into one "business travel ecosystem", and follows September's soft launch of FCM Connect – a series of business travel tools, one of which was Seeqa.

Marcus Eklund, global general manager, FCM Travel Solutions, said at a pre-launch event: "We're nervous, it's like a having a second child" – referring to the launch of Sam, its chatbot travel app, last year.

Seeqa is built on the Amadeus cytric platform, and will also be integrated into Sam.

New features for Sam were unveiled at the show, including duty of care tools, travel tracking and geolocation alerts. New functions also include a community feature, allowing travellers to share tips and advice.

Sam is now being trialled in Australia, New Zealand, Germany, the Nordics and China, where it is being integrated into the WeChat app, as well as Facebook Messenger.