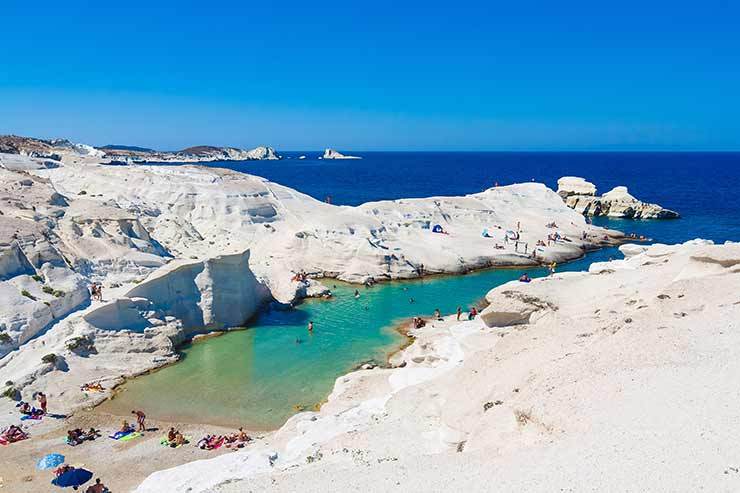 Olympic Holidays Milos Greece
The deals website said it is expecting holidays to Spain to sell out in a matter of weeks while Greece could reach capacity by March.
The rush to book the destinations comes as security fears continue over booking holidays in the eastern Mediterranean, both Thomas Cook and Tui have pulled their summer programmes for Tunisia.
Egypt has also suffered in the wake of the Sharm el Sheikh aircraft bomb last year and ensuing flight ban while Travelzoo said some agents are reporting a 50% decline in Turkey bookings.
Stephen Dunk, Travelzoo's European operations director, said: "With airlines unable to fly to Sharm or Tunisia, they are re-routing to destinations such as the Canaries.
"As a result we are seeing return flights priced from £69 return - the lowest we have seen in years.
"This sounds like great news, however the issue is there simply aren't enough hotel rooms in the Canaries, so we are hearing reports of half-empty planes flying in and out of the destination - a remarkable and unprecedented situation has emerged for the travel industry."


The changes have been sparked by the impact of terrorism over the last year and have been revealed in Travelzoo's annual Travel Trends report, which surveyed more than 5,000 travellers in the UK, Germany, US, Canada, France, Spain, China and Australia.
It shows that 66% of travellers would be actively avoiding countries that have experienced terrorist attacks in the past 12 months.
The report also revealed the USA as the most desired destination for British holidaymakers in 2016, followed by Italy, the UK, Spain and France while Canada, Australia and the Caribbean also made the top 10.
Dunk said: "Despite the early rush for Spain and Greece, 2016 will still turn out to be the year of the US and long haul.
"We've seen some great deals for the US recently, and have noticed record levels of interest in holidays to both the East and West Coasts.
"Long haul destinations are rising in popularity - four made their way into the top 10 for 2016, and airlines are opening up new travel routes to places such as Lima, Peru, which UK travellers can't wait to take advantage of."


The Travel trends report also revealed four fifths of UK travellers are concerned by the disasters of the past 12-18 months and will change their travel plans accordingly.
It also revealed UK travellers are the most likely to choose a destination based on its climate, followed by the price. However, almost one third (30%) of UK travellers are now rating the general safety and security of a destination as the most important factor when deciding on where to go on holiday.