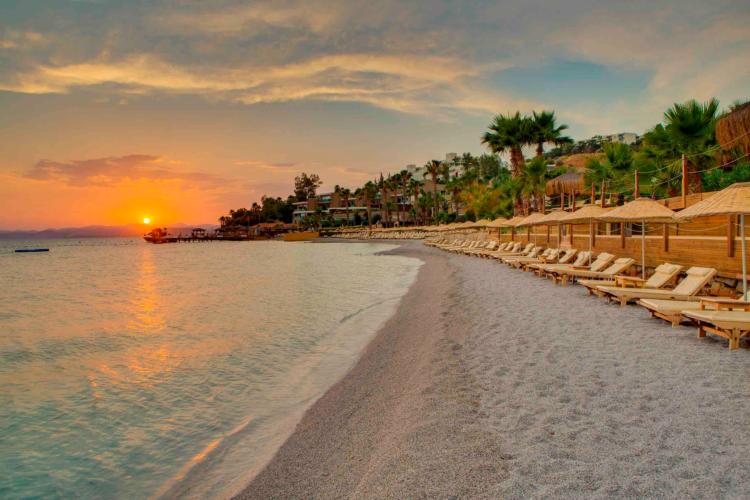 Tui Magic Life Bodrum Beach.jpg
In its annual Holiday Habits Report, released at the Abta Convention on Tuesday, October 9, which surveyed 2,000 people, the association reported travel remained a spending priority, with 51% of people saying they planned to spend the same on holidays next year as the last.
While the number of people who plan to spend more was down to 25% versus 31% last year, there was no change in the number of people who said they would spend less, which remained at 14% for both 2017 and 2018.
Early indications showed holiday bookings for summer 2019 were up 19% on this time last year, with Europe topping the list of destinations people wanted to visit most, with 61% saying they planned to take a trip there in the next 12 months.
However, more than half said they were concerned about the impact Brexit would have on the cost of their holiday, up 3% on last year (51%), suggesting people would be looking for value for money for the coming year – something that has already fuelled a surge in bookings to Turkey, Tunisia and Egypt in summer 2018.
The report found that in the 12 months to August 2018, people took more longer foreign holidays. The number of foreign holidays of 7+ nights increased over the last two years rising to an average of one per person in 2018, up from 0.9 in 2017 and 0.7 in 2016.
Six in ten Britons (60%) took a foreign holiday in the 12 months to August 2018, up from 57% the previous year, and the highest figure since 2011.
Spain and Portugal continued to be a popular choice for package holidays. Greece and the eastern Mediterranean also had a good summer – with Greece up 10% and Turkey seeing a 65% rise in visitors, along with Bulgaria which welcomed 21% more Britons on packages than last year.
At the same time, the number of UK holidays taken fell, from an average of 2.1 in 2017 to 1.8 this year. A prolonged cold spell followed by the Beast from the East, bringing a deluge of snow to the UK in March, is thought to have dampened demand for holidaying at home after two very strong years for domestic tourism.
A total of 68% of the population took a UK holiday in the 12 months to August 2018, down from 72% last year.
Mark Tanzer, Abta chief executive, said: "We're at a unique juncture in the UK's history as the nation counts down to leaving the EU, so naturally more people's thoughts turn to what Brexit means for travel.
"People understandably have questions and concerns about what impact Brexit may have on the cost of travel but it is very encouraging that Europe tops the bill as the place they wish to visit next year, and holiday bookings more widely are looking positive for the year ahead."
Meanwhile, those surveyed said the main advantages of booking with a travel professional were the ease of booking (58%), saving time (51%) and feeling more confident (45%).
People aged 25-34 were more likely than any other age group to say booking with a travel professional meant they would have a better holiday.
Just under a third (30%) of those surveyed said they had spoken to a travel professional about their last holiday.
For the first time, Abta asked people about their booking behaviour after they had spoken to a travel professional and 93% of people said they went on to book after the consultation.
When it came to cruise, more young people were considering going on a cruise in the next 12 months compared to last year, with more than one in 10 18-34 year olds (12%) looking to take one in the next 12 months, compared to 11% of 18-24 year olds and 9% of 25-34 year olds in 2017.
In terms of solo travellers, more people said they were choosing to take a holiday by themselves because they did not want to compromise on where they went and what they did.
More than one in six people (15%) chose to go on holiday by themselves in the past 12 months, up from 12% in 2017 and almost three times as many as those in 2011 (6%).