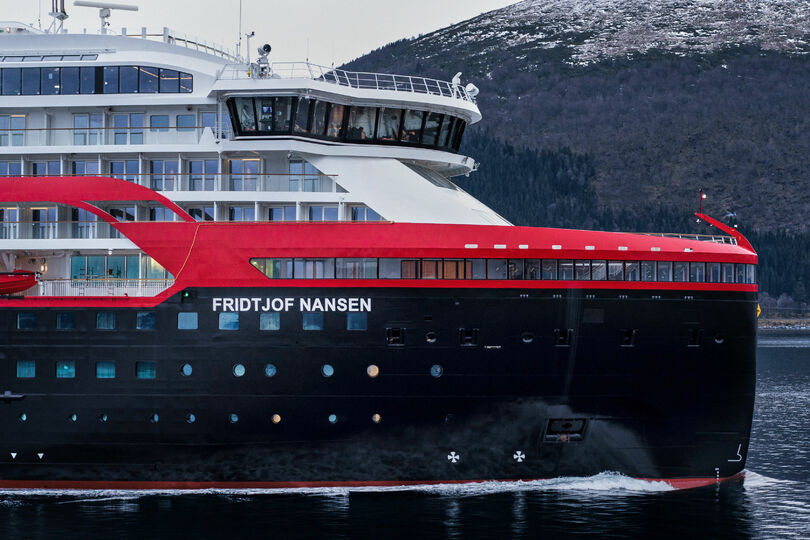 Fridtjof Nansen will sail around the British Isles next month
In just a few weeks the line's UK and EMEA general manager and his team will host its second hybrid-powered expedition vessel, Fridtjof Nansen, for a month-long showcase around the British Isles.
It's a substantial commitment, comprising three sailings from Tilbury, Liverpool and Portsmouth, ship visits "in nearly every port of call" and a trade overnight at London's Tower Bridge.
"This is absolutely massive for us," Daniels says, predicting 1,500 agents will see Nansen – sister ship to Roald Amundsen – during its UK stay.
"When we knew she was going to be delivered early, I put my hand up straight away and said 'bring her to the UK', but we didn't expect we'd get her for a whole month. It's a huge endorsement of the potential this market has."
And the signs are positive. Daniels reveals Nansen is close to selling out its 1,500-cabin target for the showcase sailings, limited initially to 80% capacity to allow crew to train and prepare for the ship's official maiden sailing in April.
However, Hurtigruten made the decision last week to release the extra 20% of capacity. "We've decided to just go for it – our teams want to be tested to their maximum before launch," says Daniels.
Agents onboard the showcase sailings will experience what he calls "expedition lite", with local excursions planned and access to the ship's Science Center. Customers hungry for more adventure can book future sailings onboard, with commissions passed to their travel agent.
"The trade knows we're not out there fishing for direct business, but want to engage the market and create awareness around what it means to have a ship like this here in the UK," explains Daniels.
"One of the barriers agents can face when selling expedition with confidence is first-hand product knowledge, and we want to help tackle that."