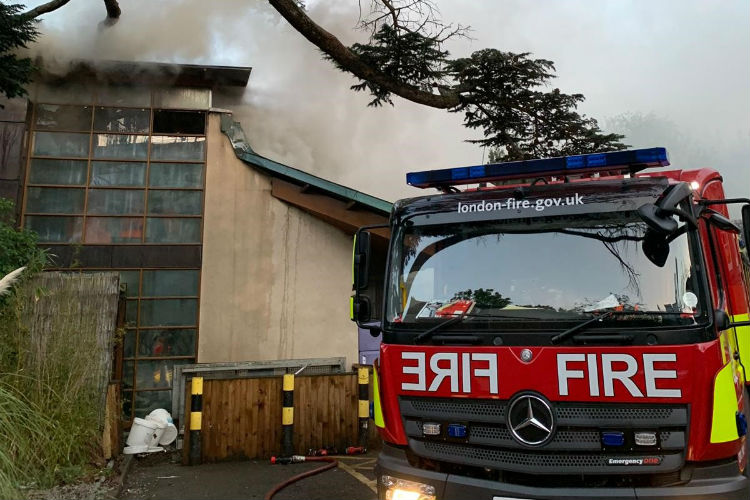 Richmond Harbour Hotel Fire 3 credit London Fire Brigade Web.jpg
Harbour Hotels has confirmed everyone at the Richmond Harbour Hotel Spa was safely evacuated, with fire crews called to the scene at around 6.30pm.

In total, 15 fire engines attended with more than 100 firefighters fighting the flames. Work to quell the blaze continued into Wednesday morning (1 May).
The hotel operator said while the cause was yet known, maintenance was being carried out on the roof by external contractors. It also thanked London Fire Brigade (LFB) for its efforts to contain the fire largely to the spa, which is situated in a separate annexe.
MORE: Firefighters battle vicious blaze at luxury hotel and spa

"It is with regret we confirm that a fire at the Richmond Harbour Hotel Spa has caused extensive roof damage," said Harbour Hotels in a statement.

"The cause is as yet unknown but maintenance was being carried out on the roof by external contractors. Fortunately, due to the efforts of the emergency services, the damage was largely contained to the spa and we are extremely grateful.

"Staff responded professionally and evacuated everyone. There were no injuries."

Harbour had pledged to restore the "world-class" facility. "Harbour has created a world-class spa in Richmond and work will commence imminently to restore it," the statement added.

"We would like to thank everyone involved in containing the incident and apologise for any inconvenience caused to our friends in Richmond."

LFB confirmed there being no reports of any injuries. Crews are expected to remain at the scene on Wednesday (1 May). An investigation is under way.

The fire service reported the fire was brought under control by around 1.30am (1 May) with crews from Richmond, Twickenham, Kingston, Heston and other stations in attendance.