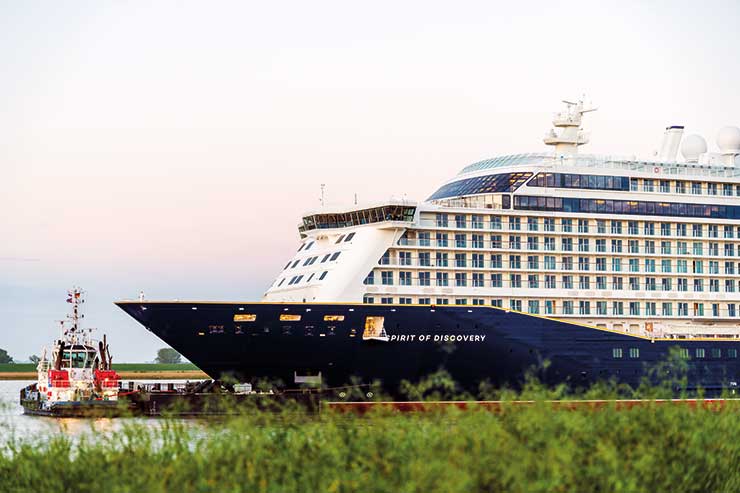 Saga's Spirit of Discovery
The line laid the keel of Discovery's sister ship, Spirit of Adventure, at Meyer Werft's Papenburg shipyard in Germany on Monday (3 June), with the vessel due to sail from next August.

Discovery, set to be delivered on 20 June, completed its conveyance last week and will be named in Dover on 5 July.

Robin Shaw, chief executive of Saga Travel, said he was "thrilled" to be able to host agents onboard the ship for its two-night trade shakedown from Dover to Bruges on 2-4 July.

Shaw said 20% of sales for 2020/21 sailings onboard Discovery and Adventure had come through the trade, emphasising "the appetite out there for a different style of cruising".

"Agents really have been selling us on faith since we announced the new ships and have shown us amazing support, so to be able to show them the product first-hand is very exciting," he said.

Shaw explained Discovery and Adventure would be "sisters, not twins" in terms of onboard design and offering, teasing how Adventure's look would be "even bolder" than Discovery's.

Head of trade sales Iain Powell said Saga was "on track" to have 700 agents onboard Discovery during its trade launch. Addressing agents without an invite, Powell advised them to "watch social media" over the coming weeks for potential opportunities to get onboard.

"The sailing is about agents coming to see the ship and what the customer experience feels like – we want to make it as beneficial as possible to help them sell," he said.

"We really do feel they will be wowed by what they find and will go away saying 'that's not what I thought Saga would do'."