Spice Girl Geri test-drives Virgin Voyages' RockStar Suites
The video documents Horner test-driving the Gorgeous Suite, one of the Scarlet Lady ship's most glamorous cabins, as a favour to her longtime friend, Branson.
The vid shows her full RockStar experience, as she's seen spinning records, reading Branson's book, rocking out with a guitar, indulging in champagne and partying the night away in true Rebellious Luxe fashion.
Horner said: "Virgin Voyages' RockStar Suites are the perfect blend of luxury, glamour and a little bit of rock and roll opulence – exactly the way I like to enjoy my holidays.
"After thorough testing, I think it's safe to say these suites are rockstar-worthy and ready for Scarlet Lady's debut next year.
"Everyone deserves to feel like a rockstar at some point in their lives… You're in for a real treat."

Branson added: "RockStar Suites celebrate Virgin's musical heritage and how I got my start in the music industry.
"Geri and the Spice Girls were a wonderful part of that so I can't imagine anyone better suited to give our RockStar Suites a whirl. Geri certainly looked like she had a great time.
"I'm very excited for our sailors on Scarlet Lady to feel like rockstars too."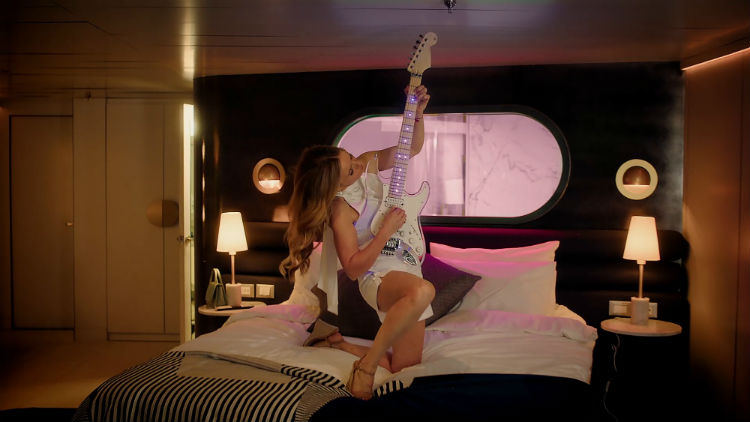 With 78 RockStar Suites designed by Tom Dixon's Design Research Studio on Scarlet Lady, among them are 15 Mega RockStar Suites, named the Massive Suites, Fab Suites, Posh Suites and Gorgeous Suites.

Virgin Voyages will now have a dedicated hair and makeup crew available to Mega RockStar Suites upon request.

Mega RockStar Suite guests will also be able to indulge in unlimited complimentary alcoholic and specialty drinks in all bars and eateries onboard, plus a free personalised bottomless in-room bar.

Mega RockStar Suite aailors will also have complimentary access to Redemption Spa's thermal suite complete with a hydrotherapy pool, mud room, salt room and cold plunge pools.

Complimentary laundry service is also available to Mega RockStar Suite sailors, plus the option to curate bespoke activities in any port-of-call, tailored to fit individual needs and requirements.

The Mega RockStar Suites are located on deck 15 of the ship and feature a peek-a-view outdoor shower.

RockStar Suite Sailors will now enjoy upgraded premium Wi-Fi with streaming in addition to the previously announced RockStar Agent support, an exclusive express pathway to the ship during embarkation, access to Richard's and access to an exclusive VIP area at The Beach Club at Bimini among other things.