Sporting events kickstart travel

Sharelines
---
"You've got the Olympics, the Euros and the Ryder Cup so there's a huge opportunity for the industry to benefit."
---
On June 10, the first game of the Uefa European Football Championships will take place, kicking off a summer of sport that is likely to have considerable influence over people's travel habits, research has shown.

The Olympic Games in Rio de Janeiro and the 2016 Euros will both take the spotlight over the coming months, with travel data analyser Sojern suggesting the competitions could prove a boon for the UK trade.

"This year is particularly fascinating with the amount of sporting events taking place," Jim Brigden, managing director of Sojern for Europe, the Middle East and Africa, told TTG. "You've got the Olympics, the Euros and also the Ryder Cup so there's a huge amount of opportunity for the industry to benefit."

England, Wales and Northern Ireland will all be participating in the football tournament in France this June. Sojern projects that between June 3-10, a week before the tournament is due to start, Welsh travellers' intent to journey to the host nation will see a 840% increase, while intent to travel from Northern Ireland will see a 150% boost over the same period.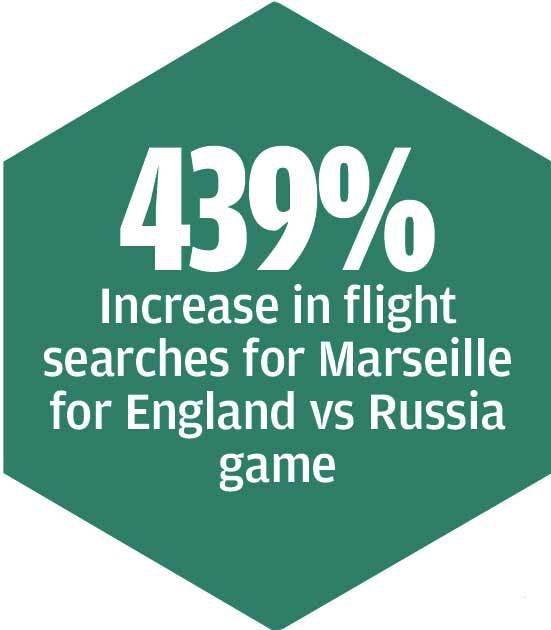 Furthermore, research also shows that cities hosting matches featuring the home nations were among the top nine most anticipated in terms of flight searches, out of the entire group stages of the championship.

In particular, Marseille experienced a 439% increase in travel intent for England's clash with Russia, while Bordeaux saw a 276% lift for Wales taking on Slovakia.

Brigden attributes the volume of interest to fans making up for lost time. "The fact that Wales haven't qualified for a major tournament since 1958 says to us that many fans see the tournament as a once in a lifetime event, which is why we've seen such high figures. Nobody wants to miss it.

"Northern Ireland are in a similar position," he added. "They've qualified for major tournaments in the past but this will be their first Euros. With that in mind, we'd definitely expect to see a lot of first-time travellers between the two nations."

Later on in the summer eyes will turn to Brazil, as Team GB looks to emulate its London 2012 successes in Rio.

It won't only be Jessica Ennis-Hill and Mo Farah (hopefully) topping the podium though – Sojern believes UK travellers will have the highest intent to journey to the games out of all European nations, with France ranking second, followed by Italy.
A bigger trip
Data also showed that despite the heat, 11-hour flight and concerns about the Zika virus, Brits are still the most likely to stay for the longest surveyed time period, with 66% saying they would stay for 12 days or more.

"What surprised us most about these findings was how long Brits want to stay for, which is much longer than [for clients from] most other countries.

Brazil offers exciting holiday opportunities. You can spend your days watching sport and you can then have a family beach holiday or a jungle holiday afterwards."

So how can agents boost business off the back of this sporting summer?

"Agents definitely have a role to play and are useful because they can put together the whole package for fans," Brigden said. "If someone is not an accomplished traveller, an agent can help them out. If I was a travel agent I would definitely be looking to put some travel and accommodation packages together for the sports market, as it's only going to grow."