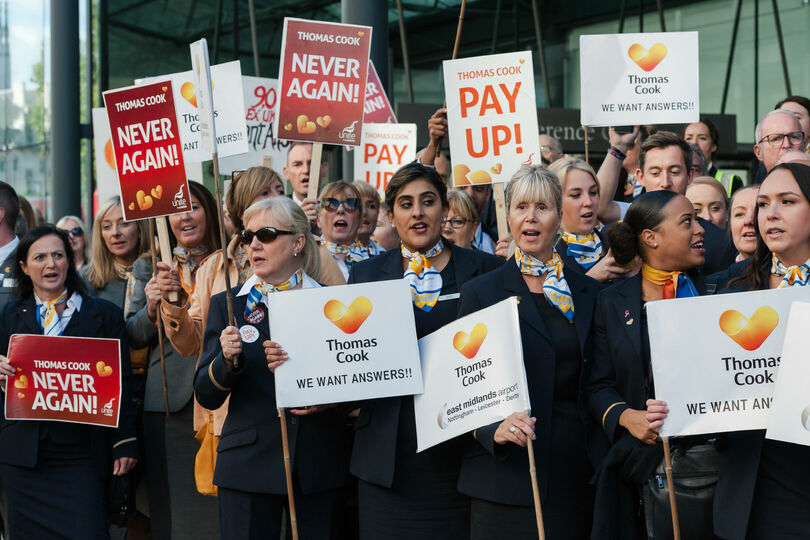 Former Cook employees protested outside parliament on 2 October
On Monday 23 September, Thomas Cook collapsed. That was the week Charlie Wardle used a food bank for the first time.
It was a position the 29-year-old single mother had never imagined being in.
Just days before, and like thousands of her Cook colleagues, Wardle was selling holidays, at her branch in Chorlton, Manchester – unaware of the nightmare about to unfold.
Further north, Carolyn Russell arrived at Glasgow airport in the early hours of Monday morning as her beloved carrier's planes touched down for the final time. She had spent the last 16 years flying for Thomas Cook Airlines as cabin crew.
Also a single parent, a recent home move had left Russell with "about £100" in her bank account and no savings to fall back on.
The pair's stories are symptomatic of Cook's collapse, which saw an estimated 9,000 UK employees – from retail agents and overseas reps to head office staff and airline crew – lose their jobs.
The news of Cook's collapse shook the entire industry, but for its employees, it was heartbreaking. Nearly four months later, the sector might have started to move on as the new year brings a fresh wave of challenges, but for many of Cook's staff the devastating impact of the travel giant's failure remains all too real.
So how have those affected coped? What has been done to help them? And, crucially, how can a similar situation be avoided in future?