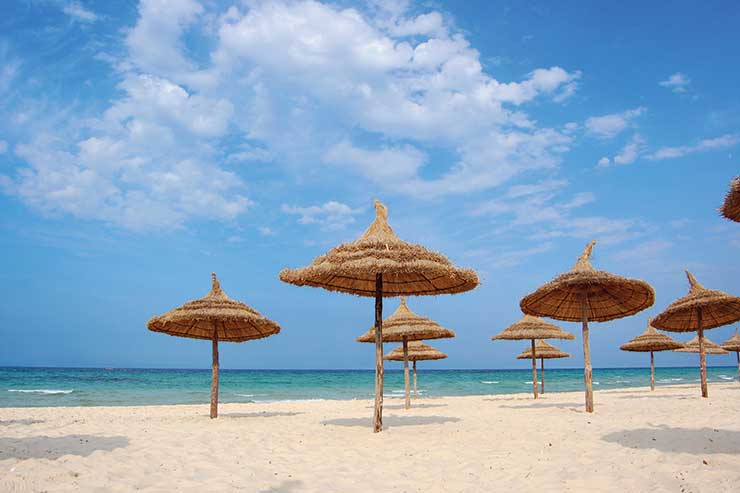 Parasols on the beach in Tunisia iStock-95341294
It comes on the day a new academic report on travel safety was published by the deals publisher.
The white paper called State of Play: The Impact of Geopolitical Events on International Tourism in 2017 was written in collaboration with Yeganeh Morakabati, associate professor at Bournemouth University, and included research in nine countries.

The 30 Britons among the 38 killed in the 2015 Tunisia attack were unlawfully killed, a coroner found last week.
In summing up the judge labelled the local police response as "at best shambolic, at worst cowardly".

Throughout the inquest, it was reported some families of the victims said their relatives would not have gone to Tunisia if they had been aware of the Foreign Office warnings following an attack on the Bardo Museum three months earlier.

Travelzoo's European president, Richard Singer, said the organisation was calling for a "kitemark" security system.
He said: "The kitemark system we're proposing is a quick and simple way of seeing if an airport or hotel has met a required set of safety and security standards, similar to the government's cyber security kitemarks, or the systems in place for food or other goods.
"Ideally the system would work in tandem with improved destination advice for consumers on government websites, as well as increased proactivity from the travel industry in showing consumers this advice ahead of the point of purchase."

Morakabati added: "If it can be done with blue flags to tell us how clean beaches are, or certificates to let us know how environmentally friendly destinations are, then a kitemark system is certainly feasible to demonstrate how safe a destination, hotel or airport is.

"However, if these standards were in place, it would be important that implementation wasn't just considered a box-ticking exercise; for instance, government policies would need to support any criteria set out in the kitemarks."
The Travelzoo white paper found that for 97% of people safety and security is the top concern when choosing a holiday destination, and worry about terror attacks far outweighs risk of disease, local crime and natural disaster.
For Britons taking part in the survey, 68% were more concerned with the risk of a terror attack than they were two years ago, with 75% saying the reason for this is they believe the world had become a more dangerous place. Around 40% of British respondents said they felt they were the most-targeted nation abroad.

British tourists were also far more likely to do a general internet search on a destination rather than rely on official sources such as the Foreign Office's website when establishing a destination's safety.

Singer added: "The inquest, and our white paper, shows we need better, easier-to-understand information on websites such as the Foreign Office and its counterparts in other nations.
"The recent FCO Travel Aware campaign is a step in the right direction, but it could be made clearer still.
"It also appears that most holidays are sold without any communication about the safety level of a destination until after the point of sale. More proactive communication about FCO advice ahead of purchase would build trust."
A third of 35 European hotels Travelzoo have spoken to believe a kitemark system should be implemented, and that figure rises to half for UK hotel owners.
Many think the idea would help with consumer confidence too. In talking to city hotels across Germany, Spain and the UK Travelzoo also found just half of UK hotels have a dedicated member of staff responsible for guests' security but in Germany over 80% of hotels have this.
Just 43% of UK hotels surveyed have updated their security processes in recent years to be better prepared for a terror attack and half of UK hotels' employees receive specific training to handle a terrorist incident.

Singer will presenting findings of the study today by at ITB Berlin.