Video: See Thomas Cook aircraft get Pride makeover with rainbow heart
The aircraft took to the sky with its special livery for the first time last Thursday (June 7) ahead of its headline sponsorship of Manchester Pride's 2018 Big Weekend in August.

It is the second year Thomas Cook Airlines has flown the symbol and backed The Big Weekend on routes to destinations such as San Francisco and New York from Manchester airport.

Paul Hutchings, Thomas Cook Airlines managing director, said: "Having received such a positive response from our customers to the rainbow version of our sunny heart logo last year, we couldn't wait to top it in 2018 by featuring it once again - this time on an even larger aircraft.

"By branding one of our long-haul planes means our flying ambassadors and our support for the LGBT+ community will be seen internationally."

Cook will sponsor The Thomas Cook Airlines Stage at the 4th Manchester Pride Big Weekend, which will be held over August 24-27.

Performers will include Rita Ora, Jake Shears and Alexandra Burke.
Cook to sponsor Pride overseas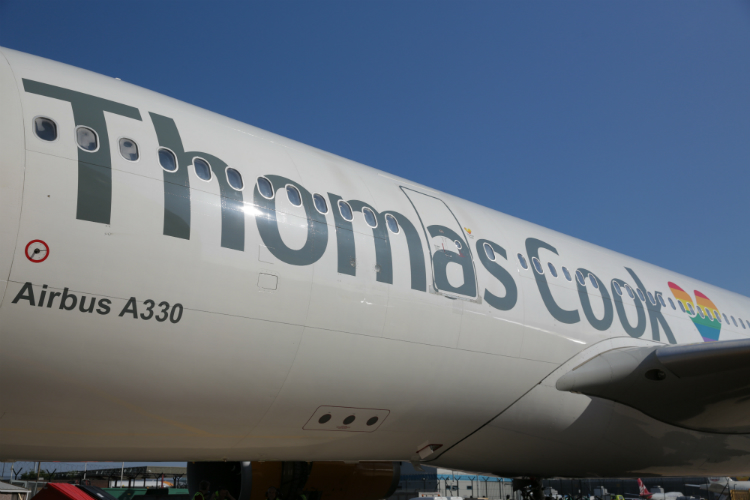 Mark Fletcher, Manchester Pride chief executive, added: "Once again, we're thrilled to see the LGBT+ logo take to the skies in such a unique fashion.

"We've been so lucky to be able to work with Thomas Cook Airlines on this exciting project for the second time and it's just one of the many ways we can all help spread the message and show support for LGBT+ people across the world."

Cook is also supporting Manchester Pride's partnership with Boston and San Francisco Pride.

Manchester Pride, in a statement, said its activities "wouldn't be possible without the donation of flights from Thomas Cook Airlines" and would help promote Manchester at two "key Pride events" as a "thriving hub" of the UK's LGBT+ culture.

"The rainbow heart plane is likely to appear on the schedule to these two cities this summer," the statement added.