Testing out Air Mauritius's new A330-900neo aircraft
Air Mauritius's new A330-900neo aircraft has transformed the experience for passengers flying direct from Heathrow to Mauritius. Nicky Grihault tests out the latest features onboard
As the launch customer for the Airbus A A340 in the 1990s, Air Mauritius has long been a regional pioneer. This April, it became the first airline in the Southern Hemisphere (and only the third in the world) to add the A330-900neo jetliner to its fleet, following the recent addition of the A350 XWB in 2017 – the year of its 50th anniversary. It makes Air Mauritius the first airline worldwide to operate both the A350 XWB and A330-900neo.
Named "Aapravasi Ghat", as a tribute to Mauritius's Unesco World Heritage Centre, the A330-900neo jetliner joins a fleet of 11 long-haul Airbus aircraft, and offers both business and economy class on the Heathrow- Mauritius route.
As the newest member of the Airbus family, the A330-900neo offers similar levels of comfort to the A350 XWB, while also sporting the latest technology: highly-efficient Rolls-Royce Trent 7,000 twin engines; aerodynamic improvements including increased wingspan with 'Sharklet' wingtips; and 25% less fuel consumption and CO2 emissions.

The new cabin has LED ambient mood lighting; improved air quality to ensure clients start their Mauritius holiday with less jetlag; and, in economy class, the quietest cabin to date, along with the latest in-flight entertainment system and Wi-Fi connectivity.

Following a trip from Heathrow to Sir Seewoosagur Ramgoolam International airport onboard the A330-900neo, I was lucky enough to experience the features that business and economy passengers can enjoy onboard.
Suite seating and power points
The 28 forward-facing business class suites are laid out in a 1-2-1 formation that's identical to the A350-XWB business class cabin. All suites have direct aisle access, with single suites either by the window, for maximum privacy, or aisle. On alternate rows, central "honeymoon suites" provide a cocoon for couples, with a privacy screen.

Business-class suites are comfortable, with plenty of legroom in the upright position, and recline fully flat at 6ft 6in. There's a large side table for clients' stuff, with a cup holder, a coat hook and a powerful reading light. Handy individual AC power outlets and USB ports make it easy to recharge devices. My only niggle is related to sleep, as I can't switch off the glow from the small screen on the remote slotted in the side panel.

The 260 economy seats also have a more spacious cabin layout, with comfy, streamlined 18 inch-wide seats in a 2-4-2 formation. Overhead storage bins (66% larger) provide more room for belongings. The A350 XWB economy cabin is the same, but with 300 seats, and is laid out in a 3-3-3 configuration.
Kitted out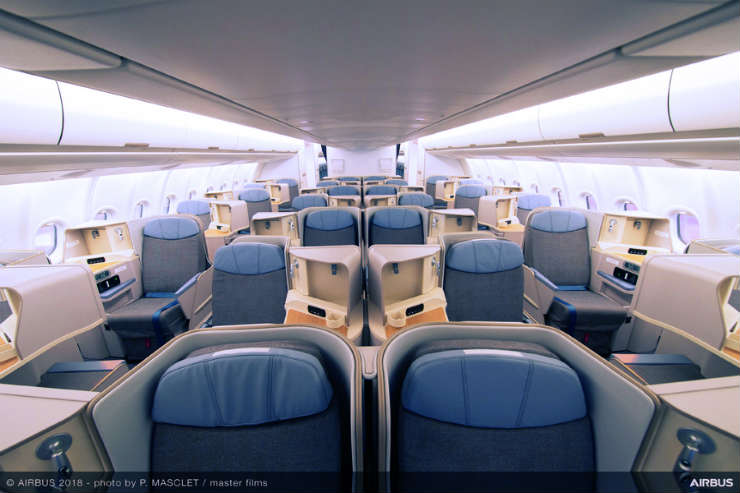 The usual eye-masks, earplugs, socks and dental kit are featured in the in-flight amenity kits in both classes. The voyage bag in business class also contains Christian Lacroix hand balm, lip balm and a facial mist, although,disappointingly for me and any other women on the flight, the smell suggests they are aimed primarily at men.
Quality cuisine
Although the tablecloths, cutlery and china are new, the airline's established "Cooking without Borders" menu – designed in association with chef Bernard Gouerec to reflect the diversity of flavours from different continents found in local cuisine – hasn't changed, with menus updated every three months.

In business class, I enjoy a smoked marlin starter and a tasty seafood curry from the four- course menu, accompanied by a white wine selected by award-winning French sommelier David Biraud. A new signature cocktail, Sky Happiness – made with Green Island rum with pineapple and mango, and spiced with ginger and cardamom – is served to business class passengers on the return journey.
Ian Nash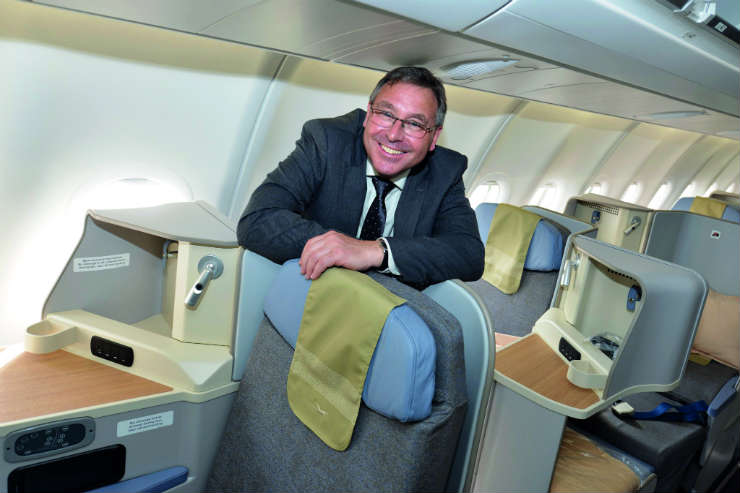 Air Mauritius's regional manager UK & Ireland answers our questions

How has the A330-900 neo performed since its launch?
We've already seen double- digit growth in bookings since the aircraft arrived. The response from customers is that it's a vastly improved experience, especially the upgraded in- flight entertainment in economy, and the flat beds in business class.

What do you hope the aircraft will achieve?
It will support the airline's network objective of positioning Mauritius as a strategic hub for the region.

How can travel agents experience the new plane?
We will send more than 100 people from the trade on fam trips to Mauritius this year, including 50 this month.

What developments can we expect in the next six months?
Mauritius is a popular destination, so we want to increase capacity on this route. Following delivery of the second A330-900 neo, it will operate on every ight from Heathrow to Mauritius by the end of June.
Movie magic
As the plane takes off I check out the in-flight entertainment system, which is extensive since its upgrade. The high-definition touchscreen (a 15.4-inch foldaway model in business and an 11.1-inch seatback version in economy) gives me access to up to 34 movies, including new releases, plus games, music and book excerpts, and is available in both classes.

Brand-new releases to choose from include A Star is Born, along with classic favourites such as Oceans 11, and complimentary over-ear headphones for good sound quality are handed out in business class.

The aircraft offers onboard Wi-Fi, which is complimentary for business-class passengers, with 15 free minutes offered for economy guests, with prices starting from $9.95 for one hour.
Have you been on Air Mauritius's new aircraft? How will you be selling this route? Email feedback@ttgmedia.com or leave a comment below.