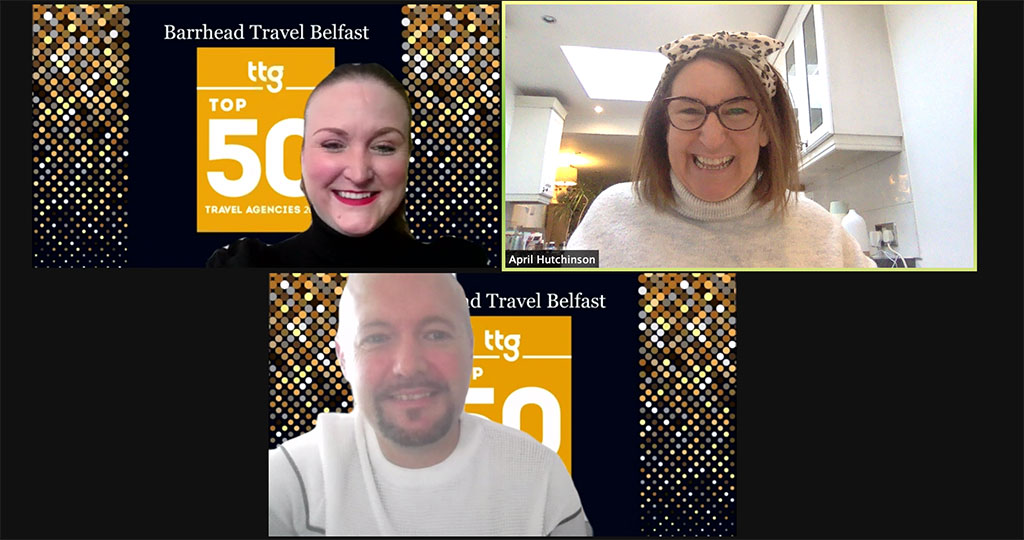 Kelly Hutchinson and Kieran Odonnell of Barrhead in Belfast, with TTG's April Hutchinson
Barrhead Travel, Victoria Square, Belfast
About them: Blazing a trail for the brand in Northern Ireland, the shop opened in 2018 in this popular shopping mall, and has seven staff, led by manager Kelly Hutchinson.
How they navigated the Covid-19 crisis: When the scale of the work involved unfolded, staff were pooled nationally to cope with tasks, such as refunds, rebooks and customer service outreach. Hutchinson and assistant manager Kieran Odonnell say despite the circumstance, they appreciated the chance to speak with customers all over the UK, and to connect with colleagues across the business too. To keep in touch with their own team mates, there were bingo nights and virtual Friday night drinks as well as a buzzing Whatsapp group, and Hutchinson ensured she did a weekly one-to-one with everyone. Keeping up on Facebook has been Odonnell's domain. He also managed to fit in a few trips in 2020, which helped give customers confidence. The team got around 60 local customers to tune in for Barrhead's big virtual cruise event in November, securing several bookings.
Highlight: Hearing how assistant manager Julieanne Kennedy made "twiddle muffs", knitted bands designed to help ease anxious dementia patients.