Deben Travel, Woodbridge, Suffolk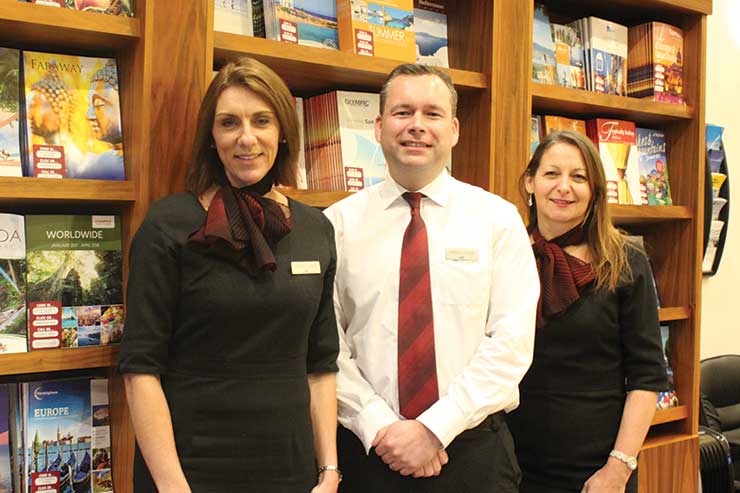 Lee clearly had to do a total refit, but has made a point of buying from and trading with local businesses where possible. That includes the local carpenter who made the bespoke brochure and storage cupboards for this cosy shop, which Lee opened with wife Sarah in 2012 using his many years' experience as a regional manager with Thomas Cook.

Lee's happy to hold court among the bunch of school children that visit the shop annually and also gives talks at schools about the travel industry. It's an industry he loves; having spent many years in it straight out of school, he ventured outside to work for Boots for several years, but the pull of travel was too strong.

The other three staff seem just as dedicated as Lee – they actually all worked together for Lunn Poly in the 1990s – and there's another "member" of the team too, Deben Bear. This cuddly little character has been taken in more customers' suitcases than Lee cares to count and is so well travelled, his leg once fell off. He even managed to get himself into a photo with Lewis Hamilton in Abu Dhabi.

Lee has a folder full of lovely customer comments and feedback, and says the team is forever "delivering things" personally out to customers, or phoning and emailing hotels for special requests. Talking of emails – Lee says his weekly newsletter is hotly anticipated by clients, whom he also enjoys engaging with via Facebook.

With cruising now representing a fifth of the shop's business, the team will be organising a cruise show this March. It follows on from enjoyable events the agency held last year for its customers, such as an afternoon tea in the seaside village of Aldeburgh, the mayor of which already books with Deben. The team is also active with wedding fairs and the agency can offer a honeymoon fund service too – but it's not all about couples; there are plans for more solos coffee mornings this year.