Departure Lounge Travel, Boston, Lincolnshire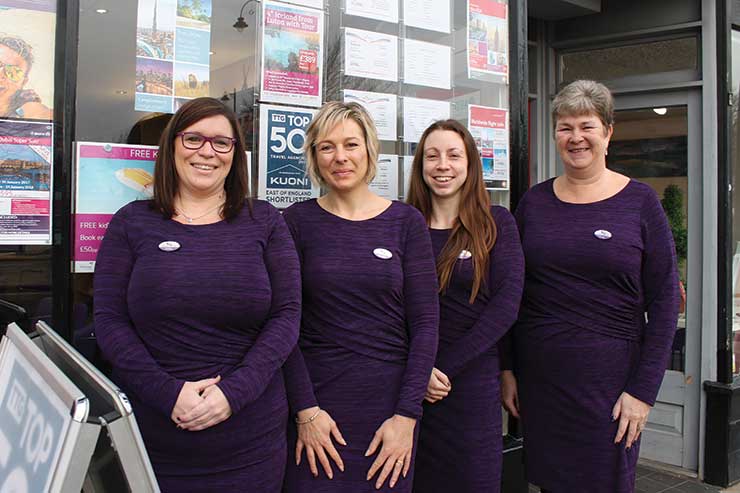 And they're clearly a close-knit and supportive team because of it; even when Debby asks the girls to do crazy things like star in her series of promotional videos, which have so far included a Footloose-themed one.

They hold a party each December to celebrate the anniversary of the opening and always have a good turnout from friends and customers. Debby appreciates how important it is to be a part of the local business community, having won an award for Employee/Team of the Year in 2015 and helping out a client who was opening a new restaurant by holding an event there with a selection of travel companies and customers. She has found a niche for herself as "the Simon Calder of Lincolnshire" and is regularly asked onto the radio to give her comments on industry issues and travel tips. A passionate traveller herself, she uses every opportunity to go anywhere that will help expand her knowledge and all staff get five days a year to use for educational trips, in addition to their annual leave.

Prince would have been a happy man in this shop, as he and Debby clearly share a love of purple. It may seem bijou at first, with just three desks, but up on the first floor there's tonnes more space, including an office that can be used for VIP consultations and events for customers – such as the Saga afternoon tea last October.

When it comes to keeping in touch with customers, the team hands out sweeties (purple of course) in little bags with business cards to passersby, encouraging them to visit the shop's Facebook page, where it's obvious there is a high level of engagement, sometimes encouraged by the chance to win a hamper. Or the level of engagement could just be because Debby and the team clearly loves what it does and loves working hard to help customers – including tracking down a client's daughters to tell them their father had been seriously ill on holiday and literally saving the day.