Off Broadway Travel, Welwyn: South East's Top Agency 2017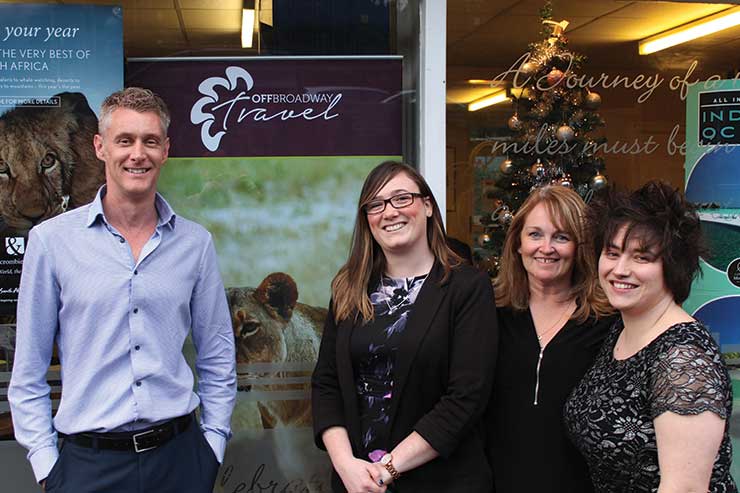 Founder Tricia Conroy-Smith made the switch after the lease on Off Broadway's original Mill Hill shop was up for renewal. She was joined in the relocation by fellow owner Paul Rice, and Natalie Bennett who, after joining Off Broadway at 16 as a Saturday girl, is now a partner in the business.

Since opening its doors in Welwyn nine years ago, Off Broadway has thrown itself into the community by supporting a variety of local initiatives, some of which include running a stall at the Welwyn Festival, hiding a toy cuckoo in its shop window for the annual Cuckoo in the Nest competition, and hosting events at the village's golf and
bowls clubs.

In-store, the team relishes the chance to invite clients into its sumptuous Travel by Appointment room, which has comfy sofas, lush plants and inspiring destination prints, and which was dreamt up by interior design royalty Laurence Llewelyn-Bowen, no less.

This agency's determination to do things its own way is well-evidenced by its approach to keeping in touch with clients. Rather than simply firing out marketing e-shots, the team collects postcards of popular destinations while they are travelling, then send them to clients at the time of year when that customer historically books. The same can be said for its online advertising strategy, with concierge and "technical wizard" Jenny single-handedly building a fresh new website for the agency.

For Off Broadway, knowledge is key and it places great importance on familiarisation trips with staff allocated at least two each year. In 2016 Paul even organised his own fam trip across the US Midwest so he could better advise clients nervous about doing self-drive holidays.