Marble City Travel, Kilkenny: Republic of Ireland's Top Agency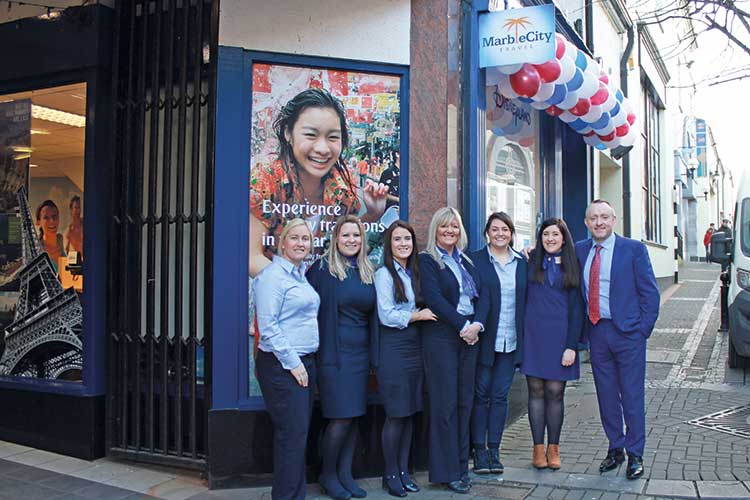 Cruise sales have grown so much that the division now spans two floors, and the premises were reconfigured last year to maximise the customer journey. It was also given a "more relaxing" new blue colour scheme – a departure from the brand's traditional yellow, green and orange.

Britton is well known in the city, appearing on local radio station KCLR each Friday – mostly talking about travel but also having a good natter about other topics. Britton's discovery of marathon running and
Ironman competitions two years ago have become widely known, too. He raises money for good causes and has recruited (and booked) dozens of others to join him in challenges all over the world. The rest of the Marble City Travel team has also been inspired to put their trainers on, and the business certainly looks after the wider community, sponsoring local sports groups including Kilkenny Camogie – a stick-and-ball game played by women.

Customers are in safe hands. During the hurricanes that struck the Caribbean in September, disrupting travel, the team worked 24 hours a day to ensure all were taken care of. That, Britton says, is not uncommon for his team, who will hand-deliver tickets on their way home.

After speaking to fellow shortlisted businesses in 2017's TTG Top 50 Travel Agencies, Marble City Travel has launched a customer feedback survey. The agency's increasing use of advertising online, including posting carefully selected deals on social media – some of which have led to the phones "ringing off the hook" almost immediately – has led to a pick-up of custom from all over Ireland in addition to its loyal local customer base. The business's engagement on Facebook has increased 63% in the past year, with followers having grown to more than 15,250. And this year got off to a cracking start for the agency, with revenue up 33% in the period from November to February.