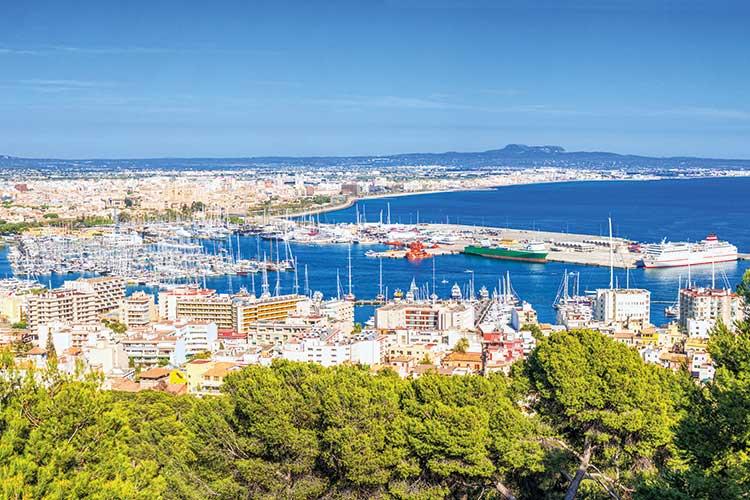 Cruise ship docked in the balearics
The islands – comprising Mallorca, Menorca, Ibiza and Formentera – received more than 2.7 million British visitors from January-August 2018, representing a small year-on-year increase of 0.1%.

British tourists comprise nearly a quarter (22.7%) of inbound tourism with the majority (62.8%) heading to Mallorca compared to 22.5% on Ibiza and Formentera, and 13.7% on Menorca.

Tui, Ryanair and Jet2.com/Jet2holidays are the main tour operators and airlines transporting Brits to the archipelago – 30.9%, 25.5% and 24.7% respectively.

Meanwhile the average expenditure per day registered amongst British visitors increased by 8.7% year-on-year.

In the first year of the sustainable tourism tax introduced in 2016, €30 million was channelled into 46 projects throughout the islands, Balearics tourism board director Jaume Alzamora told a press conference held during WTM London.

In 2017, the tax raised €64 million, to be invested into 62 sustainable tourism initiatives. In total, €204 million has been raised from the tax.

"This has enabled the Balearic Islands government to make major investments to reduce the negative impact of tourism and to work towards creating a long-term and sustainable tourism destination," he said.

The Balearics sustainable tourism tax doubled on May 1 this year to up to €4 for the highest-star accommodation. The rates apply to the six months of the main season and are chargeable per person per night. There is a 50% reduction after eight nights and children aged 16 and under are exempt.

Speaking separately to TTG@WTM, Alzamora explained the tourist board's ambition was to extend the tourist season to spread out visitors as part of a "more long term sustainable tourism policy".

Also during the press briefing the island representatives revealed the individual islands' strategies and objectives to preserve their heritage and promote sustainability.

Mallorca – the largest of the Balearic Islands – announced a new project entitled 'Mallorca Inspires' that aims to bring the value of the cultural heritage of the island to the forefront.

The island will be promoting this campaign in core markets with various actions including a photographic exhibition by filmmaker and photographer Pep Bonet, gastronomic events, local produce demos and live music events.