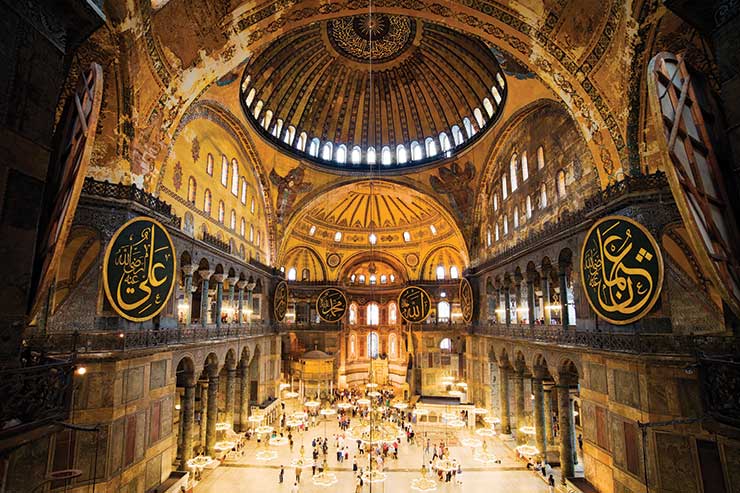 Inside Hagia Sophia, Istanbul, Turkey
Irfan Onal, director general at the London office of Turkey's Ministry of Culture and Tourism, said 26.4 million tourists had travelled to Turkey during the first nine months of 2017 – surpassing his prediction of 25 million which he made to TTG@WTM at last year's WTM London.

It comes after Turkey saw a drop in visitors during 2016, which tourism officials attributed to ongoing political turbulence alongside the country's proximity to conflicts in Iraq and Syria.
Onal said the country's upturn in visitor numbers had been fuelled by the "resilience" of its tourism industry, with new tour operator partners launching programmes in Turkey despite continuing geo-political troubles in the region.

"It is very good news," said Onal.

"In just one year Turkey's tourism has come back strongly and after the hectic year that was 2016 we have been able to come back."

When asked about security in Turkey, Onal said he believed "there was no hesitation" from foreign visitors to holiday in the country, and he insisted the mindset of global travellers had "hardened" as a result of terror attacks across Europe this year.

"Our security is getting tougher and tougher and we are finding that tourists have no doubt in terms of security," he added.

Focusing on the UK market, Onal said forward bookings for summer 2018 were up by 30%, adding that "Turkey's value for money" had played a part in its surge of visitors, following recent currency fluctuations brought about by the country's Brexit vote last summer.

Elsewhere, Onal said Turkey was planning to focus on attracting more Chinese and Indian visitors in 2018, with "substantial investment" being made towards advertising and marketing to tourists in these countries, as well as other Asian markets such as Japan, South Korea and Malaysia.
Onal added that he expected Turkey's government to increase tourism spending overall for the coming year, with budgets soon to be published.

He also highlighted the nation's Tourism Forum – which was held in Ankara last week – which Onal said would signal a shift in strategy towards more "culture-driven" tourist attractions.

"Culture will become the centre of Turkey's tourism for at least the next decade because it is a sector that we are so strong in," he added.