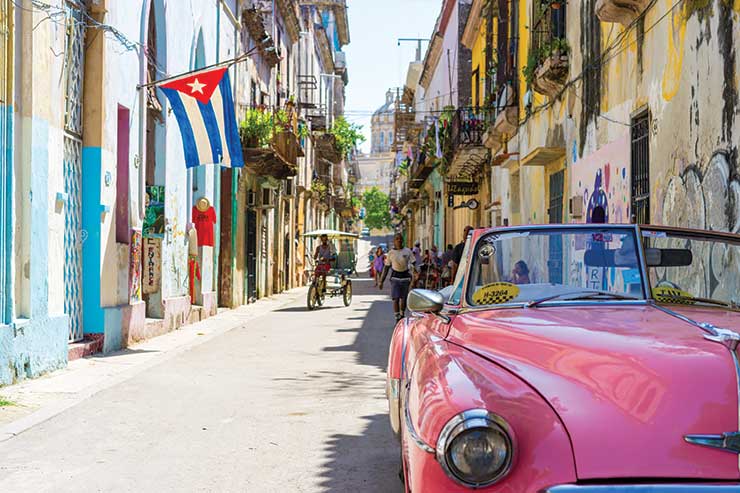 Classic car in Havana, Cuba
Trump has created an environment that is harsh, but I don't think he'll keep visitors away," explains Miguel Gibson, chief executive and founder of Cuba Direct – a UK-based operator with more than 16 years' experience selling the destination.

Speaking about the effect of the Trump administration, Gibson says although it remains legal for US citizens to travel to Cuba under the 12 visitation guidelines, these do not include tourism; a new law means US visitors can't stay at more than 80 hotels tied to the Cuban military. These properties include the Gran Hotel Manzana Kempinski La Habana, Four Points by Sheraton, Melia hotels and Iberostar Playa Alameda in Varadero.

Despite these setbacks, Gibson says Cuba is committed to maintaining its hotel development and aiming to build 100,000 new rooms over the next 12 years.

Melia Hotels International, a major player in Cuba, will open two new properties before the end of this year – the 934-room Melia Internacional in Varadero and the 802-room Paradisus Los Cayos in Cayo Santa Maria.

"The hotels are still coming, but development is going slowly," he says. "As 90% of Cuba's hotels are controlled by the military, we don't know what will happen. However, 12 years is a long time and, if the next president is a Democrat, then the laws could change."

As a result of cooling relationships with the USA and the damage caused by Hurricane Irma, Gibson estimates that global visitor figures have dropped 30% – a significant decrease when compared with the 4.7 million arrivals recorded in 2017, of which 600,000 were Americans without Cuban family ties. Speaking about the UK market, Gibson says it's "holding on", and that Cuba Direct sent 7,000 Brits to the island last year.

Despite this decrease, cruise arrivals are up. Seabourn, the latest line to be granted permission to start sailing to the Caribbean island, now offers 11-, 12-, and 14-day sailings, visiting five ports in Cuba. All voyages feature overnight stops in Havana.