How Culinary Backstreets is shining a light on off the beaten track dining experiences
From Istanbul to Tbilisi, Culinary Backstreets takes clients to lesser-trodden areas of a city. Andrew Doherty hears how the operator uses gastronomy to bring urban zones to life.
"A city should be complex and it should have its dark spots too. It's only by exploring that we can understand them," says Ansel Mullins, co-founder of Culinary Backstreets.
"Food offers us a connection with people. It's not always easy when visiting a city on your own, but with food, we can understand the complexity of a place."
Originally established as an Istanbul-based food blog with fellow gourmand and writer Yigal Schleifer in 2009 to "shine a light on the more humble" establishments in the city, Culinary Backstreets evolved into providing foodie walks that focus equally on the human and culinary elements of a city.
"We had been living in Istanbul for years and had really delved into the food scene. We saw it as a great way to understand this complex city that was constantly changing around us," says Mullins.
"After a while, our readers started to ask us to introduce them to the places we were writing about and wanted us to go there with them. That's when it naturally grew into culinary walks, as we call them, which are designed to give people a more immersive experience."
In 2012, Culinary Backstreets began operating tours in Athens, Barcelona, Mexico City and Shanghai, adding Rio in 2013, Tokyo and Tbilisi in 2015 and, most recently, Lisbon in 2016. Other destinations include Naples, Porto, Izmir and Queens in New York.
Designing the experience
Mullins says the six-hour tours are "rigorously engineered" by the Culinary Backstreets network of passionate guides, offering expertise in subjects ranging from urban planning to history.
"Selecting each stop takes several months of research, speaking with historians and people who know the district that can help us collect the stories that we want to tell. We don't just sample the ingredients in our tours, we look at where they come from, at the people in the kitchen who prepare them and the importance they have on the local area."
He says Culinary Backstreets operates in lesser-visited cities and limits the tours to seven people to combat the effects of overtourism: "Going with small groups and spending a day in neighbourhoods that otherwise wouldn't have been visited can help stop the negative Pasteis de nata, Lisbon impact of tourism. We believe people shouldn't just stay for a beer and a selfie, but also for a meal so they can understand the rhythm of the area."
Regarding the most popular tours, Mullins says Istanbul has remained a bestseller, with Lisbon's Song of the Sea itinerary beginning to generate interest too.
He adds: "We've always been big personal fans of the Georgian capital of Tbilisi. Now suddenly everyone is excited about its food scene. It's become a bit of a hot destination."
Food for thought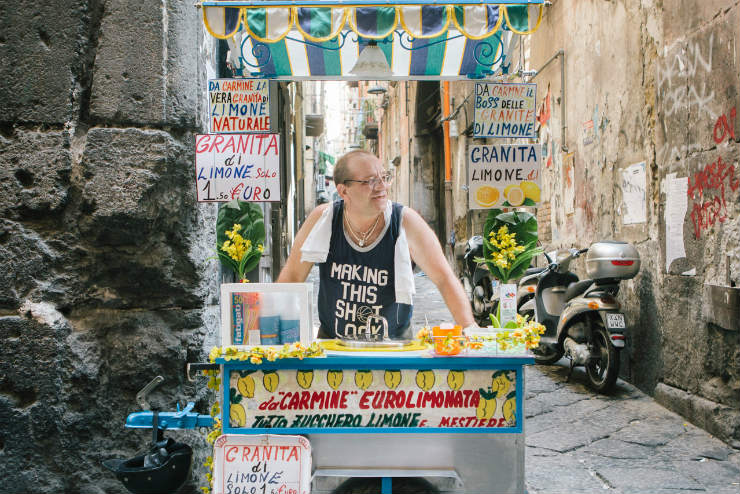 Offering 15% commission, Mullins says that Culinary Backstreets is open to collaboration with agents and offers private and special tours on request too. He recommends the tours for amateur and more experienced travellers alike.
"We get the younger foodie backpackers who may find the tours a little expensive, but will splurge out on us. More often than not, we deal with clientele staying in four-star hotels – people who are well-travelled and might have been to some of the cities we work in, but are looking for an alternative way to see it."
Encouraging independent exploration is a big part of the Culinary Backstreets experience; the operator's iPhone app offers offline maps and a GPS-enabled "nearby" feature that guides clients to suggested gastronomic highlights.
"If you look at our website, we are always publishing a new story for each of the cities we operate in. We appreciate the fact that not everyone wants to join a group tour, but might need the inspiration to plan their own. We think that's great and it also achieves our goal, to get more people to immerse themselves in the places that we're celebrating."
Book it: Song of the Sea: Fish, Seafood and Tradition in Lisbon's Port Zone is priced from £105pp and includes all samples and alcohol.
culinarybackstreets.com