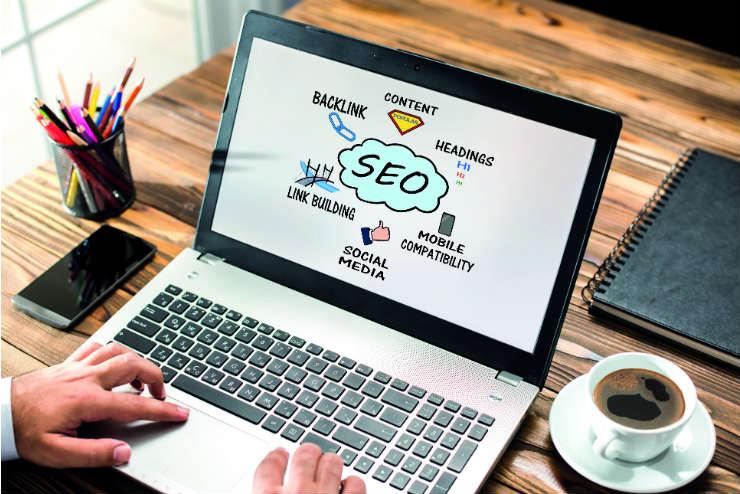 Picture of a laptop with an SEO design on the screen
SEO has come a long way since the 90s, when "keyword stuffing" – or frontloading keywords into an online article – was a popular means of ensuring good Google rankings.
Google is becoming more sophisticated by the day, and your SEO strategy will need to adapt to those changes in 2019 to stay relevant, says Helene Hall, chief operating officer at digital marketing agency Melt Content.
Mobile matters
"In March 2018, Google started the process of migrating websites to mobile-first indexing," explains Hall. "This means Google uses the mobile version of your webpage for indexing and ranking."
It's therefore vital to ensure your site's mobile user experience is top-notch, with fast page speeds to match. If page-loading speeds aren't up to scratch, it will have an impact on your traffic and – eventually – your rankings, as Hall says that Google will start considering page speed in future.
Increase brand power
Consider the part your brand has to play in ranking factor, says Hall. We know that backlinks (incoming hyperlinks to a webpage) increase your domain authority, but Hall reveals that unlinked brand mentions are also useful: "They allow Google to learn about your brand as an entity. By understanding who, how and when other entities mention your brand, Google gains a greater understanding of your brand's authority."
So it is important to guard your brand reputation and to build it. Ensure you are also participating in customer conversations to encourage engagement and increase visibility, both for your brand and for Google.
How SEO can boost ROI
Traditionally, it has been hard to determine SEO's ability to help ROI. Yet Hall says this can now be achieved by taking a multidisciplinary approach to SEO, in the same way that Google is. The search engine is now using Rank Brain – live artificial intelligence (AI) – to help deliver search results.
This AI uses natural language processing (NLP) to understand a user's language and therefore their intent.
"NLP is where a programme can break down full sentences and understand the intent of the user from their sentence structure and linguistics, to make intelligent decisions," explains Hall.
So, for example, if someone types "cheap hotel in Paris" into Google, NLP now understands that "cheap" – the modifier – also means "budget". It also understands that "Paris" is a location, and that "hotel" is the root of the search.
Hall explains that NLP moves SEO on from the days of keyword research, allowing companies to expand their keyword view to a macro level: "With keyword research, your entire strategy is based upon 200 keywords, when in reality your users aren't just using those 200 keywords."
Agencies and travel companies can use NLP to find out what modifiers their customers are interested in, or what location they are most searching for. By discovering what customers are searching for, companies can better understand how to serve their clients' needs, planning new content and mapping out new areas of opportunity accordingly.
Hall concludes: "Using NLP allows you to map the full range of keywords from your users to be able to match up their precise needs with your business needs, helping you create a content strategy that delivers ROI."