Uniworld's latest ship is a 'statement about Paris and about France'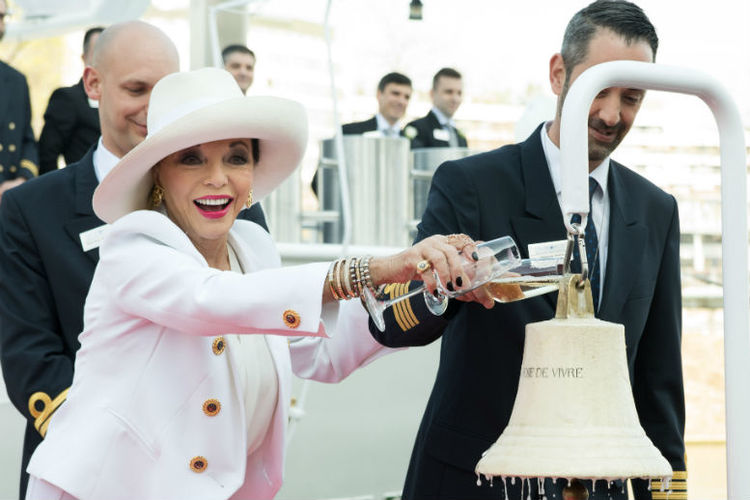 The 128-passenger Joie de Vivre, docked in the shadow of the Eiffel Tower, was christened by Dame Joan Collins, who spoke of her love of the French capital.

"It really is the city of light," she told an audience of trade partners and loyal guests of the line. "It hasn't escaped me that we stand here in between the Eiffel Tower – a symbol of progress – and Lady Liberty [France's Statue of Liberty], which symbolises freedom. The Joie de Vivre which is the joy of living, celebrates that."

Owner Stanley Tollman admitted he had considered cancelling the building of the ship, as he revealed that he was in Paris the night of the Bataclan attack in November 2015.

But he added: "A week later, I said, that isn't right. We've been bringing people to Paris for so long. This has always been a city of light for my wife and I… and we wanted to support France. It's so important that people keep coming, and that they tell their friends to keep coming."

Uniworld president and chief executive Ellen Bettridge later told TTG that the ship, which has a French themed décor to reflect its Seine itineraries, became "even more French" in its design following the terror attacks in Paris.

"We said we needed to do it for France. Tourism doesn't stop, and people just don't stop living. We said 'the ship is going to stay here', and it became even more French after that."

Onboard features include a French Bistro in the ship's "Salon" area, which offers lighter meals and a continental breakfast, as well as 1950s classic French posters throughout the ship and original French caricatures from 1930s artist Sem.

The ship also features a swimming pool at the back, which transforms into a cinema showing French themed films in the evening, and a bar named Claude's at night.

Asked whether the ship might be moved should the French capital be targeted by terror attacks again in the future, Bettridge insisted: "Absolutely not. This ship is a statement about Paris and France. It is here to stay whatever. We live in a scary place right now and we can't know what will happen, but we don't stop living."

Kathryn Beadle, UK managing director for Uniworld added that security had been stepped up across the Uniworld fleet since autumn last year, with 24-hour security guards now standing on watch outside all of its ships, although Beadle stressed that the move was not in response to any incident.