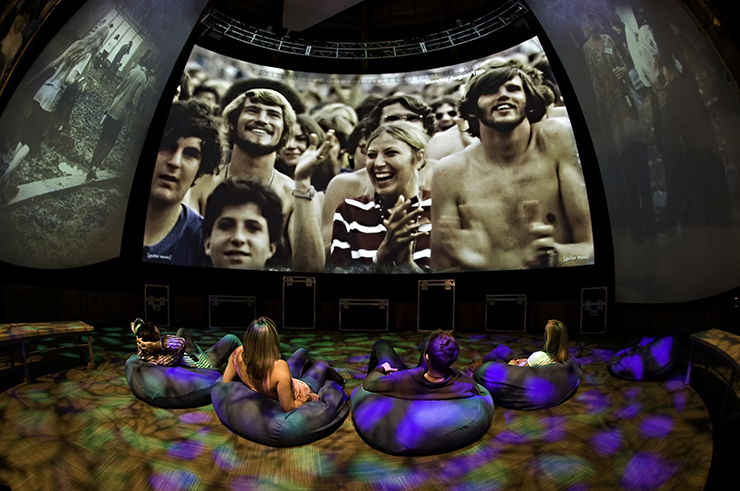 Bethel Woods Center for the Arts
Bartender Billy Rogan slowly stirs a clear red concoction of gin, Italian liqueurs plus local apple and lavender bitters. He plonks in a fat ice cube and reaches across a row of homemade syrups to place the shallow glass on the nine-metre bar.

My drink, an Opus 39, could be the creation of a top cocktail bar in New York City. By contrast, A&P has been running for two years in a small upstate town in a former grocery store between a "healing arts" centre and the woods.

This is Woodstock, half a century after 400,000 hippies travelled for miles to revel in muddy fields one rainy mid-August weekend at what would be an era-defining music festival. The real deal happened 60 miles from here on a dairy farm in Bethel, but its namesake town has thrived from its rock 'n' roll reputation.
The festival's 50th anniversary is being marked with celebrations across the region. Bethel has an exhibition of festival memorabilia, photography and film, We Are Golden, running until 31 December. Summer music festival Woodstock 50 is due to take place in August. But there's something long-term blossoming too.
A&P isn't unique in bringing fresh ideas to this part of the Catskill mountains in the past few years. "Entrepreneurial folks from Brooklyn with disposable income are coming here to open up new businesses," explains Mike Campbell, talent booker and venue manager of Woodstock's famous music venue, Colony. The result has been a rise in tourism from city-dwelling millennials, pushing visitor spending up by 7.3% in just one year.

The Catskills' 300,000 acres of forest and high peaks overlap the long Hudson Valley. Drive 30 minutes from New York City, and pristine porches of the valley's grand houses begin to appear between the pines.