Torrents of fun at Universal Orlando's Volcano Bay
From the adrenalin-fuelled to the serene, Universal Orlando Resort's latest attraction, Volcano Bay, has a waterslide for everyone. Andrew Doherty attends the park opening to experience the thrills first-hand.
Jungle drums pound in my ears as I watch the door to my cryogenic chamber-like pod slowly closing. It's akin to a scene from a sci-fi movie. I look to the member of staff who is manning the controls; they catch my eye and grin.
I'm stood with arms and legs crossed at Universal Orlando's latest park, Volcano Bay, and poised at the top of the eponymous volcano on one of its slides, the Ko'okiri Body Plunge. My heart beats furiously as the music becomes more intense. I know that rather than feeling the weightlessness of space I'll be subject to gravity's full force as I plummet down a 40-metre drop into the wave pool below.
Before I can open my mouth to scream, I'm released. Barrelling down the 70-degree fall, I hit the water, legs akimbo just eight seconds later. And it's not long before I'm running full pelt towards the entrance to try out the Kala and Tai Nui Serpentine Body Slides, the other two rides housed within the volcano's structure.
Massive scale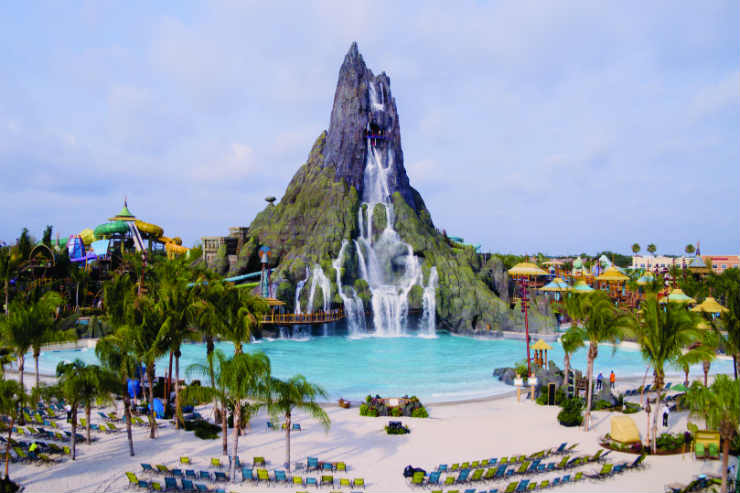 Back on dry land I speak to Dale Mason, vice-president creative executive art director at Universal Creative. He points to the volcano towering 60 metres above the water park.
"The Ko'okiri Body Plunge is the world's tallest, longest and fastest trapdoor body slide and I love telling people that."
He informs me that the park's Krakatau Volcano is taller than Niagara Falls and spouts 42,000 gallons of water from its peak every day. And along with the impressive technical specifications comes an intriguing backstory. Mason regales the tale of the Waturi people and their meeting with a mystical fish named Kunuku who guided them on a voyage to the furthest corners of the South Pacific where they embraced the customs, art and music of the many races encountered until they discovered the shores of Volcano Bay.
The South Pacific aesthetic is reflected through Volcano Bay's palm trees, Tiki masks, Polynesian-inspired ride names and gastronomic offerings in the park's six dining areas.
As the third of Universal Orlando's parks and the first to open in 18 years, Volcano Bay's 13 signature attractions are housed in four different areas: The Volcano, Rainforest Village, Wave Village and the River Village. They range from the exhilarating to the serene, so there's something on offer for both thrill-seekers and younger children.
The park's Krakatau Aqua Coaster boasts "linear induction motor technology" meaning it uses magnets to "pull guests up and through the experience", Mason explains. I board the specially designed canoe and am propelled up and down through mini waterfalls and dark passages throughout the volcano. Armed with the park's wearable technology, TapuTapu (see box overleaf), I bounce between the various attractions repeatedly riding each one, from the Rainforest Village's Ohyah and Ohno Drop Slides to the Maku Puihi Round Raft Rides with its descent that makes my stomach flip. I feel as if Volcano Bay has turned me into a child.
Access all areas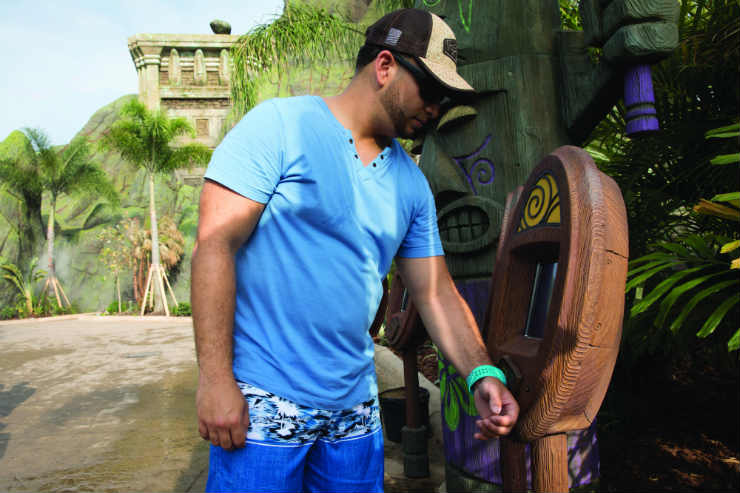 To tie in with the launch of Volcano Bay, Universal's Cabana Bay Beach Resort has undergone an expansion, adding two new towers to bring the total number of rooms to 2,200. I take a peek at one of the new family suites in the 200-room "Beachside" tower, which has just opened to the public. The new rooms retain the retro 1950s vibe of the main hotel and are smart and spacious too.
Each family suite has two bedrooms, two bathrooms and a living area with a sofa bed which sleeps up to eight people.
Vincent LaRuffa, senior vicepresident resort sales and marketing, is on hand to explain the concept of the new family suites.
He says: "When we did our guest surveys the number one consideration was park access. You can't get better access than this new tower. Guests staying here will be able to get into Volcano Bay through a secret entrance. They will reach the attractions within minutes and will get early park admission one hour before the standard opening time."
With only $25 difference between a standard double queen room and the new suite in the regular towers, it seems demand will be high; recommend your clients book well in advance.
Alternatively, guests can stay at Universal's newest on-site hotel, Loews Sapphire Falls Resort, for a taste of Caribbean luxury with easy access to all three of Universal's parks. Guests staying here can take a complimentary water taxi [those staying at Cabana Bay can take a shuttle] to CityWalk where they can eat, drink or unleash their inner divas at the Rising Star karaoke bar.


Incredible thrills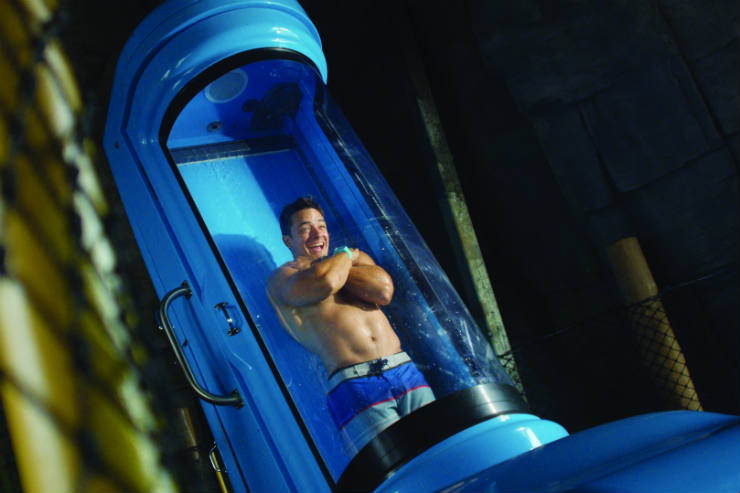 As a rollercoaster virgin I come close to bottling it in the line for The Incredible Hulk coaster; however, being new to the Universal experience I'm determined to make determined to make the most of my afternoon in the Islands of Adventure park.
Although the rollercoaster's track hasn't changed since 1999, bells and whistles have since been added during the 2016 upgrade in the form of a new launch tunnel and updated music.
I manage to nab a seat in the front car, which I'm told is the best way to experience the ride. Blasting out of the tunnel I spend most of the ride screaming in the ear of my fellow passengers, even managing to feebly, and if only for a few seconds, take my hands off the harness.
Armed with my new-found coaster confidence I spend an afternoon taking in rides and attractions throughout Islands of Adventure and Universal Studios Florida, ending with new attraction, Race Through New York Starring Jimmy Fallon. The
3D-motion simulator ride, featuring the American talk show host, may not be as intense as the Ko'okiri Body Plunge but it's an enjoyable jaunt through the streets of the Big Apple none the less.

As I bed down on my flight back to London my dreams are filled with rollercoasters, wizards and waterslides. Volcano Bay is a cracking addition to Universal's already fantastic theme park portfolio and one that will make waves with the whole family.
Book it: DoSomethingDifferent.com offers the Universal Orlando Resort 3 Park Explorer Ticket giving 14 days' unlimited access to all three parks from £242 per adult and £232 per child.
Behind the TapuTapu tech
Chris Crayner, chief digital officer at Universal Orlando, explains the inspiration for and function of Volcano Bay's waterproof wearable technology, TapuTapu, which offers virtual queuing and an in-park payment facility. Other fun features include TapTu Play, which allows them to access special effects such as shooting water cannons at guests on a ride, and TapTu Snap, which offers photo opportunities on Volcano Bay's attractions.
Crayner says: "The entire idea for Volcano Bay was to create the most seamless holiday guests can have during their stay. The way it works is very simple. Guests receive their TapuTapu when they enter the park and can set up an account and wallet for in-resort purchases through the Universal app. Once guests have linked their ticket to TapuTapu they are free to put away their credit card, keys or whatever they are carrying.
"You can use TapuTapu to tap into Virtual Line stations to see how long is left to queue for a ride. You can also use it to pay for things in the gift shop, bar or eateries and to interact with water features on the rides and selfie stations too."